Technology for Remote Learning
As the largest community college in the State University of New York (SUNY) system, we pride ourselves on small class sizes and providing strong technology solutions.
The following resources have been compiled for both students and faculty.
Resources for Remote Learning
Minimum Computing Requirements
Please be aware that the computer you use for your classes will need to have a webcam and microphone in order for you to participate in online instruction.
Every course given at Suffolk requires some level of tech gear. The minimum requirements are:
For All Computers:
At least 8 GB of memory

256 GB or larger Hard Drive

13" or larger screen size

i5 or larger processor for PCs

If Windows, Windows 10 operating system or higher

Integrated or external speakers, microphone and webcam
Keep in Mind the Following:
Mobile tech, especially phones, are rapidly gaining ground. However, not every system we use at Suffolk is optimized for this experience. While you can do many things with your phone, you may find that some courses have requirements that make a phone usable, but impractical.
If you are taking a course with real time online instruction, you will need integrated or external speakers, microphone and webcam to participate.
You need a computing device such as a PC or Mac, etc... that is kept current.
The older a device is, the more issues it will begin to have. In general, devices that are anywhere from new to four years old will function the best.
If you are in a technology intense major such as Visual Arts, Graphic Design, Construction Technology, Computer Science, Engineering Science, or Manufacturing Technology, you may want to consult your Professor on the best solutions for that program at the College.
Your device should have all updates from the manufacturer applied continually to keep the machine 'patched' to keep its native security features up to date.
The best browsers to use are Chrome and Firefox.
Your computer should run anti-virus software all the time. This is to protect you, especially your confidential data.
Your device should have WiFi built in.
Remember to have your device fully charged. Bring your charger with you when you are not at home.
Always lock your computing device when you are not using it to protect your confidential information.
Creating Your Account with Suffolk
Once you have been accepted to Suffolk, you can create your online student account. This will give you a username that you will use to log into PC/Mac computers on campus as well as to access Suffolk systems when not on campus.
First, go to

https://my.sunySuffolk.edu

At this page you will click the link that says "Create a Username and Password"

Next you will complete the form with your student ID number – this was provided to you by Admissions when you were accepted

You will also enter your date of birth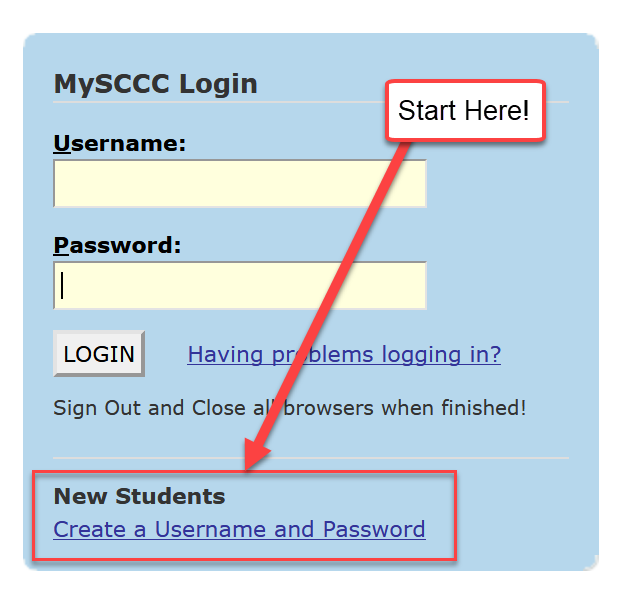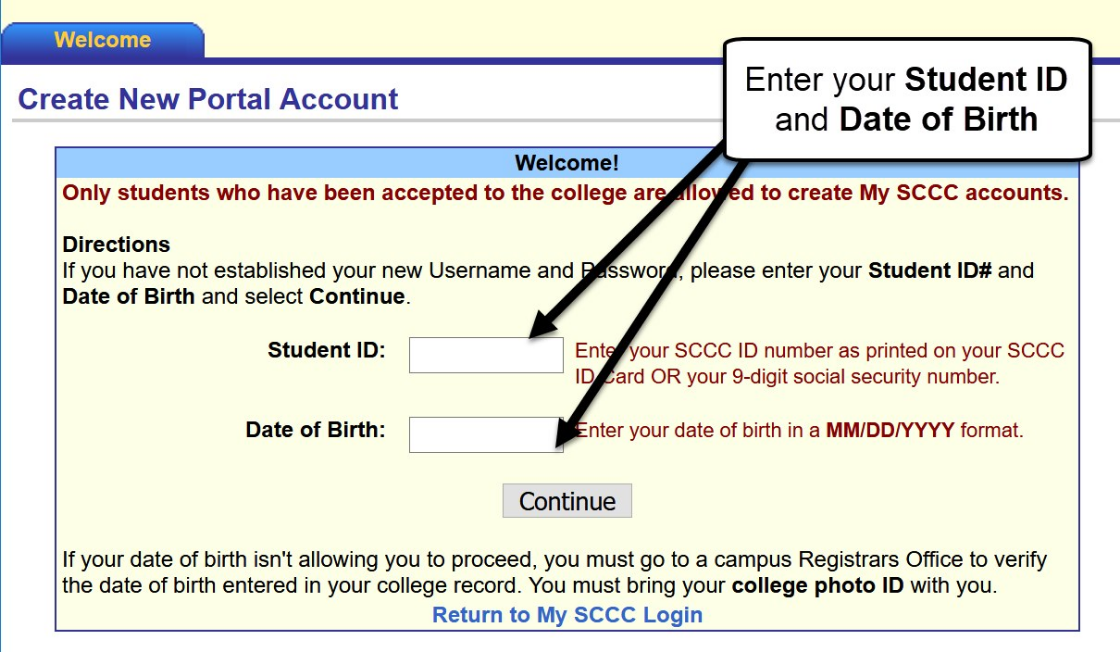 Activating Your Suffolk Email:
Log into MySCCC with your new portal account at

https://my.sunySuffolk.edu

Go to the Email tab and click on Login under Office 365

Click on the Office 365 Login

Log in using your full Suffolk email address (username@mail.sunySuffolk.edu) and the same password as MySCCC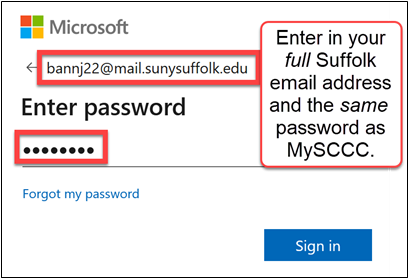 Your email account is now active.

Microsoft Office 365 will prompt you to set up your self service password reset contacts. You can enter either or both your mobile phone number and your non- Suffolk email address. They will use this information to send you a code to reset your password if it has expired or you have forgotten it.
How to Set Up Self Service Password Reset if You Do Not Do it Right Away:
Go to https://aka.ms/ssprsetup and log in using your Suffolk Office 365 account.

Follow the instructions to verify a phone number and/or a secondary email address as your password reset contact method.

Campus Outdoor Wi-Fi Maps
Suffolk IT Help Desk
For any Suffolk IT questions or concerns, please contact our Help Desk as follows:
(and remember, ITS will never ask you for your password!)
Helpful Tips for Faculty
Video Conferencing
MS Teams: All students and employees at the College are licensed for Microsoft Teams.
You can download MS Teams by going to office.com and login in with your College credentials.
Zoom: The College has a limited number of Zoom licenses.
Below are the links to Zoom Resources. Please note that Zoom also has a help desk.
Academic Computing Centers
As our classes have moved to online instruction, so has the Academic Computing Center and Educational Technology Unit (ETU) support. We have combined support from all three campuses to a one-stop chat solution.
Tech-Chat
Tech-Chat is a new service that provides assistance to students and faculty. Its icon

can be found at Academic Computing Centers / Computer Labs page.
You may use the Tech-Chat for guidance and/or information on downloading the FREE version of Office 365, setting the school email to mobile devices, accessing the MySCCC portal, navigating the College's website or any other academic technology question.
For your convenience, the daily hours of operation for chat support can be found on Academic Computing Centers / Computer Labs webpage.
Please note that our staff will provide academic technical support to the college community, however we are not able to help you troubleshoot your personal devices.
Light Box
div id=lightbox-display - no content updated