Suffolk Community College Foundation Scholarships
Scholarships at SUNY Suffolk County Community College (SCCC) are made possible through the generosity of various individuals, student organizations, college faculty and staff, local and community groups, business firms, and through the fund-raising activities of the Suffolk Community College Foundation.
You CAN receive a scholarship even if:
Your tuition is already covered by financial aid or other resources.
You are not eligible for financial aid or did not file a FAFSA.
You are not a straight A student.
Your are not a U.S. Citizen.
You are a U.S. veteran or active in the military and attend college for free.
SUNY Suffolk offers hundreds of scholarships for new and continuing students. Most scholarships are awarded for the fall semester, but some scholarships are renewable for up to four semesters. Criteria for each scholarship is established by the scholarship donors, and there is no limit to the number of scholarships a student may apply for, as long as they meet the criteria. Students are advised to apply early before the scholarship application deadlines. Deadlines are listed next to each scholarship and can be found by visiting the Online Scholarship System.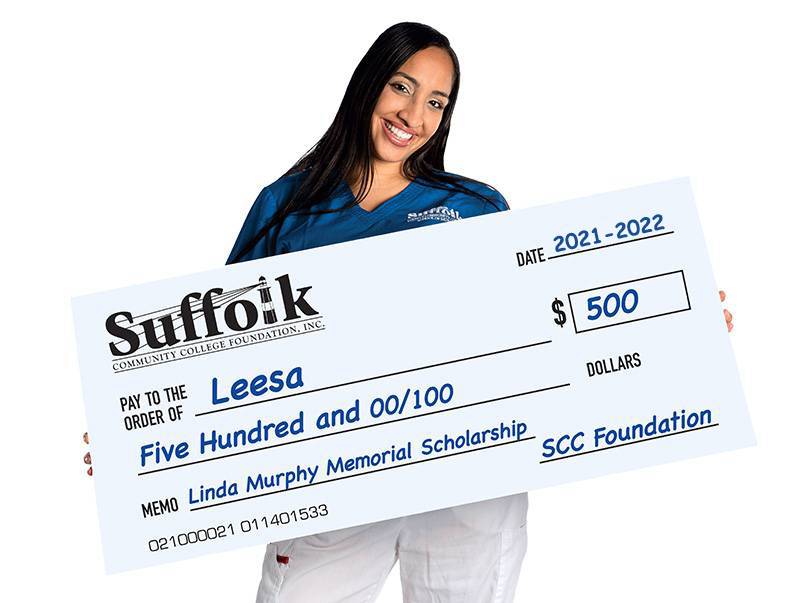 Getting Started
Select the Sign In With Your Institution box to log in with your MySCCC username and password.
Choose whether you are a New Student or Continuing Student.
Click Finish and Submit.
Continue your application to view and apply for possible scholarships.
Visit the Opportunities tab and select Ours to browse through our scholarship inventory. Scholarship opportunities listed on the Recommended tab are scholarships matched to your student record.
Utilize the Search by Keyword field and Show Filters box in order to find scholarships that align with your interests, program of study, campus, etc.
Complete supplemental questions/essays/requests for letters of recommendation for each scholarship if applicable.
Applications can be saved and edited up until the deadline.
FAQ's
Q. I am not eligible for financial aid. Can I still receive a scholarship?
A. Yes!
Q. My tuition is already covered by financial aid or other resources. Can I still receive a scholarship?
A. Yes!
Q. Will I be notified if I win a scholarship or award?
A. You will receive an email notification through your college email account. Be sure to check your college email frequently.
Q: If awarded, how will I receive my scholarship?
A: Your award will be posted to your student account.
Contact Us
For questions regarding scholarships, please email scholarships@sunysuffolk.edu or call (631) 451-4026.
If you would like to become a donor, please email the SCC Foundation at foundation@sunysuffolk.edu or call (631) 451-4846.
If you need to update your personal information in your student record, please fill out a Records Change Form with your campus Registrar's office.
Light Box
div id=lightbox-display - no content updated