How to Obtain an SCCC ID Card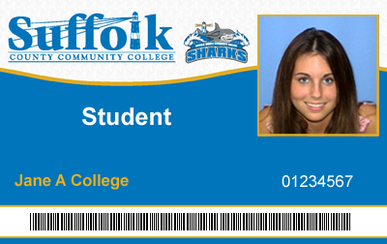 All students are required to have in their possession an SCCC ID card when they are on campus. Your ID card must be presented upon request.
The Newly Enhanced SCCC ID Card
The major benefit of this new SCCC ID card is that it enables you to access the College's meal plan. If your ID card does not look like the ID card shown, you must visit one of the locations below to obtain your new SCCC ID card.
First Time Receiving an ID Card
Bring your paid bill or schedule and identification (driver license, non-driver ID card, passport, or two forms of other official* identification) to the ID card station. *Official forms of identification are: social security card, bank/major credit card, Alien Registration card or Permanent Resident card, U.S. Uniformed Services card, legal or court document and birth certificate.
Lost ID Cards
You must go to any college business office and pay the Lost Card fee ($12.00). Bring the receipt along with your paid bill and identification to an I.D. Station where you will be issued a replacement I.D. card.
Ammerman Campus
Eastern Campus
Grant Campus

Registrar


Ammerman Building

Campus Activities


Babylon Center

Security Office


Peconic Building

North Cottage


Public Safety

Monday-Thursday
Monday-Thursday
Monday-Thursday
Monday-Friday
9:00 am-6:00 pm
10:00 am-2:00 pm
9:00 am-9:00 pm
8:00 am-8:00 pm
Friday
Friday
9:00 am-4:45 pm
9:00 am-5:00 pm