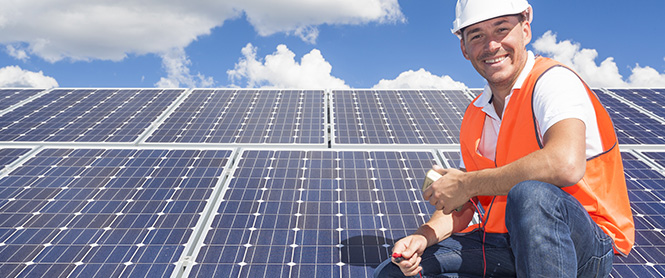 Energy Conservation in Buildings
Renovations that include extensive improvements to the building envelope and HVAC systems that include high efficiency variable refrigerator flow systems for the Science Building at the Ammerman Campus (2014), the Library at the Grant Campus (2014-2015) and the Health and Wellness Building at the Eastern Campus (2015-2016).
Renewables
We are exploring rooftop and ground mounted solar PV installations at all campuses.
Fleets
We are working on a sustainable student transportation initiative.
Exterior Lighting
We are evaluating LED replacements for exterior lighting.
Solid Waste and Wastewater
Grant-funded Storm-water Infrastructure Project (2014)
Three storm-water infrastructure projects that capture storm-water and filter it through rain gardens
Solid waste and stream audit
Operations
Education & Training Programs
Proposed, designed and implemented Pathways to Opportunities Within Energy & Renewables (POWER)
Grant-funded by USDOL, 2010-2014
Goal: Increase "green capacity" by training unemployed and incumbent workers in energy efficiency, solar installer and LEED, using a pathways approach
Energy efficiency (BPI certification), solar installer (NABCEP entry level certification), LEED Green Associate training
GED preparation for those without high school equivalency
Proposed, designed and implemented Leading Innovation through Green High- Tech Engineering and Sustainability (LIGHTES)
Grant-funded by NSF-ATE (Advanced Technical Education), 2012-2015
Goal: Increase "green capacity" by offering engineering degree programs that include green energy courses, increasing alternative energy awareness and providing green energy high school pipeline program experiences.
Enhanced Engineering Science and Electrical Technology degree courses and programs
Designed and offered new course in alternative energy
Infused concepts into pre-calculus courses on all three campuses
Infused concepts into meteorology course
Pipeline activities

Infused concepts into Suffolk Community College Science and Technology program (STEP) physics, math and energy courses for students in grades 7-12
Held summer teacher workshop, July 2013
Proposed and designed Science Education for New Civic Engagements and Responsibilities (SENCER) implementation project sub-award
Grant-funded by NSF-SENCER, 2014
Goal: to re-design courses across the curriculum that will incorporate inquiry, hands-on, and community-based activities that address strategies to mitigate the deleterious effects of human activities on climate and the environment.
Offer continuing education energy awareness courses to Suffolk County