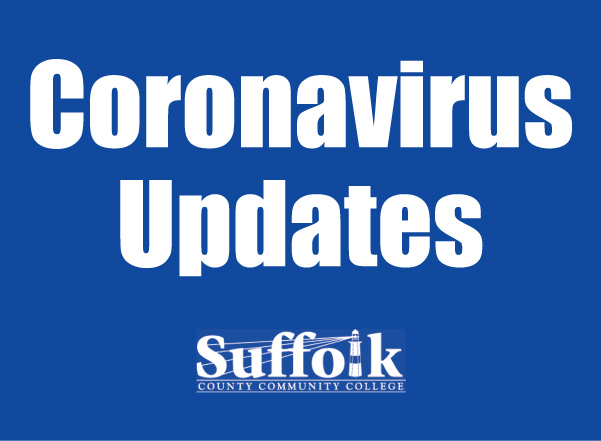 As we head into the holidays, please review this timely information related to completing the fall semester, registering for winter and spring classes and COVID-19 requirements.
Please note that entry onto all campuses of Suffolk County Community College by students and the general public remains restricted.
SUNY Suffolk is open for the fall 2020 semester, with remote learning and limited face-to-face course experiences.
For the fall 2020 semester, SUNY Suffolk is offering classes in a variety of instructional delivery methods to meet student needs. Here is a brief explanation of how each modality works:
Online—instruction is provided by the professor through Blackboard, the College's online learning management system. Students interact with faculty and complete assignments working on their own time, while adhering to course deadlines.
Real-Time Online—recreates a classroom experience with your instructor and other class members coming together for live virtual instruction at regularly scheduled days and times.
Combined Online—50% Online and 50% Real-Time Online meeting times with your instructor.
Blended—partly on campus and partly Online or Real-Time Online, used mostly for labs and performance courses.
There will also be a limited number of face-to-face classes that require hands-on instructional experiences to meet accreditation requirements.
To support New York State Governor Andrew M. Cuomo's plan to reopen the state in a careful and thoughtful manner, SUNY established a COVID-19 Resume and Restart Task Force that worked collaboratively with the Governor's Office, the New York State Department of Health (DOH), as well as local and state elected officials. In recognition of the College's own need for institutional preparation, Suffolk County Community College also formed a Task Force charged with aligning its reopening process with the SUNY-wide effort.
You are encouraged to continue to monitor this website for frequent updates.
Light Box
div id=lightbox-display - no content updated