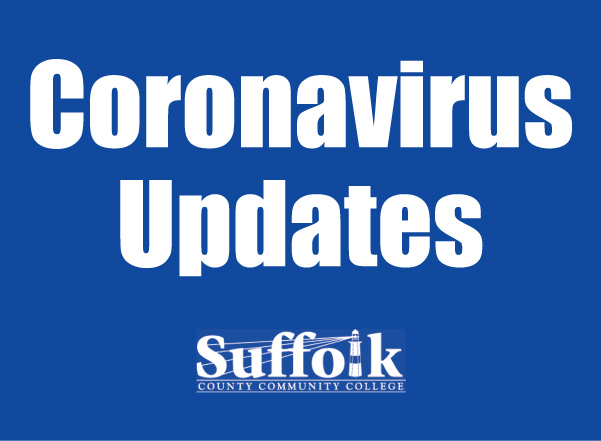 Please note that entry onto all campuses of Suffolk County Community College by students and the general public remains restricted.
SUNY Suffolk will be open for the fall 2020 semester. Classes begin on September 2nd with remote learning and limited face-to-face course experiences.
From August 4 – August 27th, on-campus in-person registration and enrollment days will be held on all SUNY Suffolk campuses as follows:
Tuesdays and Wednesdays from 9:30 a.m. through 4:00 p.m., and Thursdays from 9:30 a.m. through 6 p.m. at these locations:
Suffolk Federal Credit Union Arena on the Michael J. Grant Campus in Brentwood
Brookhaven Gymnasium on the Ammerman Campus in Selden
Health & Wellness Center on the Eastern Campus in Riverhead
Staff representatives from College offices will be available to help complete all necessary steps so that returning and new students can start fall semester classes on time when they begin on September 2, 2020.
Attendees should bring a copy of their high school and any college transcript(s) and should also make sure to bring an official photo ID.
To ensure the health and safety of everybody attending, all sessions will comply with physical distancing parameters. Attendees are required to:
Complete a screening questionnaire
Receive a temperature check
Wear a face covering or mask
Attendees should NOT be accompanied by more than one guest. Pre-registration is strongly advised. Reserve your spot by visiting sunysuffolk.edu/RegisterDays
Anyone experiencing any symptoms of COVID-19 should not enter the campus or participate in the event.
To support New York State Governor Andrew M. Cuomo's plan to reopen the state in a careful and thoughtful manner, SUNY established a COVID-19 Resume and Restart Task Force that is working collaboratively with the Governor's Office, the New York State Department of Health (DOH), as well as local and state elected officials. In recognition of our own need for institutional preparation, the College also formed a Task Force, which has been linked to the SUNY effort in order to align the reopening process with the system-wide effort.
Long Island has entered Phase 4 of the New York State re-opening plan, which specifically permits institutions of higher education to operate. The College's Interim President Louis Petrizzo officially began the reopening of campus offices starting on Monday, July 27th, by gradually welcoming back those employees who generally work on-campus during the summer months. Employees are following weekly staggered schedules that will effectively provide in-person coverage across College and campus offices.
For the fall 2020 semester, SUNY Suffolk is pleased to announce that it will be offering classes in a variety of instructional delivery methods to meet student needs. Here is a brief explanation of how each modality works:
Online—instruction is provided by the professor through Blackboard, the College's online learning management system. Students interact with faculty and complete assignments working on their own time, while adhering to course deadlines.
Real-Time Online—recreates a classroom experience with your instructor and other class members coming together for live virtual instruction at regularly scheduled days and times.
Combined Online—50% Online and 50% Real-Time Online meeting times with your instructor.
Blended—partly on campus and partly Online or Real-Time Online, used mostly for labs and performance courses.
There will also be a limited number of face-to-face classes that require hands-on instructional experiences to meet accreditation requirements.
Please review the links on this site to learn the most recent information. Also note that the College libraries continue to stand as a resource helping you from a distance.
Please keep in touch with your supervisors, your Chairs, and our Deans. You are also encouraged to continue to monitor this website for frequent updates.
Stay healthy and know that we care about you very much.
Light Box
div id=lightbox-display - no content updated