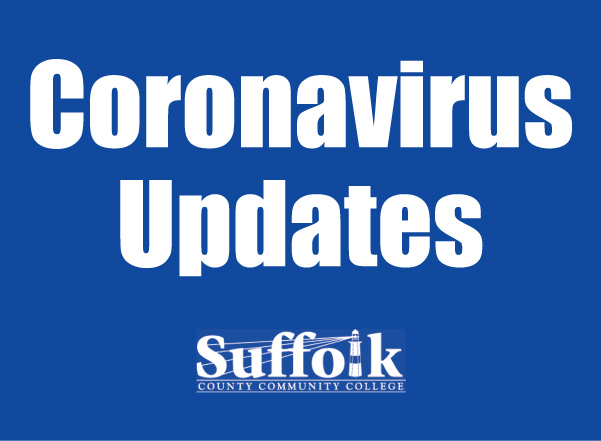 ALERT: ALL ON-CAMPUS STUDENTS MUST NOW BE VACCINATED
The Food and Drug Administration has now given full approval to a COVID-19 vaccine. As a result, all SUNY institutions, including SUNY Suffolk, now require all students coming onto campus for classes, activities or events, be fully vaccinated before September 27, 2021. Vaccines are widely available throughout Suffolk County.
IMPORTANT NOTICE: Suffolk County is running walk-in COVID-19 vaccination PODs (point of dispensing) as follows: https://www.suffolkcountyny.gov/vaccine
Vaccination POD Locations
View all vaccine clinics at
https://www.suffolkcountyny.gov/Vaccine
Brief Summary of COVID-19 Student Requirements for the Fall
A big part of achieving your academic goals means staying healthy throughout the semester. Below, we've summarized student expectations for the fall. The summary information below is further explained in greater detail through this website.
1) Mask Up!
Wearing a mask helps protect everyone. That's why all students, regardless of COVID-19 vaccination status, will be required to wear a mask in class, inside any College buildings, and in any crowded outdoor settings.
2) COVID-19 Weekly Testing
Staying healthy begins by knowing that you are not infected by the virus. All students who attend on-campus classes or activities – but have not submitted proof of vaccination against COVID-19 – will be required to participate in weekly on-campus COVID-19 testing.
3) FDA Full Approval of a COVID-19 Vaccine Will Make Student Vaccinations Mandatory
We encourage all students to be vaccinated against COVID-19. The FDA is expected to grant full approval to a COVID-19 vaccine in the very near future. Once that happens, all students taking in-person classes will be expected to become vaccinated promptly and will be given a time frame within which to comply and secure at least their first shot and/or to provide proof of vaccination to the College. Students may be able to submit medical and religious exemption applications. Please note, some programs and activities (such as clinical rotations at external sites) may have additional requirements which do not allow exemptions.
4) Please Choose an Online Schedule If You Choose Not to Be Vaccinated
We are pleased to offer many courses completely online. Students who do not plan to be vaccinated are encouraged to build a schedule using one of our online options. Unvaccinated students who do not follow the vaccine mandate will not be able to continue in-person learning on campus and will be subject to existing College policies related to withdrawals and refunds.
5) We Believe That You Belong at SUNY Suffolk!
By working together, we can make this upcoming semester successful for everybody.
If you have any questions, please see one of our counselors or advisors before completing your schedule.
---
SUNY Suffolk is welcoming students back this fall with more on-campus classes
For the fall 2021 semester, SUNY Suffolk is offering classes in a variety of instructional delivery methods to meet student needs. Here is a brief explanation of how each modality works:
Face-to-face classes—the traditional classroom experience, with instruction provided by the professor in a classroom with other students. Many face-to-face classes will be offered at all three campuses in Brentwood, Selden and Riverhead and at the College's two downtown satellite centers in Sayville and Riverhead.
Combined Online—50% Online and 50% Real-Time Online meeting times with your instructor.
Blended—partly on campus and partly Online or Real-Time Online, used mostly for labs and performance courses.
Online—instruction is provided by the professor through Blackboard, the College's online learning management system. Students interact with faculty and complete assignments working on their own time, while adhering to course deadlines.
Real-Time Online—recreates a classroom experience with your instructor and other class members coming together for live virtual instruction at regularly scheduled days and times.
Combined Online—50% Online and 50% Real-Time Online meeting times with your instructor.
You are encouraged to continue to monitor this website for updates.
Light Box
div id=lightbox-display - no content updated