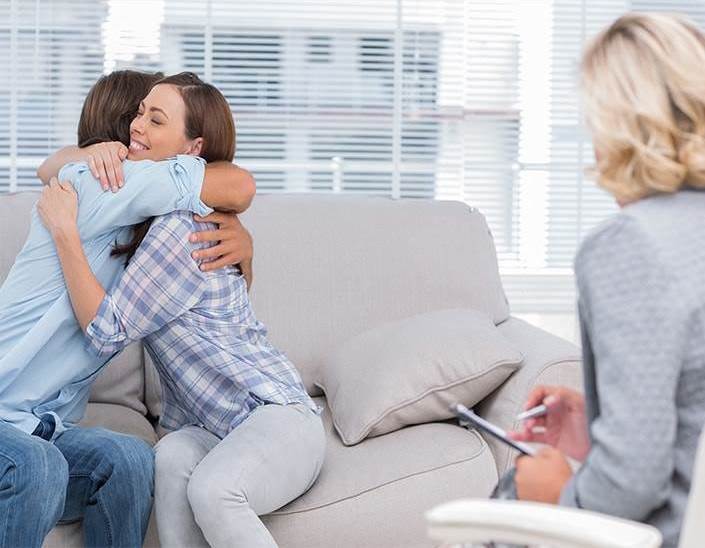 If you are interested in becoming a Credentialed Alcoholism and Substance Abuse Counselor (CASAC) or a Certified Peer Recovery Advocate (CRPA) or working in any area of counseling, health or human services that handles addiction, consider enrolling at Suffolk County Community College.
According to the New York State Office of Addiction Services and Support (OASAS), a CASAC is a qualified health professional. A CASAC provides therapy and treatment for individuals and families struggling with or in recovery from a substance use disorder. CRPAs are individuals who hold a New York Certification Board certificate recognized by OASAS for the purpose of providing peer recovery services in eligible programs where they are supervised by a credentialed or licensed clinical staff member. This is a demanding career for those who wish to be of service to others. The skills taught in the Addiction Studies program at SCCC are also in demand for practitioners in related health and human service fields such as nursing, social work, criminal justice and education. Here is why:
Our Addiction Studies program meets all of the educational requirements for the New York State CASAC and for the CRPA. It includes internships at OASAS licensed Addiction Services throughout Suffolk and Nassau counties that open doors to jobs.
The SCCC CASAC and CRPA training is the only one on Long Island that offers fully transferable college credits that lead to a college degree and that allows students to transfer their credits directly to four-year colleges. If you are interested in a career in Addiction Services or any other area of counseling, you're A.A.S degree and/or Certificate of Completion of the CASAC or CRPA courses will prepare you for immediate employment upon completion of the program. Many of our graduates are now working in the field, earning money and gaining valuable experience while they continue their education.
Program and Course Information
Grant
HEGIS Code -

5506

, CIP Code -

51.1501
Program Learning Outcomes
Curriculum Code:

ADDS-AAS
The Addiction Studies program prepares students for employment or advancement in the field of Addictions Services and Support. Graduates will have fulfilled all the educational and internship requirements set forth by the New York State Office of Addiction Services and Support (OASAS) and by the International Credentialing Reciprocity Consortium (ICRC) to become a New York State Credentialed Alcoholism and Substance Abuse Counselor (CASAC). The program also offers the opportunity for students to receive training and support to become a Certified Recovery Peer Advocate (CRPA).

Students who have either an associate degree, bachelor's or master's degree from an accredited college in one of the human services fields approved by OASAS may only be required to complete the Addiction Studies (ADS) courses. Upon completion of the Addiction Studies courses, students are eligible to apply for the Credentialed Alcoholism and Substance Abuse Counselor-Trainee (CASAC-T) certification and to sit for the IC&RC credentialing examination.

For professionals in the ADS field who wish to remain current, all ADS courses meet NYS continuing education requirements for credentialing renewal. A letter certifying successful completion of ADS courses will be provided by the ADS Program Coordinator for all students. Students considering a transfer to four-year institutions should consult with those colleges because transfer credit is determined by the four-year college.
Admission Procedures and Requirements
It is the expectation of this program that all students will respect the unique character of the counseling relationship and as such will reflect seriously upon the way the use of alcohol and mood-altering drugs would likely affect the quality of professional services offered to clients with a substance use disorder. It is recommended that prospective students who are in recovery from a substance use disorder should have at least two years of sobriety before being admitted to the ADS program. Professional standards of conduct and adherence to the ethical principles outlined by OASAS will be required of all admitted students for continuance in this program.

Applicants are encouraged to meet the program coordinator or designee regarding course advisement and OASAS requirements. According to the NYS OASAS, as of June 30, 2013, CASAC – Trainee applicants are required to have a fingerprinting and background check completed by the NYS Justice Center.

Admission to the program requires students to qualify for college-level English. Students are admitted fall and spring on a rolling basis.
FIRST SEMESTER: 16 credits
Credits
*♦
ADS111: Addiction in American Society
3
COL101: College Seminar
1
ENG101: Standard Freshman Composition
3
HSC114: Group Dynamics or
ADS112: Certified Recovery Peer Advocate (CRPA) Training
3
MAT103: Statistics I
3
PSY101: Introduction to Psychology
3
SECOND SEMESTER: 16 credits
Credits
English Elective (ENG201 Recommended)
3
♦
ADS115: Dynamics of Addiction
3
♦
ADS120: Family Systems and Addiction
3
**
Unrestricted Elective or
ADS113: Certified Recovery Peer Advocate
(CRPA) Field Practicum
3
Physical Education
1
PSY210: Lifespan Development
or PSY215: Abnormal Psychology
3
THIRD SEMESTER: 16 credits
Credits
♦
ADS225: Criminal Justice System and Addiction
3
♦
ADS230: Professional Documentation:
Data Collection, Assessment, Treatment Planning
3
♦
ADS235: Techniques for Counseling
in Addiction Services
3
Biology or Chemistry Elective
4
***
Communication Elective
3
FOURTH SEMESTER: 16 credits
Credits
♦
ADS242: Vocational Counseling and Addiction
Prevention Programs
3
♦
ADS252: Professional Ethics and Cultural
Competence in Addiction Services
3
♦
ADS246: Advanced Techniques for Counseling
in Addiction Services
3
♦
ADS255: Field Practicum
or Cooperative Education in Addiction Services
7
| | |
| --- | --- |
| MINIMUM CREDITS REQUIRED | 64 |
SEQUENCE OF COURSES: The above model is a two-year course schedule for students meeting all the program requirements and deciding to pursue full-time study. Those students requiring preparatory courses or those deciding to pursue part-time study should consult their faculty advisor for an appropriate sequence of courses.

*
ADS111 is a prerequisite to all ADS courses. ADS111 is open to all students and can be taken as an unrestricted elective.
**
ADS113 is only for students seeking to become Certified Recovery Peer Advocates - See Program Coordinator for more information.
***
COM101, COM102, COM105 or COM202 are highly recommended.
♦
These courses constitute the major courses in this curriculum.
ADDITIONAL NOTES: Students planning to transfer to a SUNY four-year institution should check the SUNY General Education Requirements for selecting courses.

While students will not be prohibited from pursuing the program, students who have previously been convicted of a felony are advised that their prior criminal conviction may impede their ability to complete requirements of the program. Students who have concerns about such matters are advised to contact the program coordinator or academic chair. Please refer to the following procedure for additional information.
Program Learning Outcomes provide you with an overview of the skills and knowledge you will attain after graduating from the Suffolk County Community College degree or certificate programs.
Contact Us
Addiction Studies Counseling
Kathleen Ayers-Lanzillotta
Program Coordinator
Michael J. Grant Campus
Crooked Hill Road
HSEC Building
Brentwood, NY 11717
(631) 851-6594
ayersk@sunysuffolk.edu
Directions
Central Admissions
Phone: (631) 451-4414
Fax: (631) 451-4415
admissions@sunysuffolk.edu
Office Hours:
Monday-Friday
9:00 a.m. - 5:00 p.m.
Course Description
div id="lightbox display - no content updated