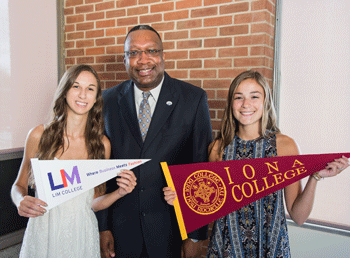 In an effort to address the brain drain in our region, which was seeing those 25 and under leaving at five times the national average, I launched the Stay on Long Island Scholarship Initiative in 2010. What began as a way to ensure that Suffolk's most talented graduating students would remain on Long Island to complete their educations at a partnering college or university, is now a network of 16 institutions that have awarded over 173 scholarships, totaling over $4.3 million to Suffolk's best and brightest.
Through this program, we are successfully keeping top students whose talents can transform the region. Now, by coming together as partners, we can retain this intellectual capital within New York State. The purpose of this new initiative is to find more like-minded Presidents who realize the benefit of such a partnership and are willing to create similar transfer scholarship opportunities at their four-year institutions. Partnering institutions benefit from a consistent pipeline of top scholars who are interested in enrolling with you to earn their Baccalaureate degrees.
As I always say, "Through education, comes transformation and economic empowerment." I am sure that by working together, we will strengthen New York State by providing access to exceptional higher education experience to proven high performing students.
Dr. Shaun L. McKay
President
NYSPT Scholarship Brochure