HELPING US FEEL SAFE AND SECURE
During the darkest days of the pandemic, everyone at the College quickly acknowledged a few important things. First, how much we rely on our front-line employees, including Public Safety Officers, Plant Operation employees and Information Technology Services staff. This was a period of fearfulness, uncertainty, and heightened anxiety. The College, our community and the world at large knew very little about the virus, how it was transmitted and how to best protect ourselves. At the onset, front-line employees balanced work, with family obligations and concerns for their own safety. When the COVID-19 pandemic was at its height, these individuals were the ones who continued to arrive on campus each day. We also realized that during these unpredictable and changing times, the College community needed to collaborate and work together as a team to overcome the challenges we now faced.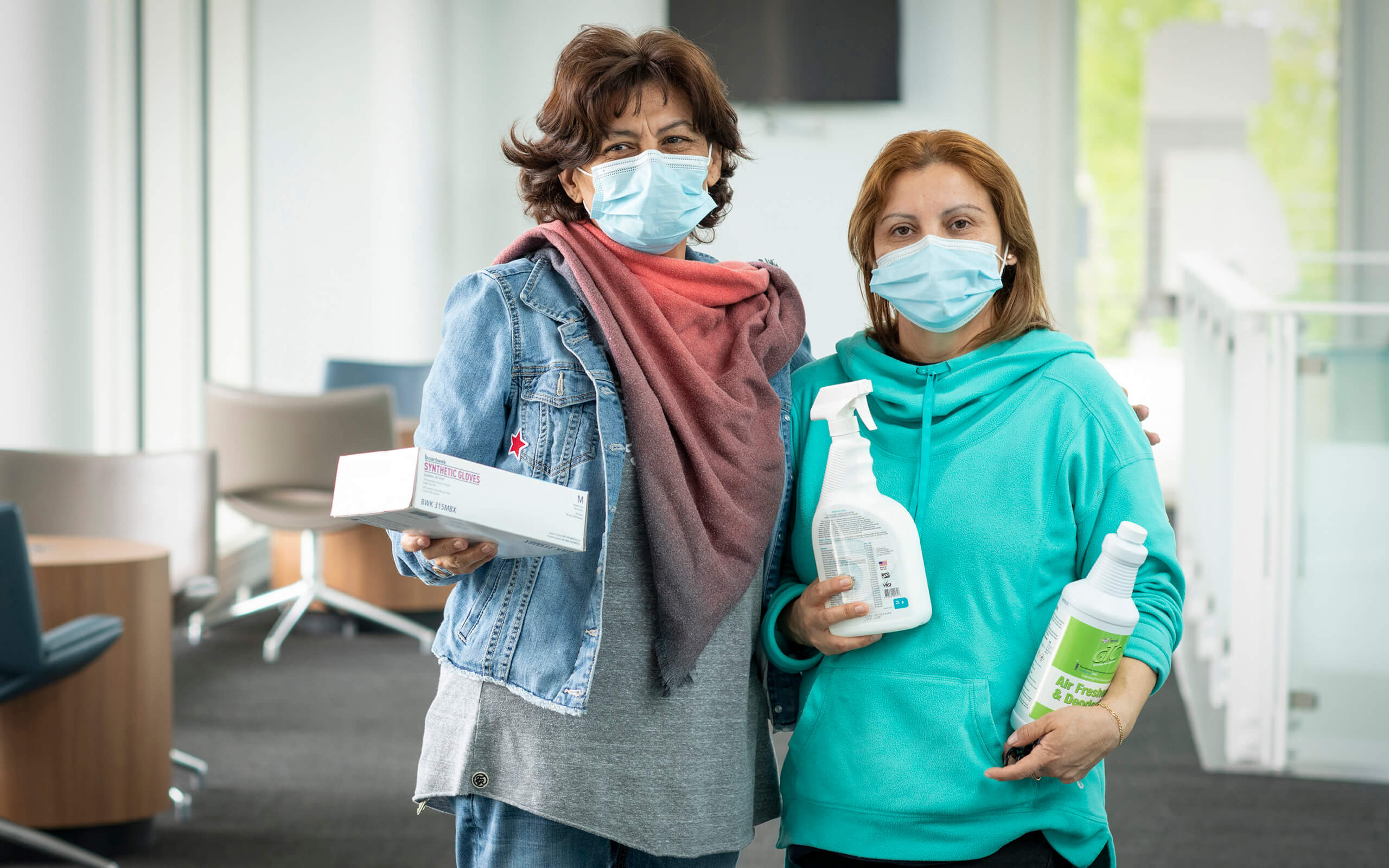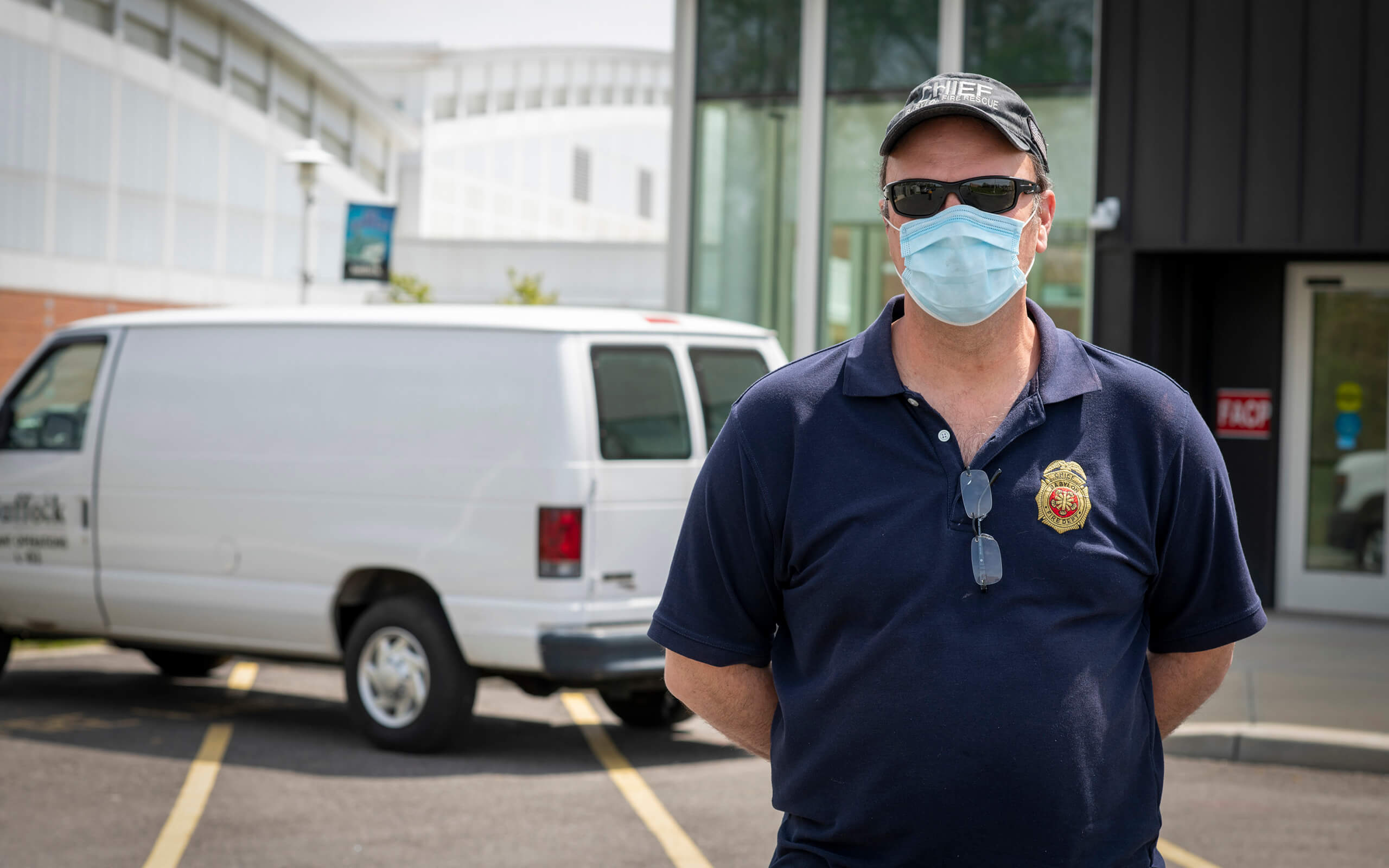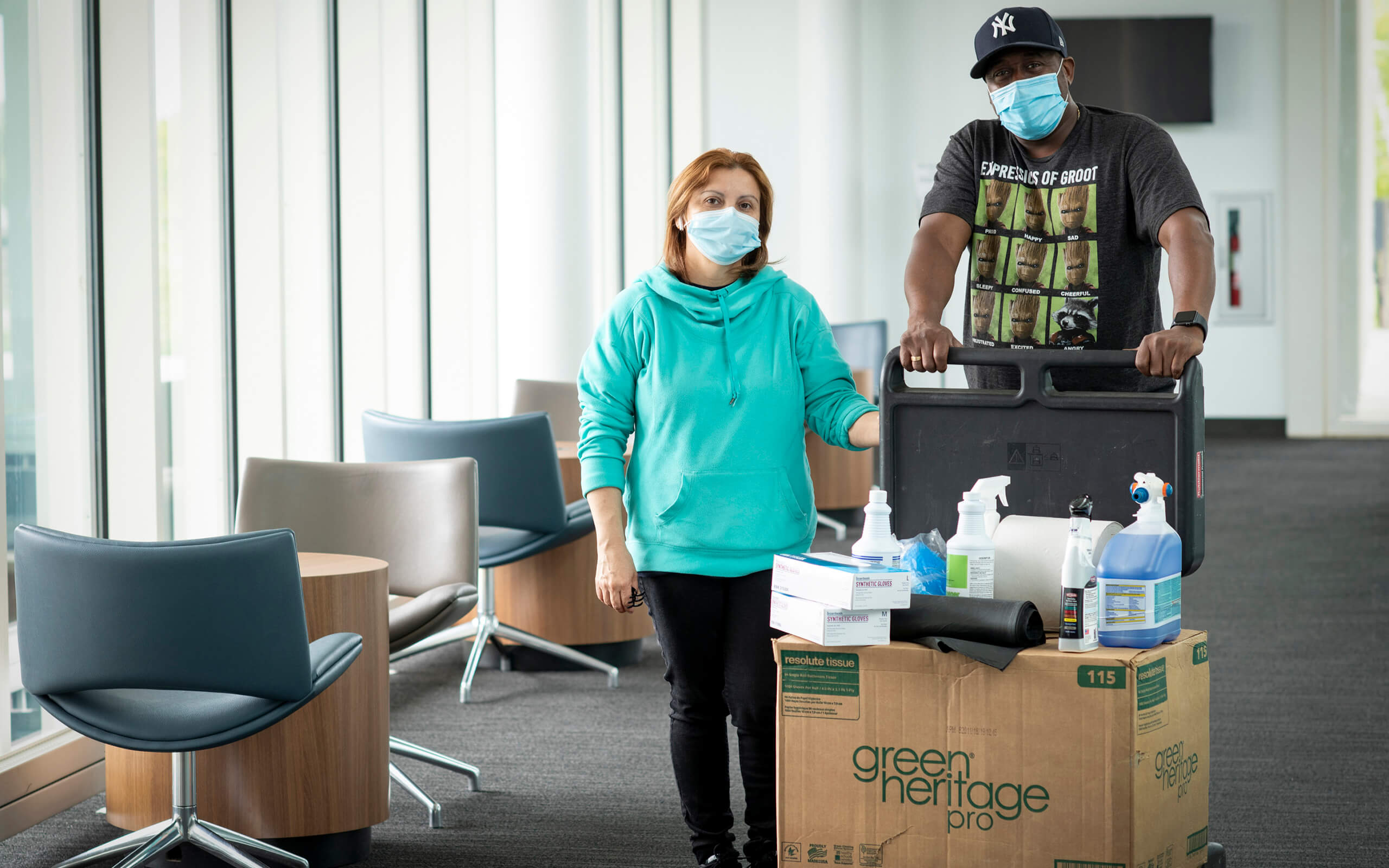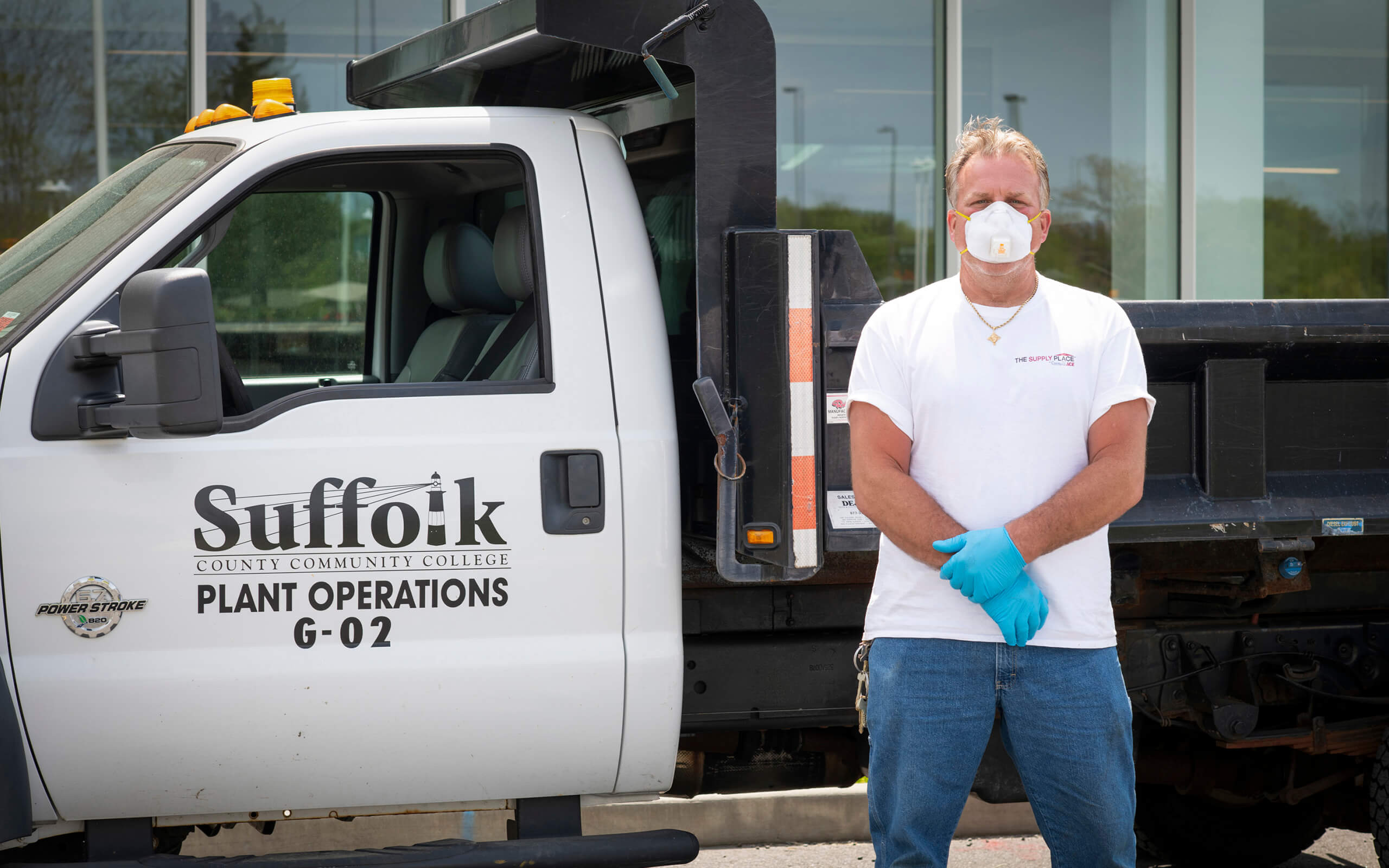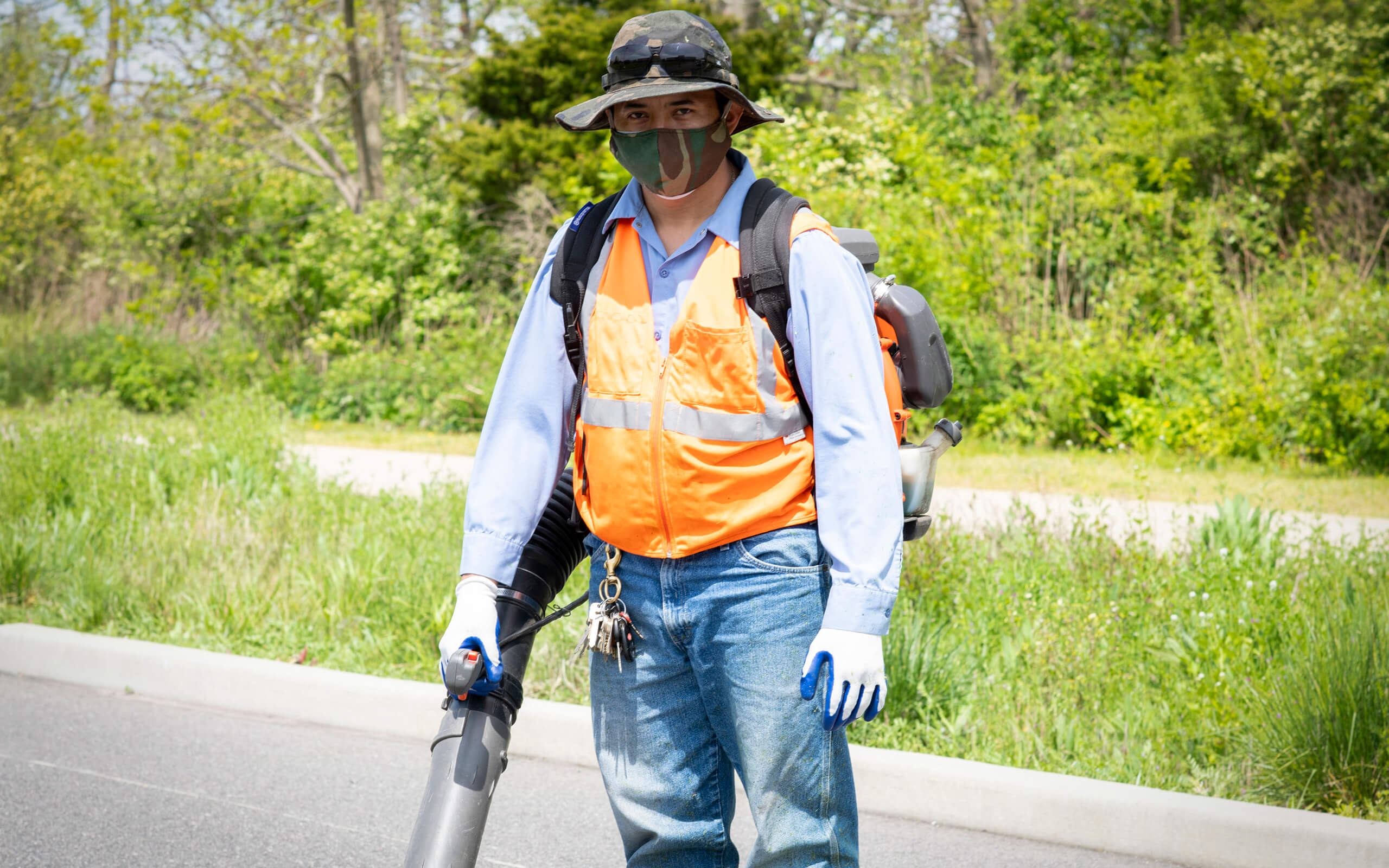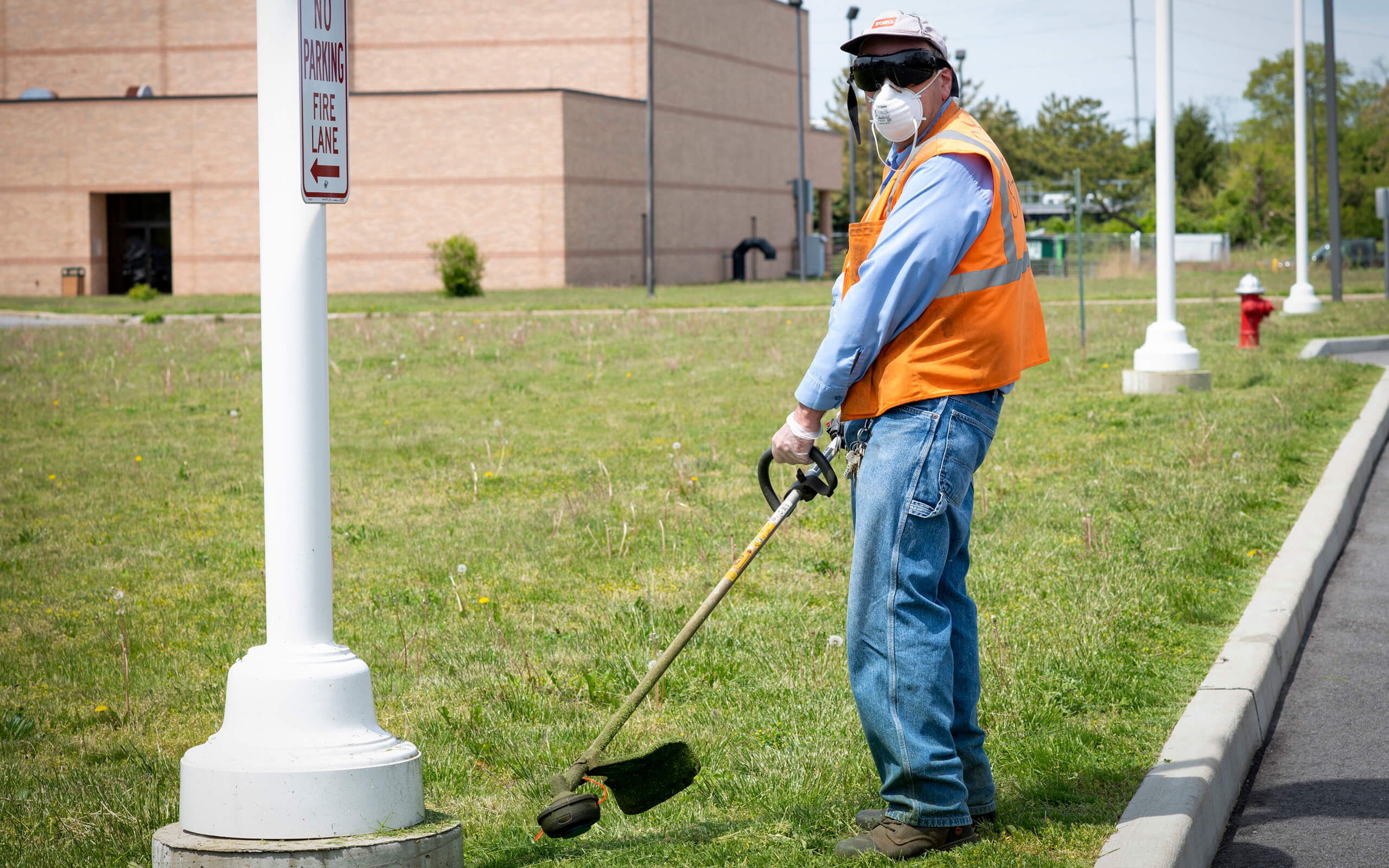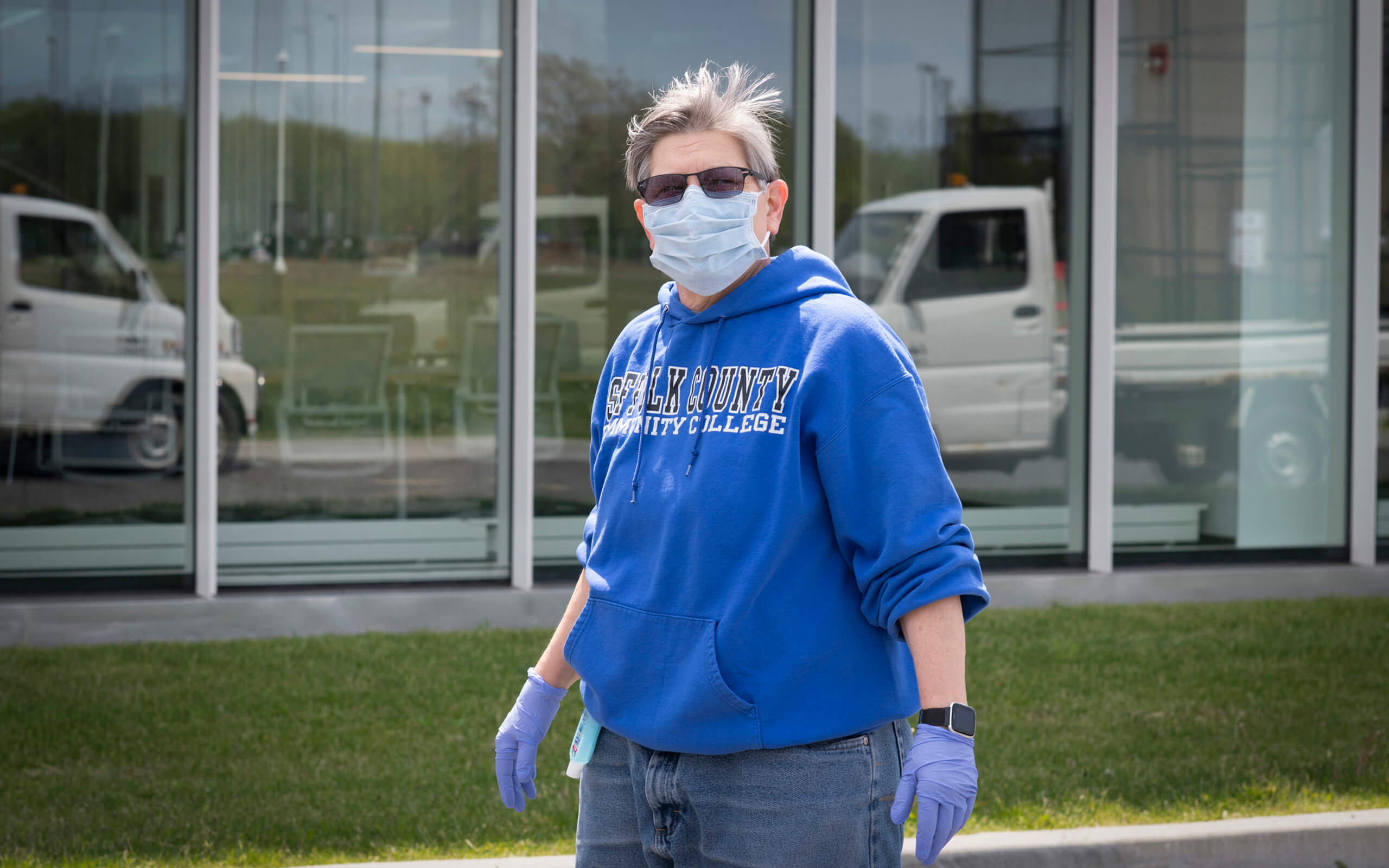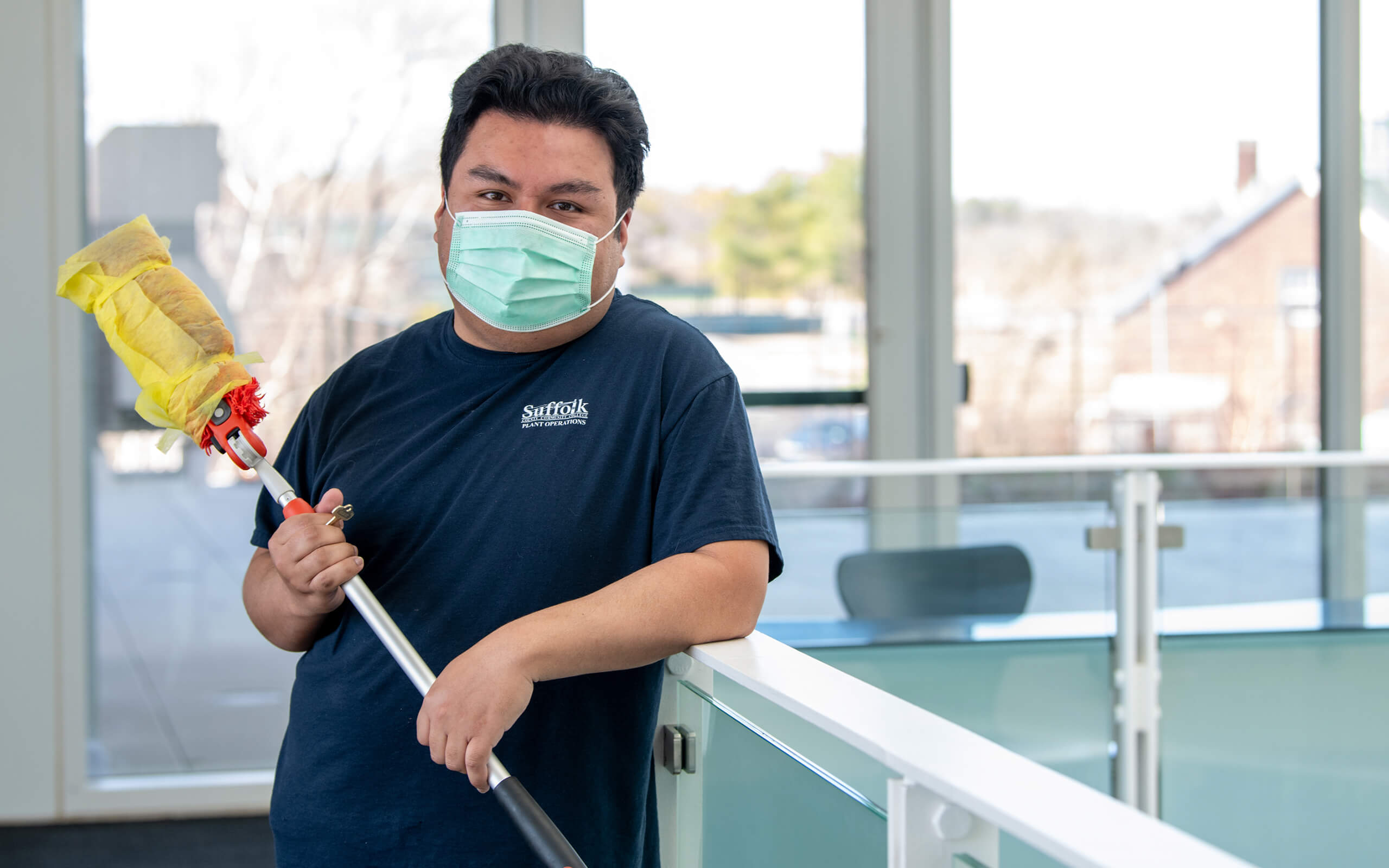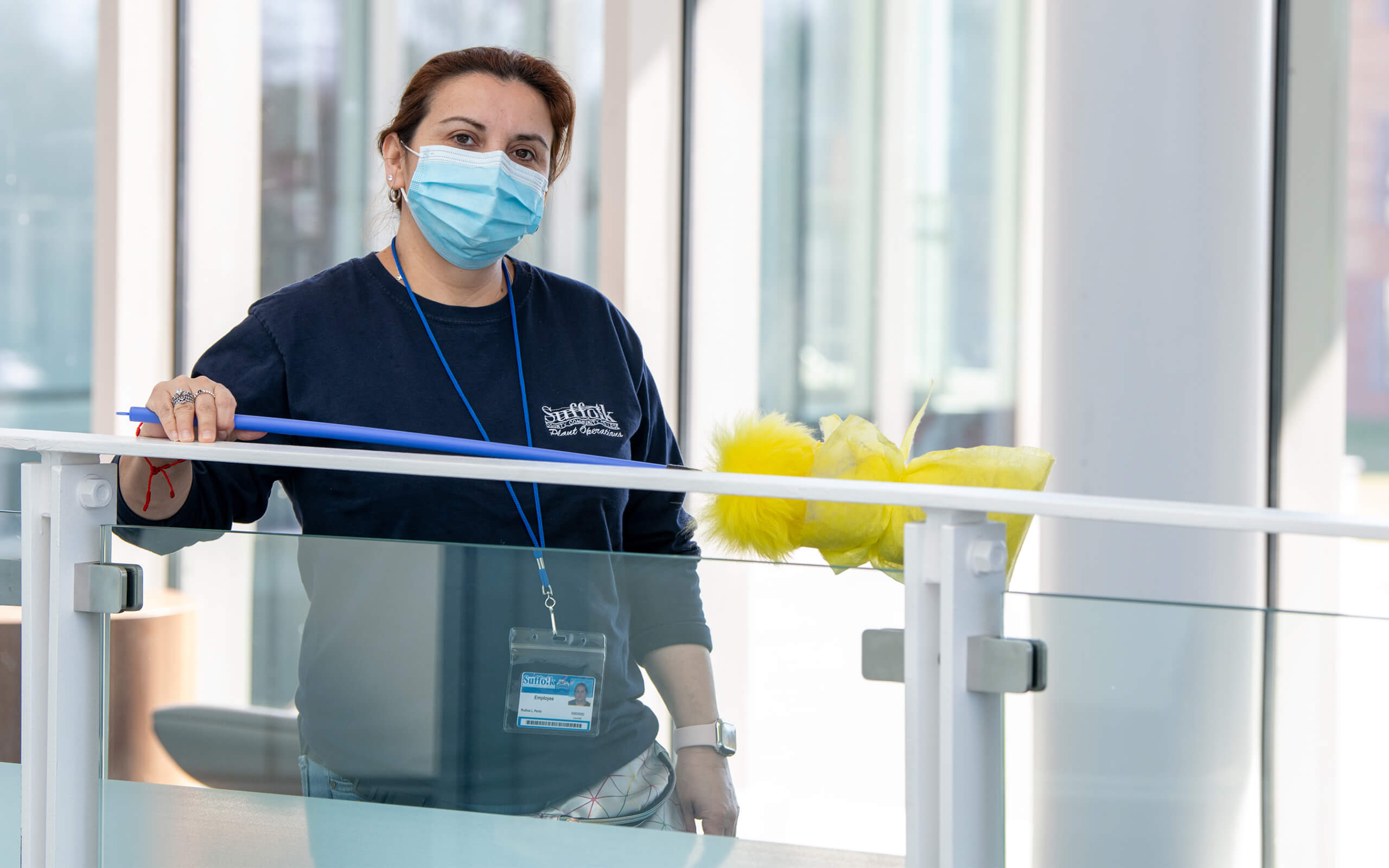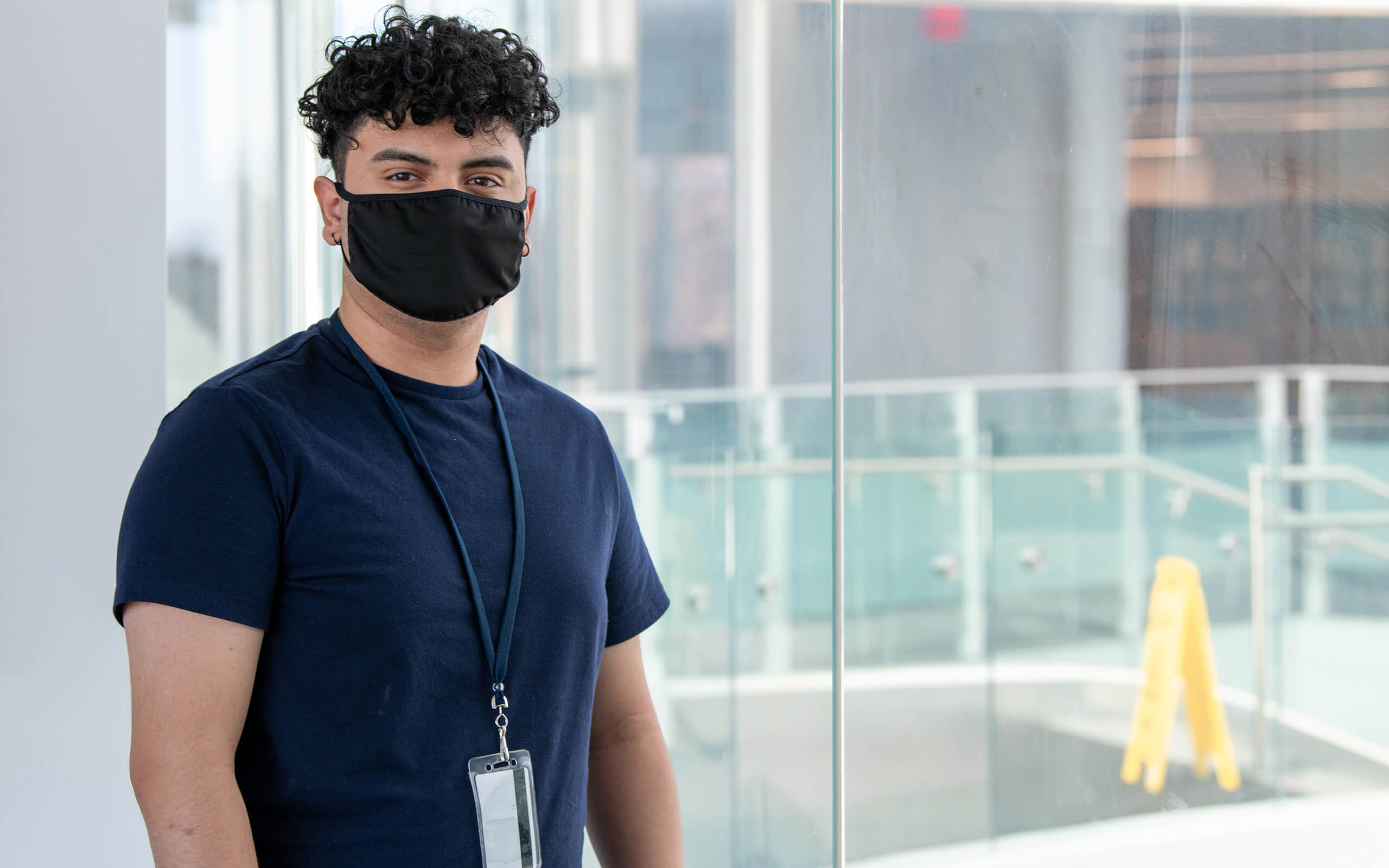 Plant Operations was responsible for daily disinfecting and cleaning of occupied spaces throughout the campuses. This included the establishment of a collaborative effort with the campus community, including Public Safety, to identify what spaces were occupied each day and label spaces after they were disinfected. The cleaning workload for the College's custodial staff changed dramatically and they adapted to a number of enhanced cleaning methods. These essential staff members learned quickly and took on new sanitizing protocols that were established in conjunction with the Office of Public Safety, with the priority goal of mitigating the spread of the COVID-19 virus on campus. From March to now, our essential staff members took measurements set forth in guidance documents, setting up classrooms and hallways for social distancing, established and maintained the SUNY-mandated COVID-19 pooled saliva testing sites on campus and the County-run PODs for vaccinations, distributed masks, disinfectant and hand sanitizer to the campus community, installed plexiglass throughout the campuses and performed HVAC filter upgrades to MERV13 filters college-wide.
Public Safety Officers truly became the College's gatekeepers and sentinels. While access to campus was restricted, it became their responsibility to enforce entrance and movement on campus. Initially, these officers checked-in and escorted faculty and staff to their offices so they could transition to remote operations. They secured the campus premises, implemented new campus protocols for signing in and ensured that employees and students were complying with the electronic or paper daily health screening questionnaire. As time went by, they worked closely with facilities on setting up social distancing protocols in classrooms and hallways, refined new cleaning protocols and managed the ordering of cleaning supplies. They worked in tandem with Information Technology Services on laptop distribution; with academic and student affairs on Enrollment and Registration Day events; with the Associate Deans of Student Affairs to ensure students were complying with mask wearing requirements and assisted the Business Office with scheduled vendor/contractor presence on campus.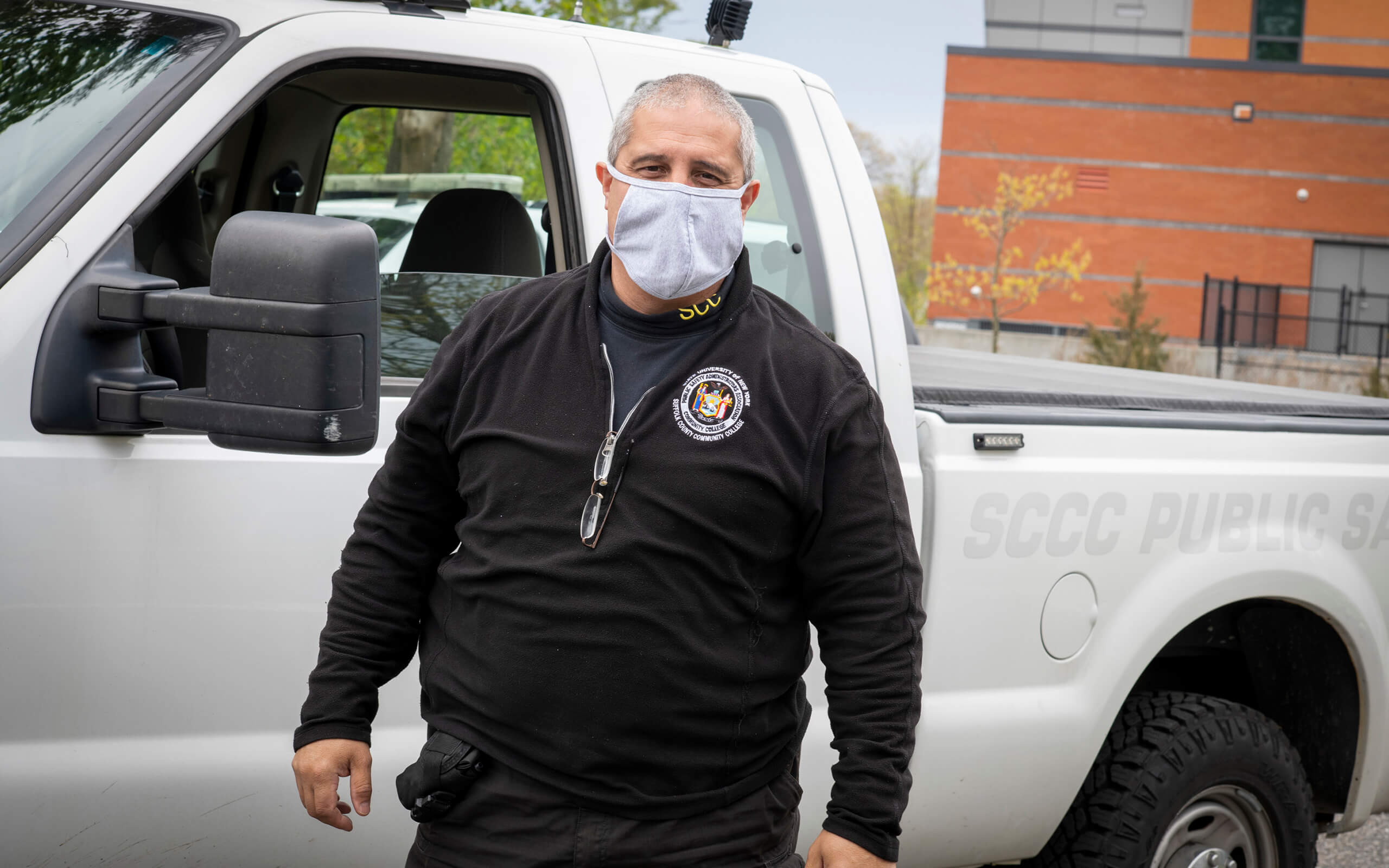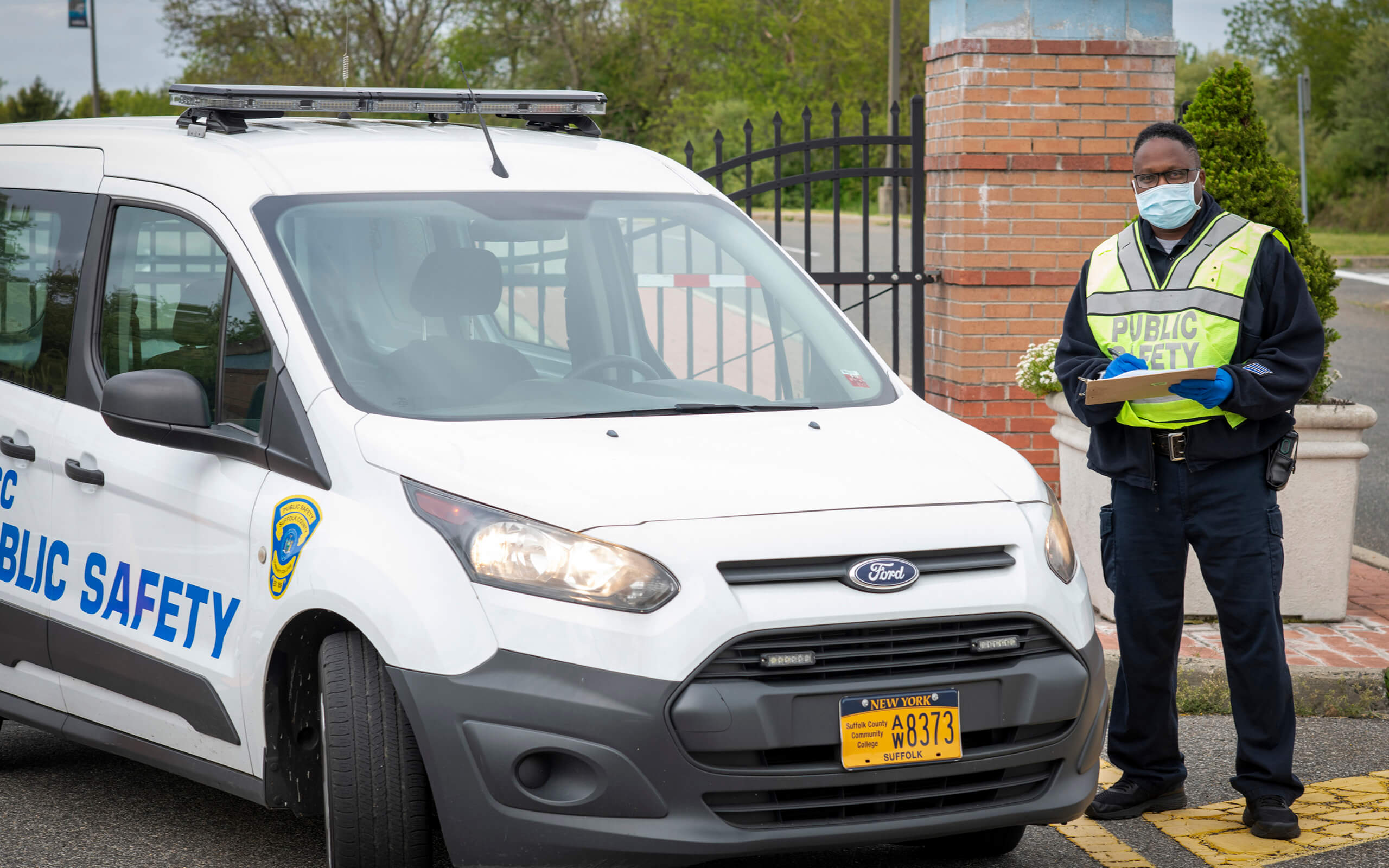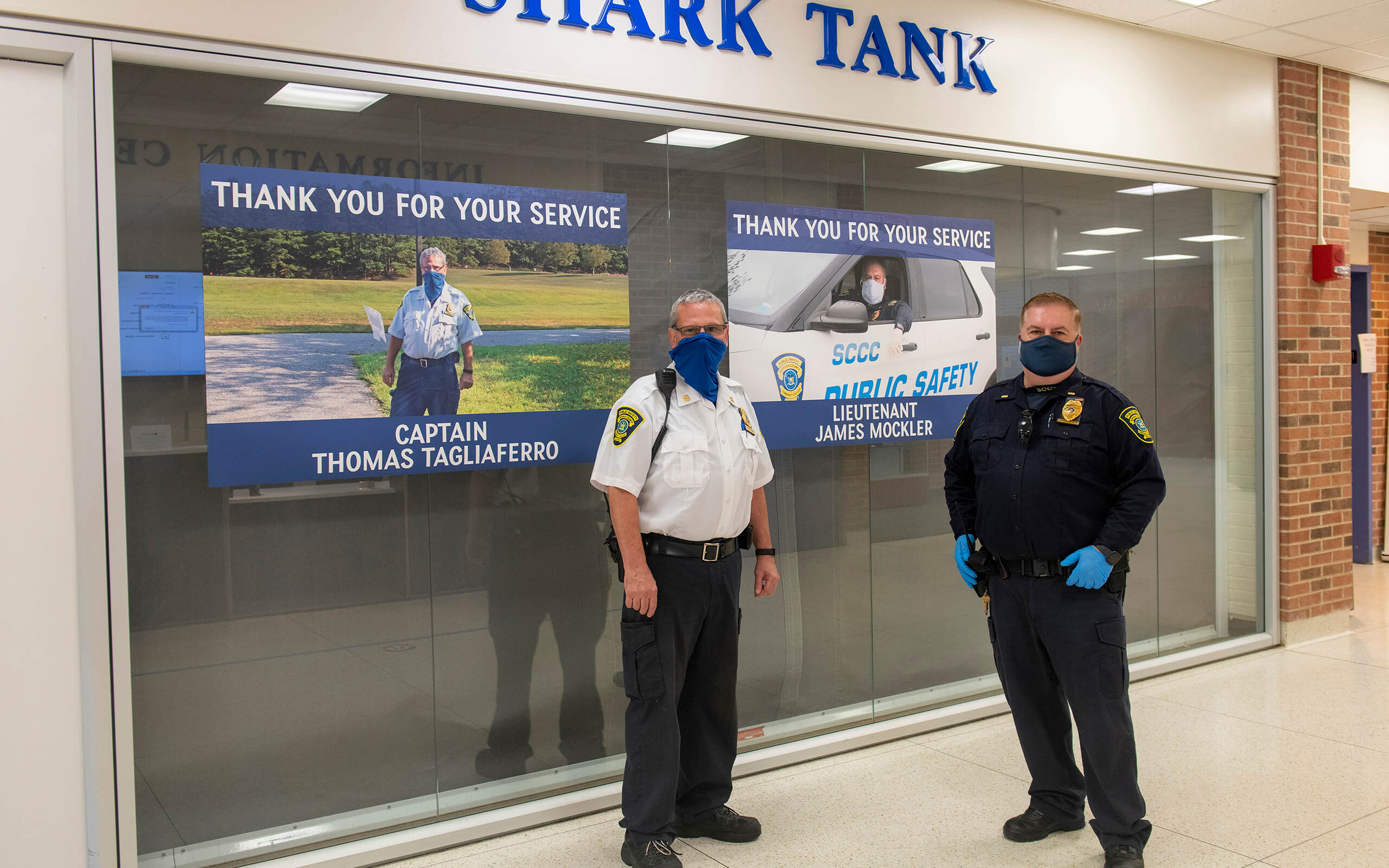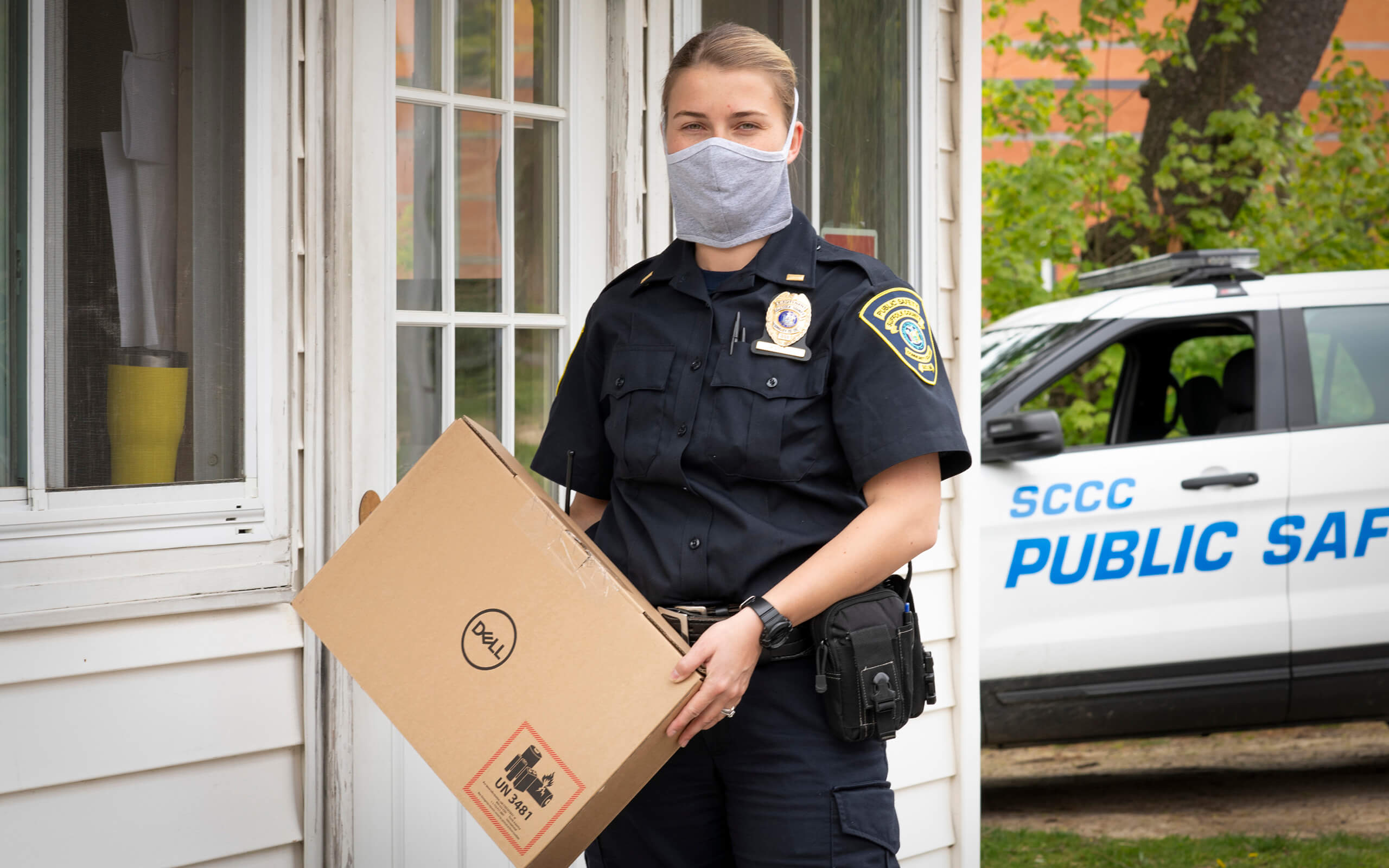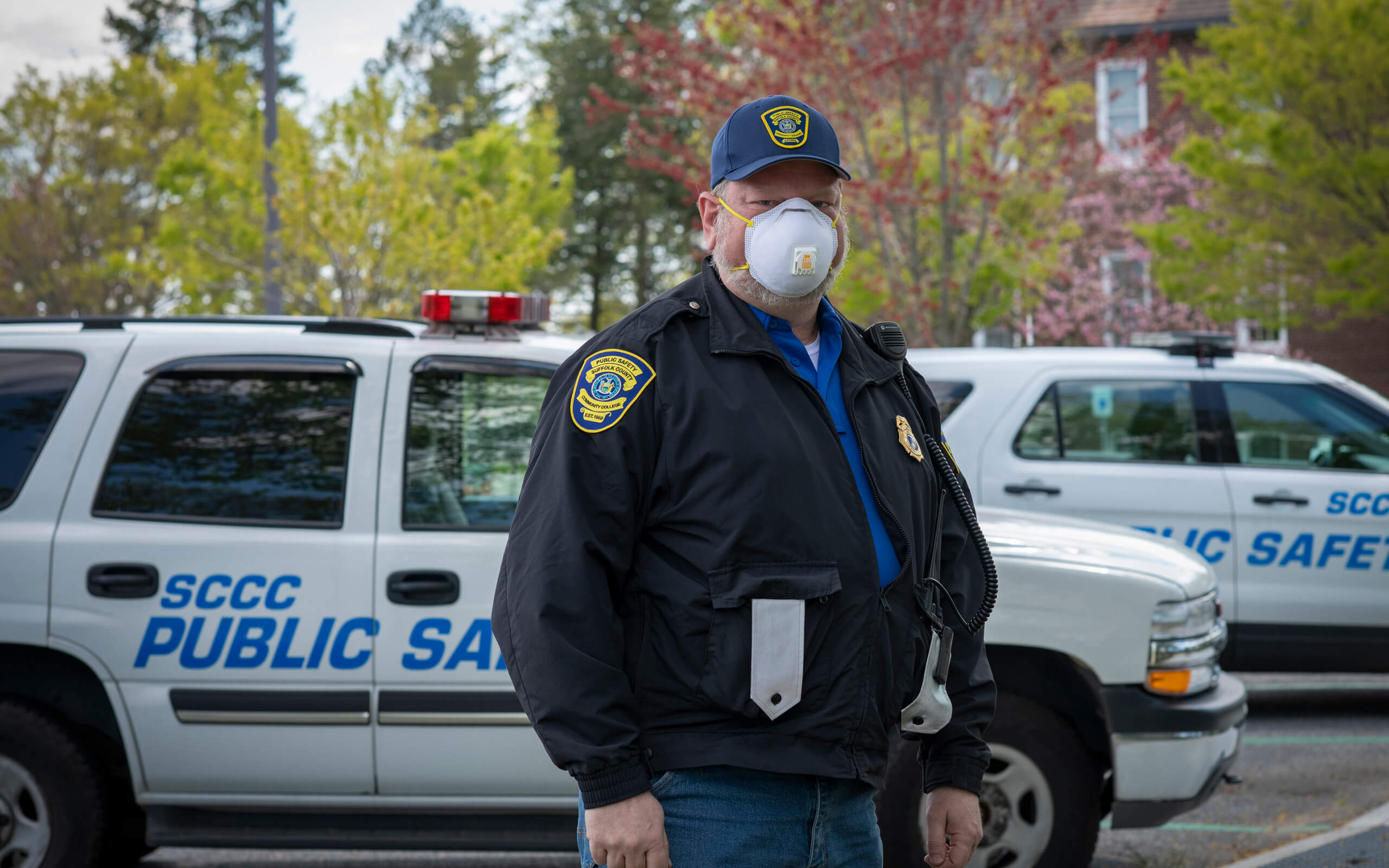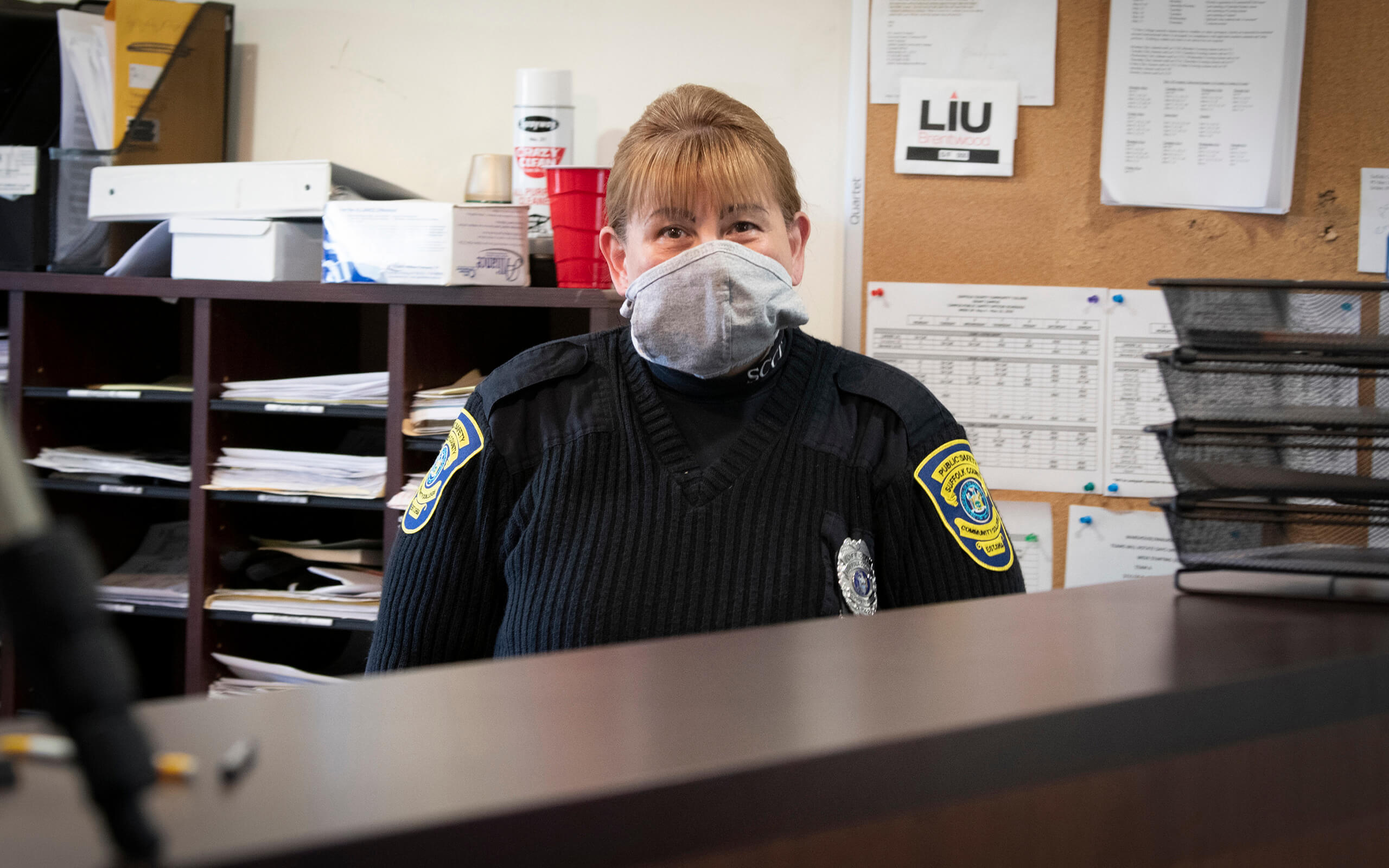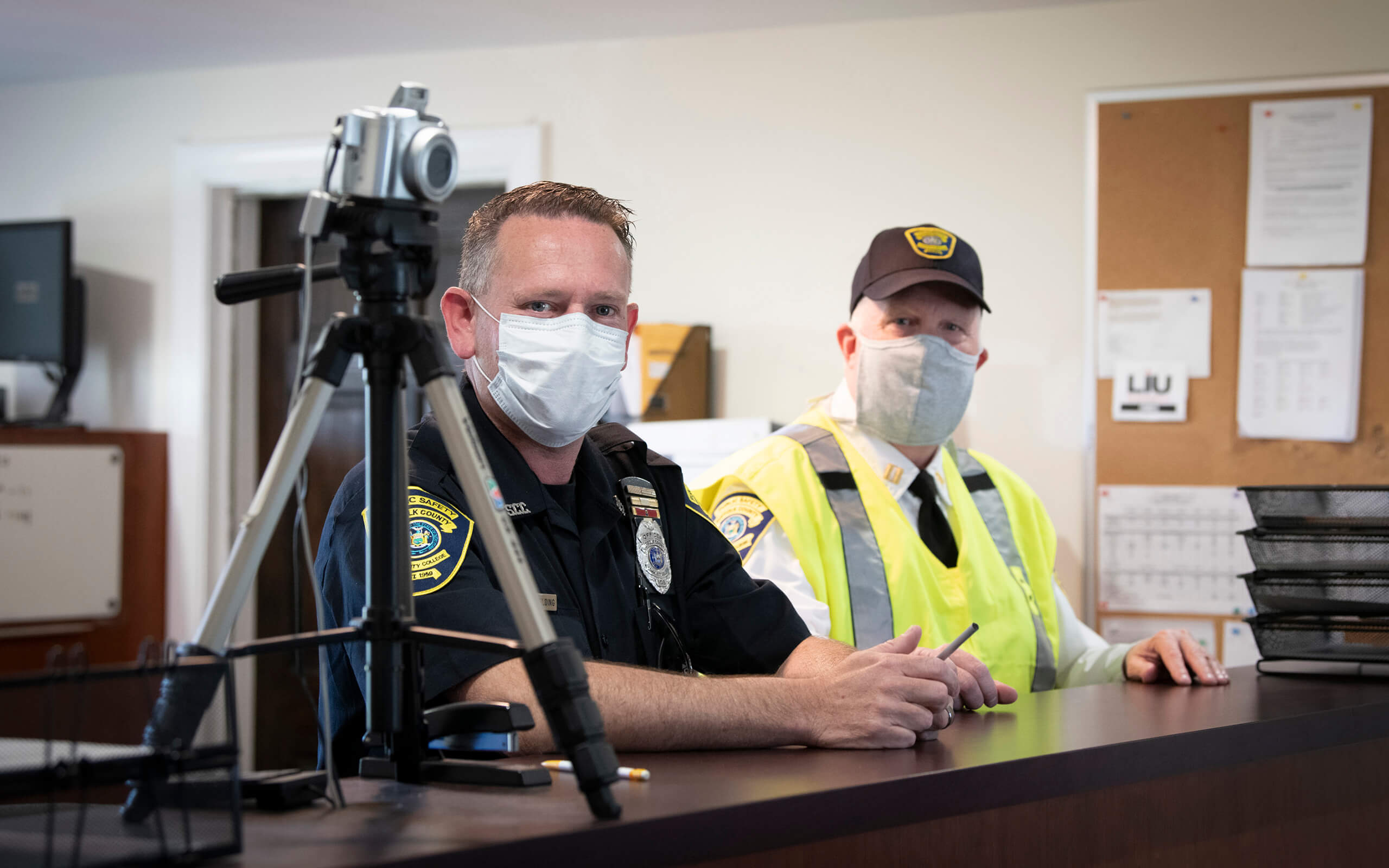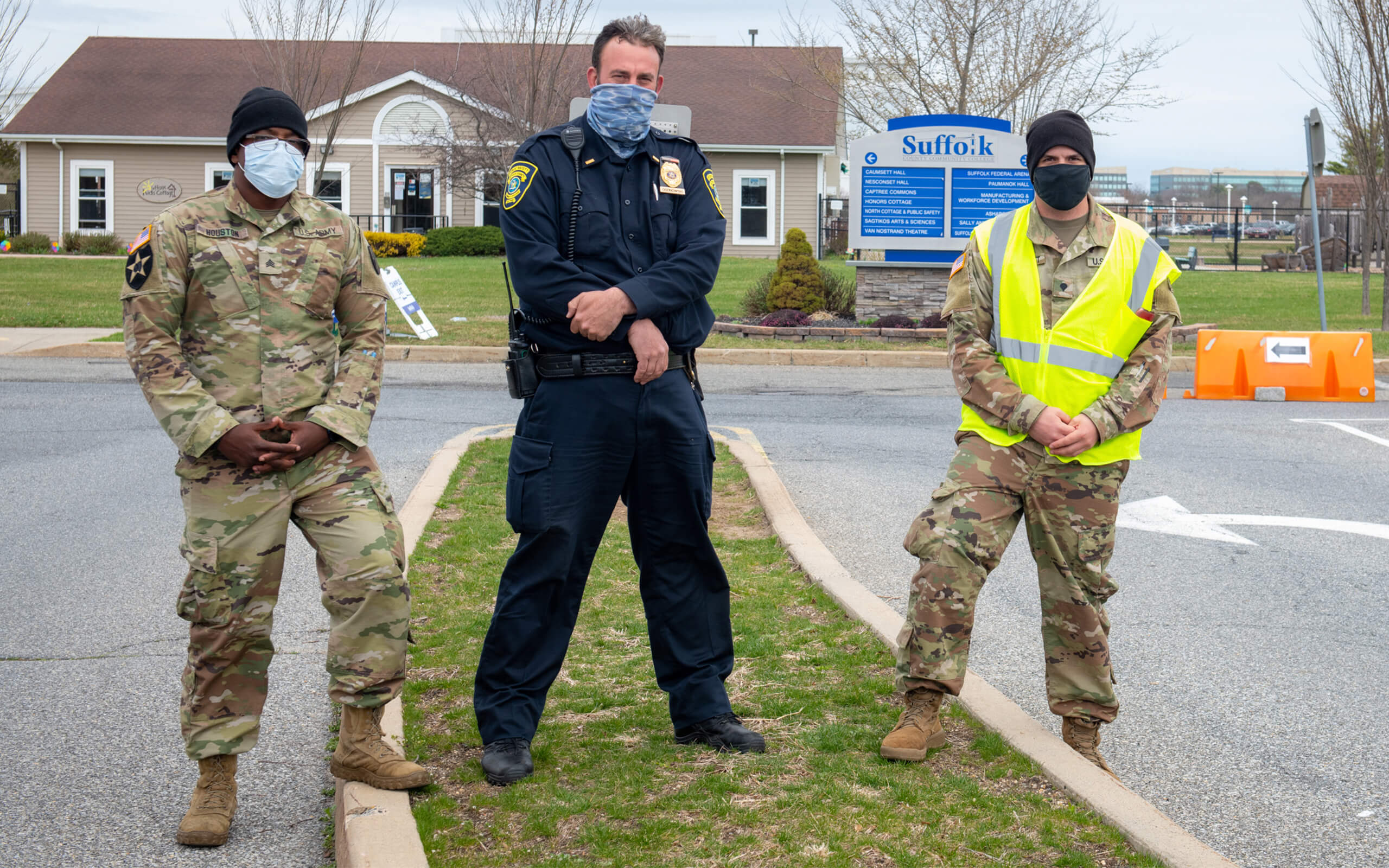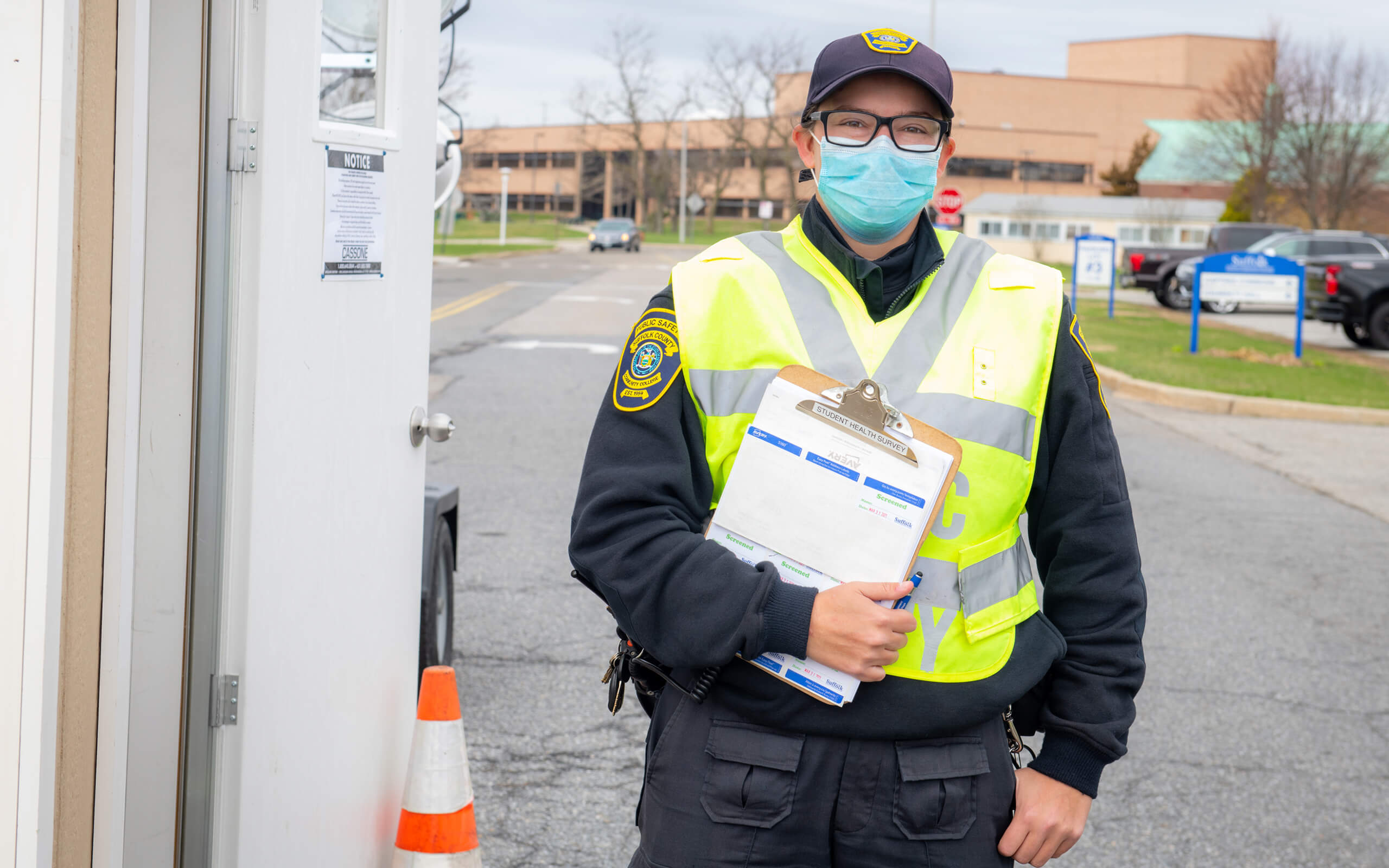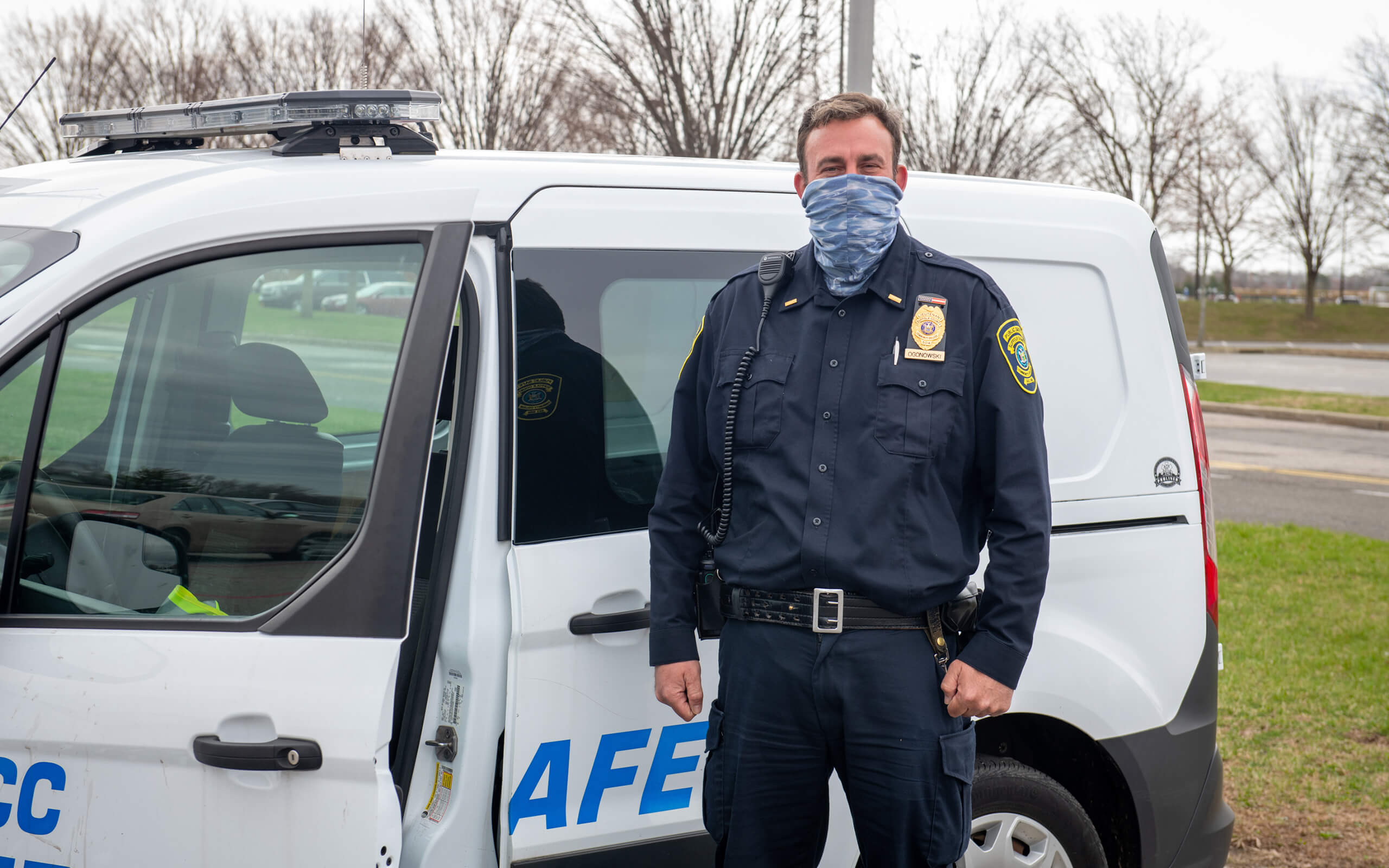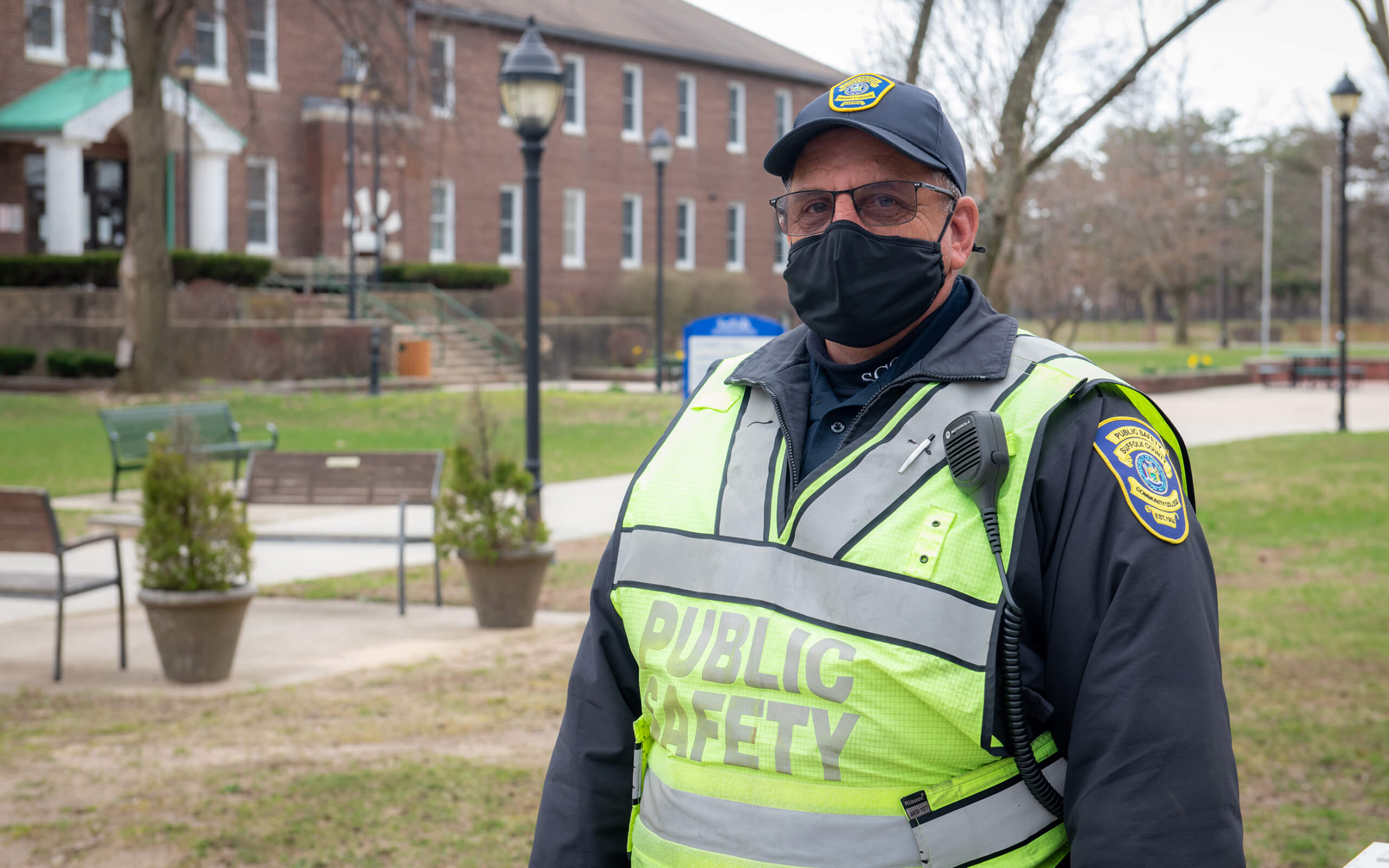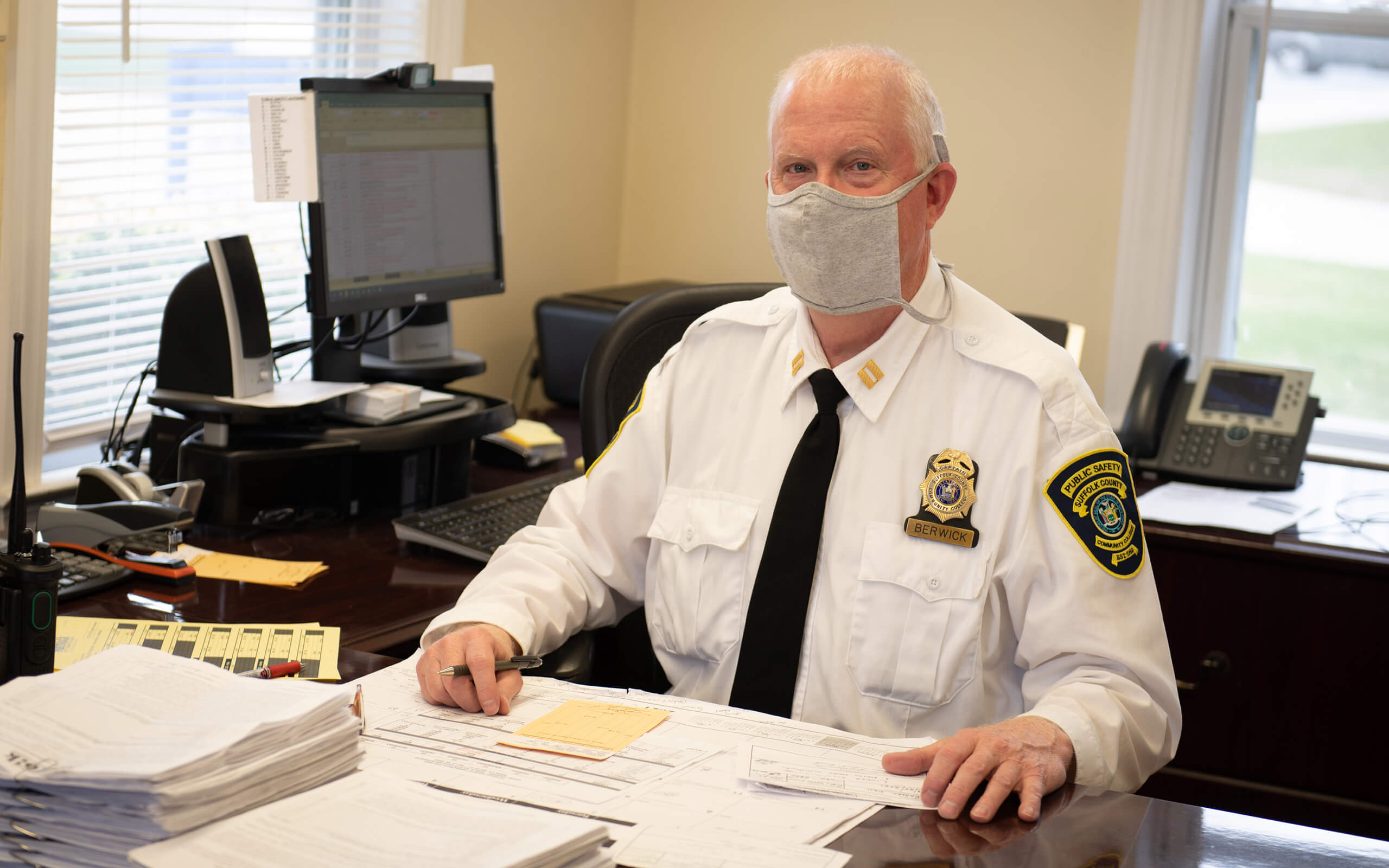 WORKING REMOTELY WHILE FEELING SUPPORTED
Remote instruction began on Monday, March 30, 2020, with limited issues and minimal problems. Remote work was supported by Information Technology Services. Most of the Information Technology Services employees worked in their offices throughout the pandemic, some IT and Public Safety workers even delivered laptops to the homes of students with COVID-19 and some staff met them at remote locations such as supermarkets. The team was all-hands-on-deck in order to configure and distribute 1,500 devices to students, faculty and staff and to configure and distribute Wi-Fi hotspots to those who needed them. Outdoor wireless access was expanded to parking lots on all campuses. When a generous donor provided free laptops to every SUNY EOP freshman student in the state, SUNY Suffolk volunteered to serve as a regional distribution center for Long Island. In conjunction with the Office of Opportunity Programs, the College distributed over 250 laptops to students attending one of the 49 SUNY EOP programs across the state. Public Safety coordinated with the SUNY EOP directors to arrange curbside delivery at our Michael J. Grant Campus.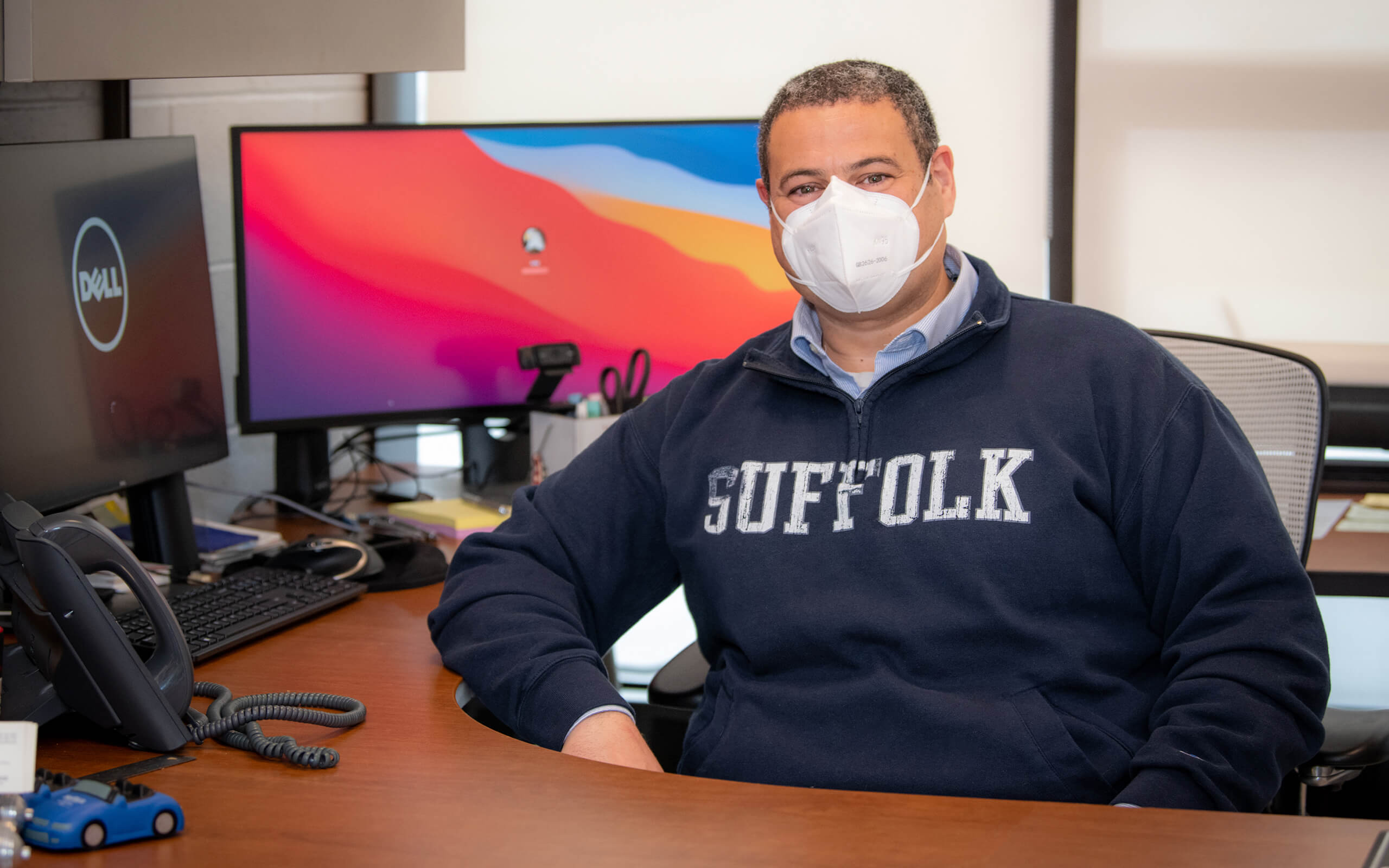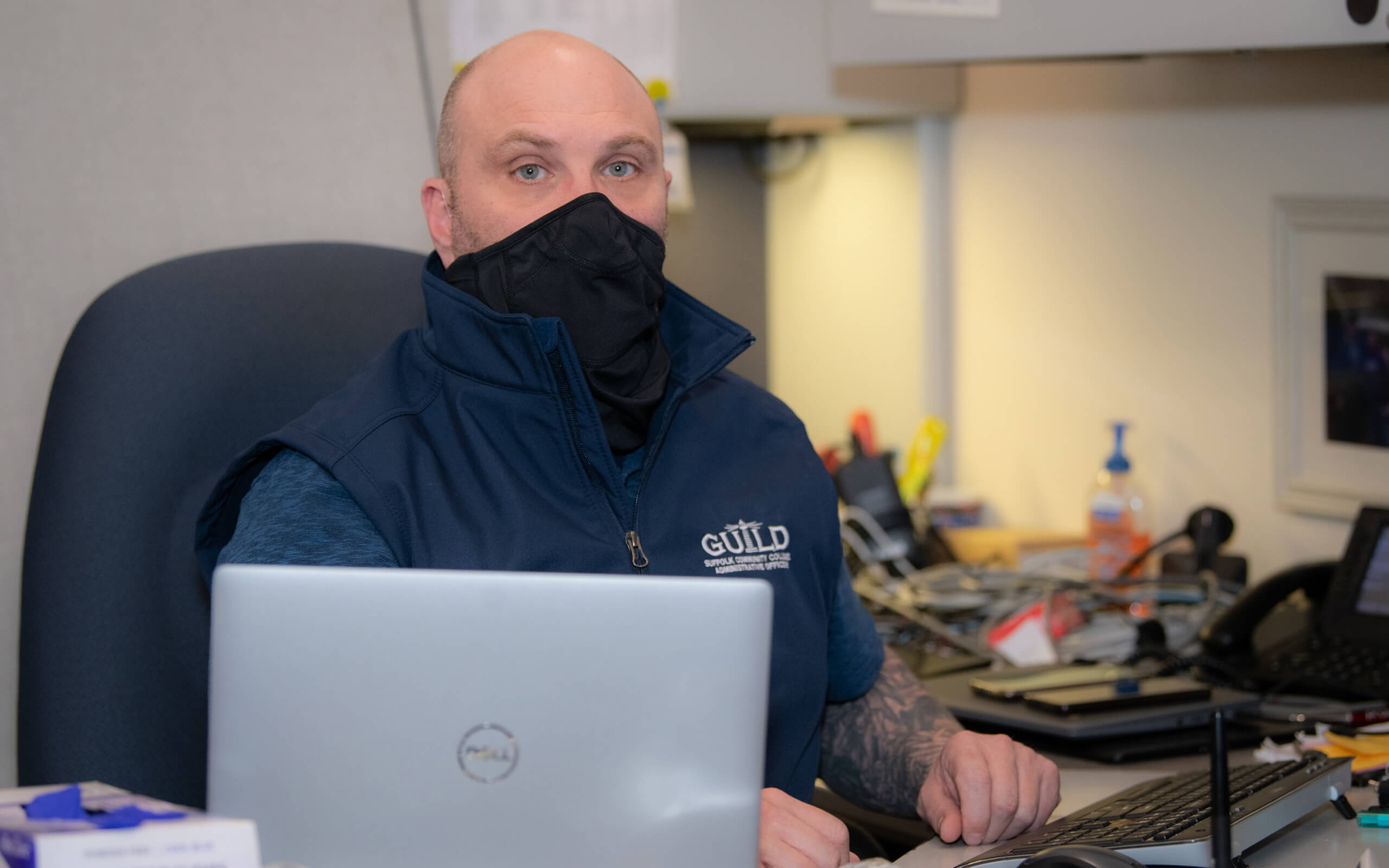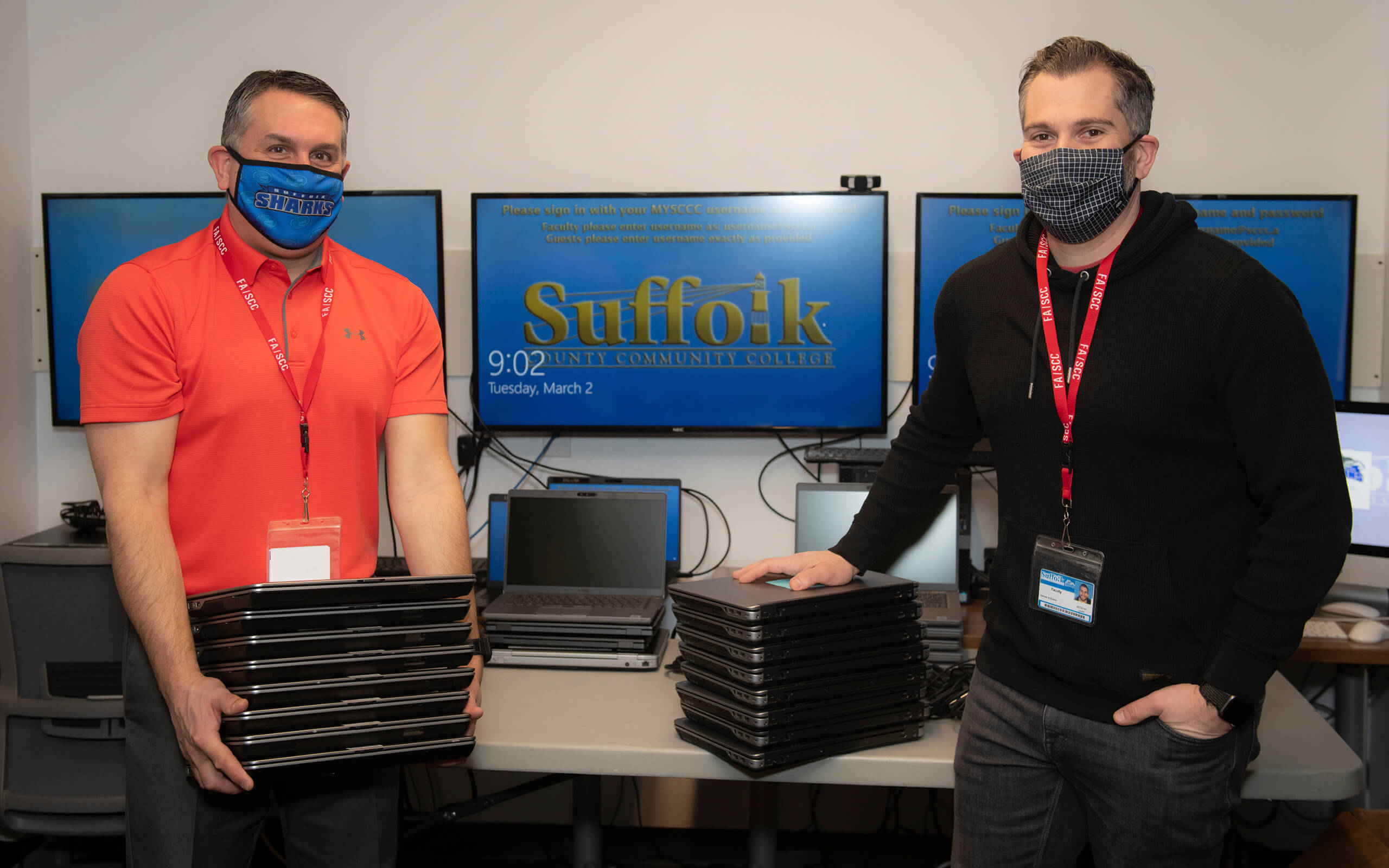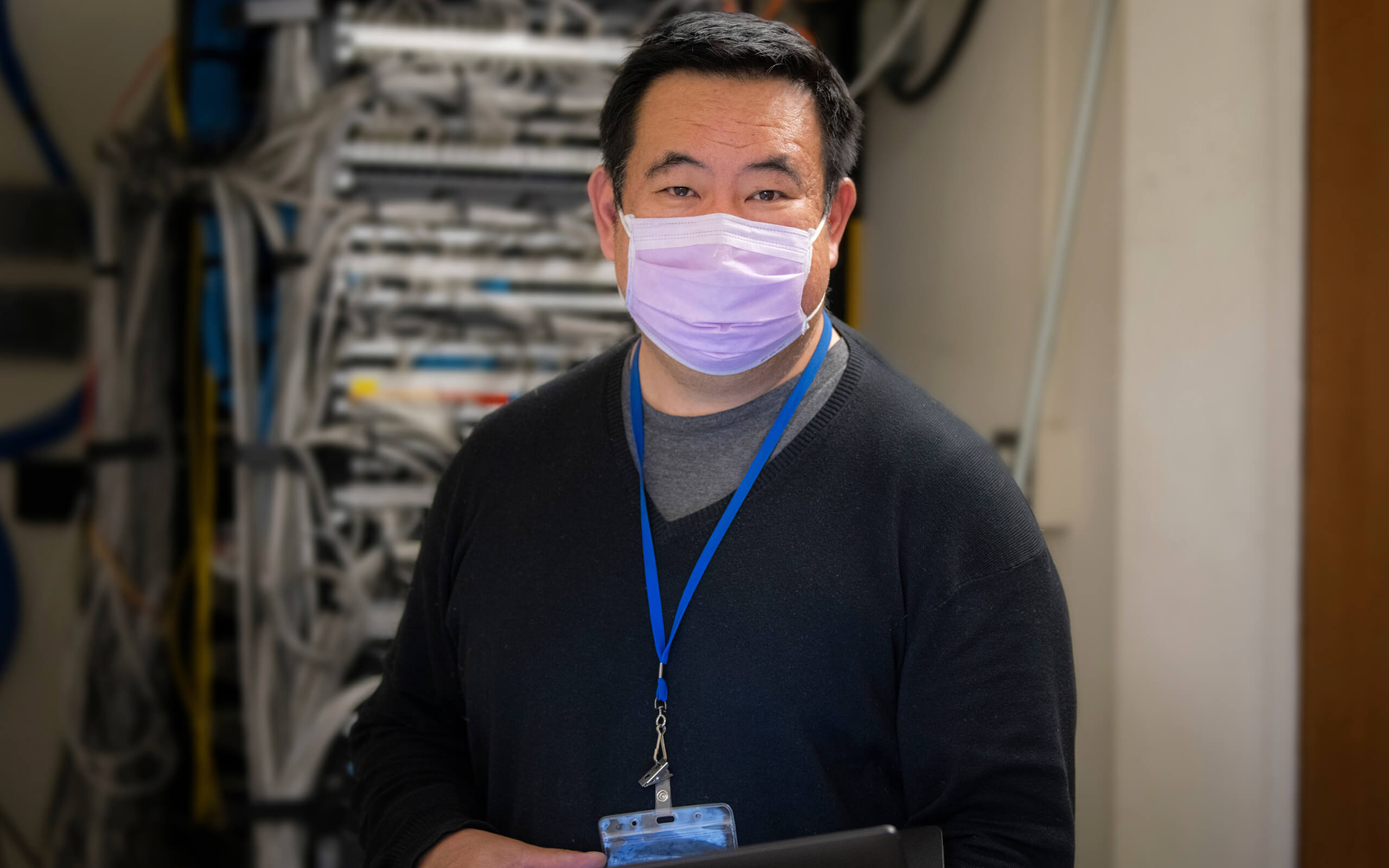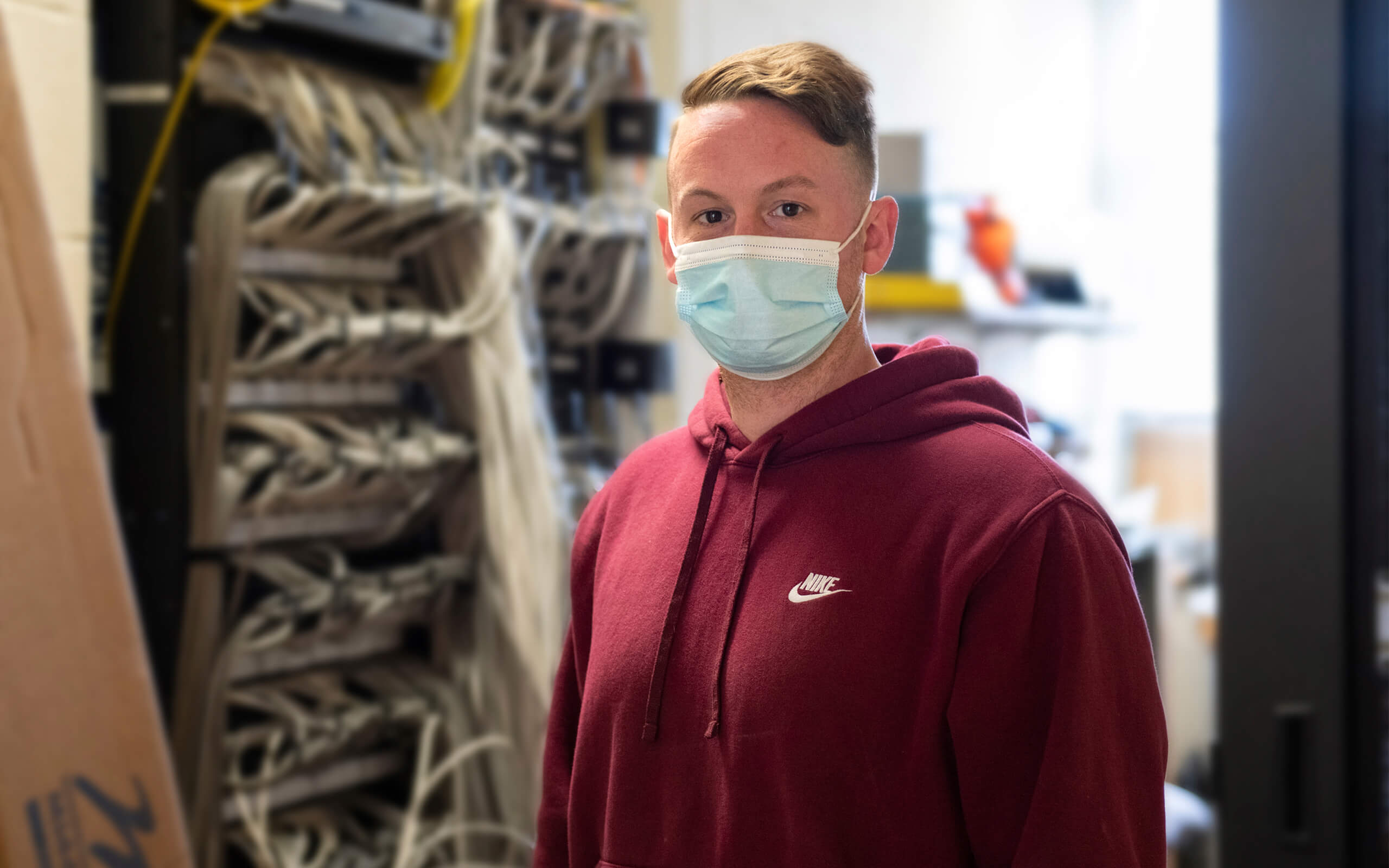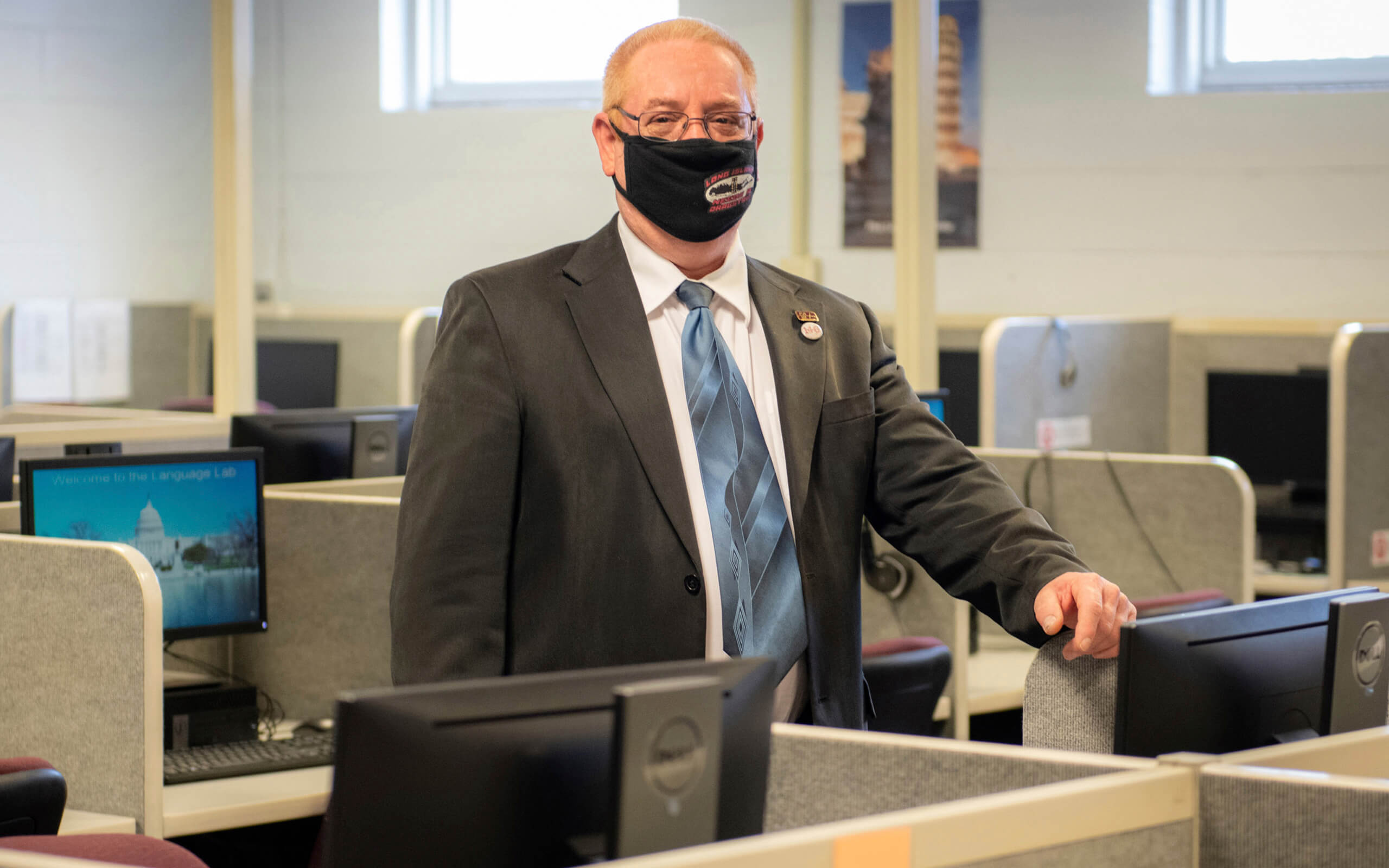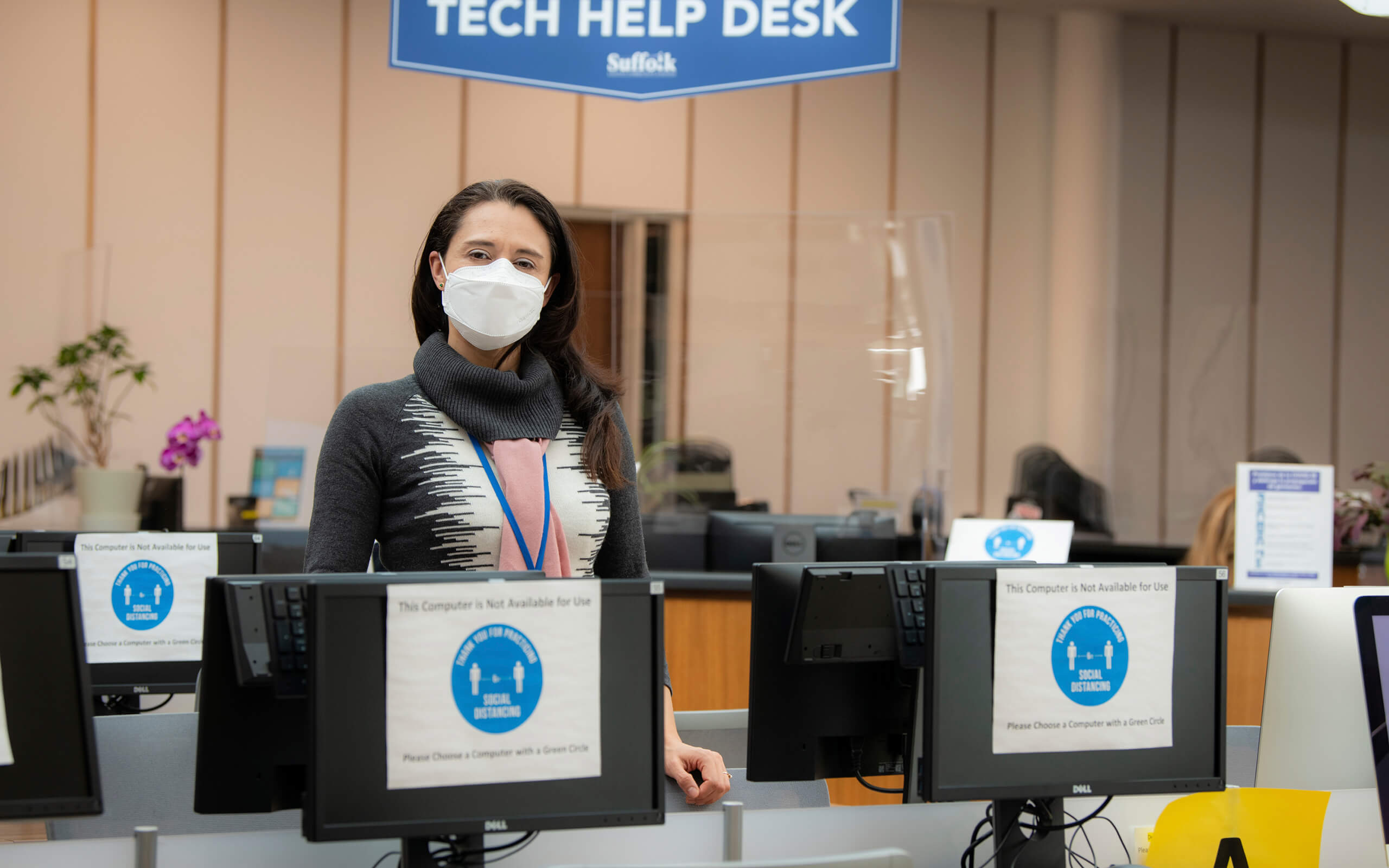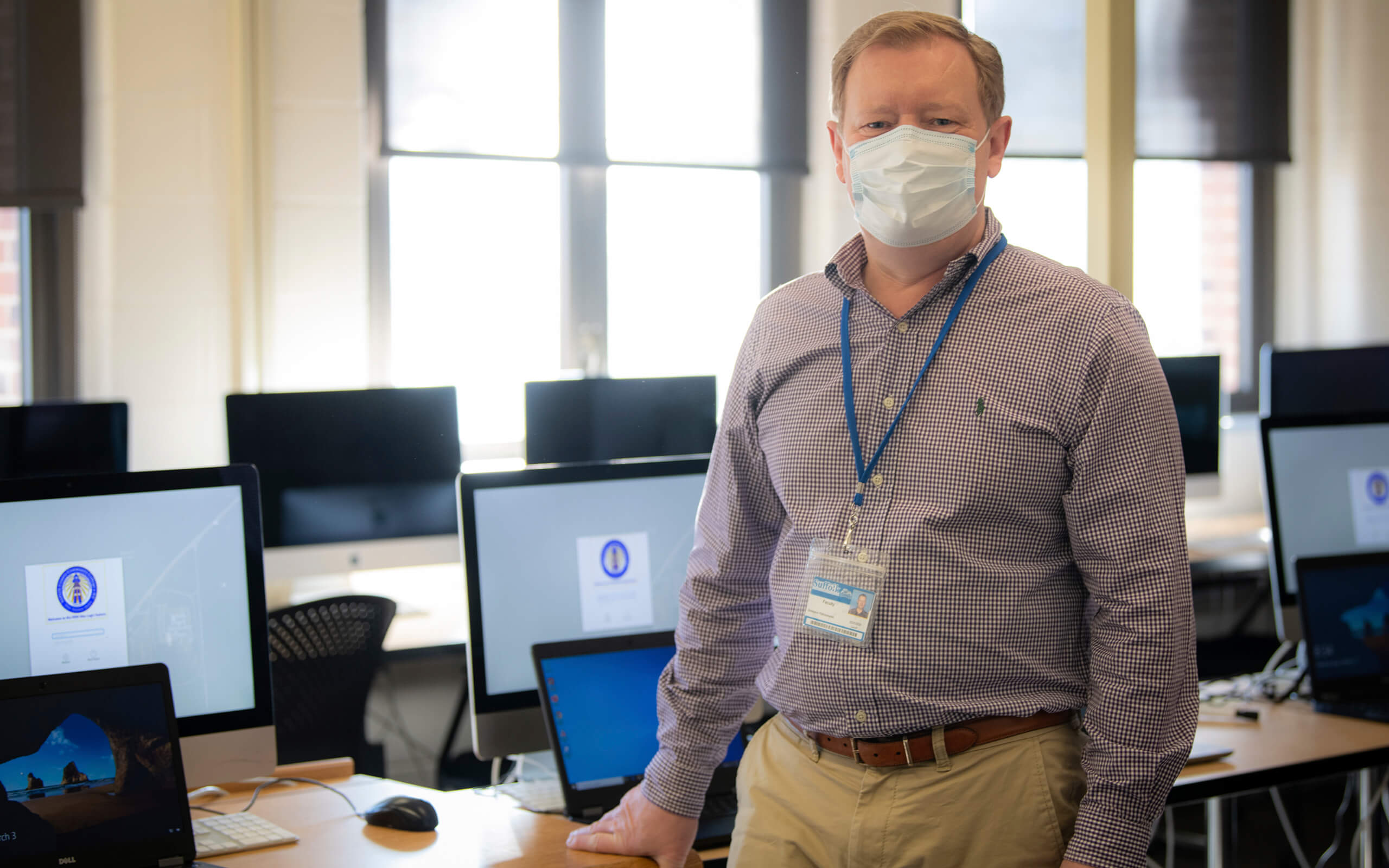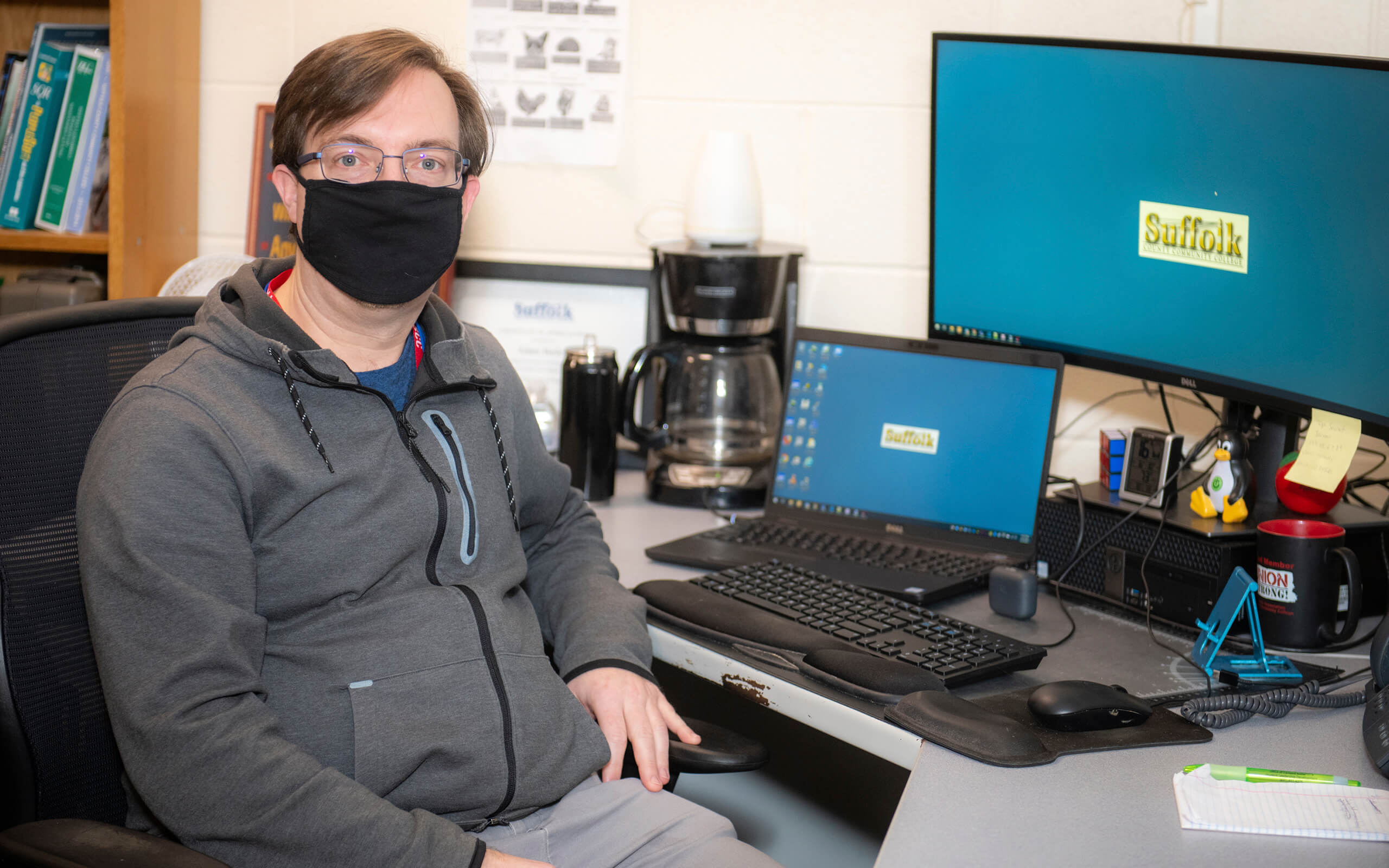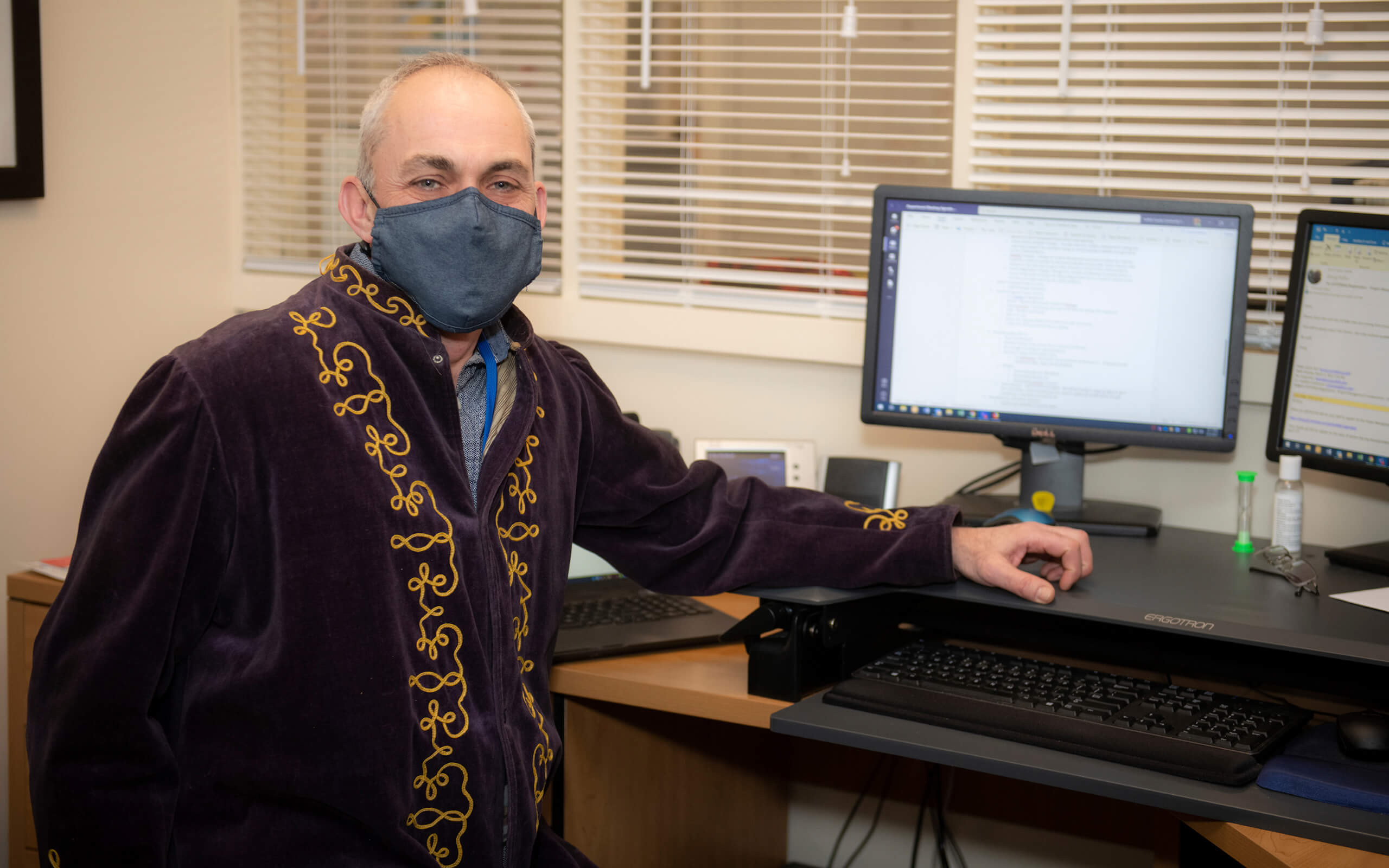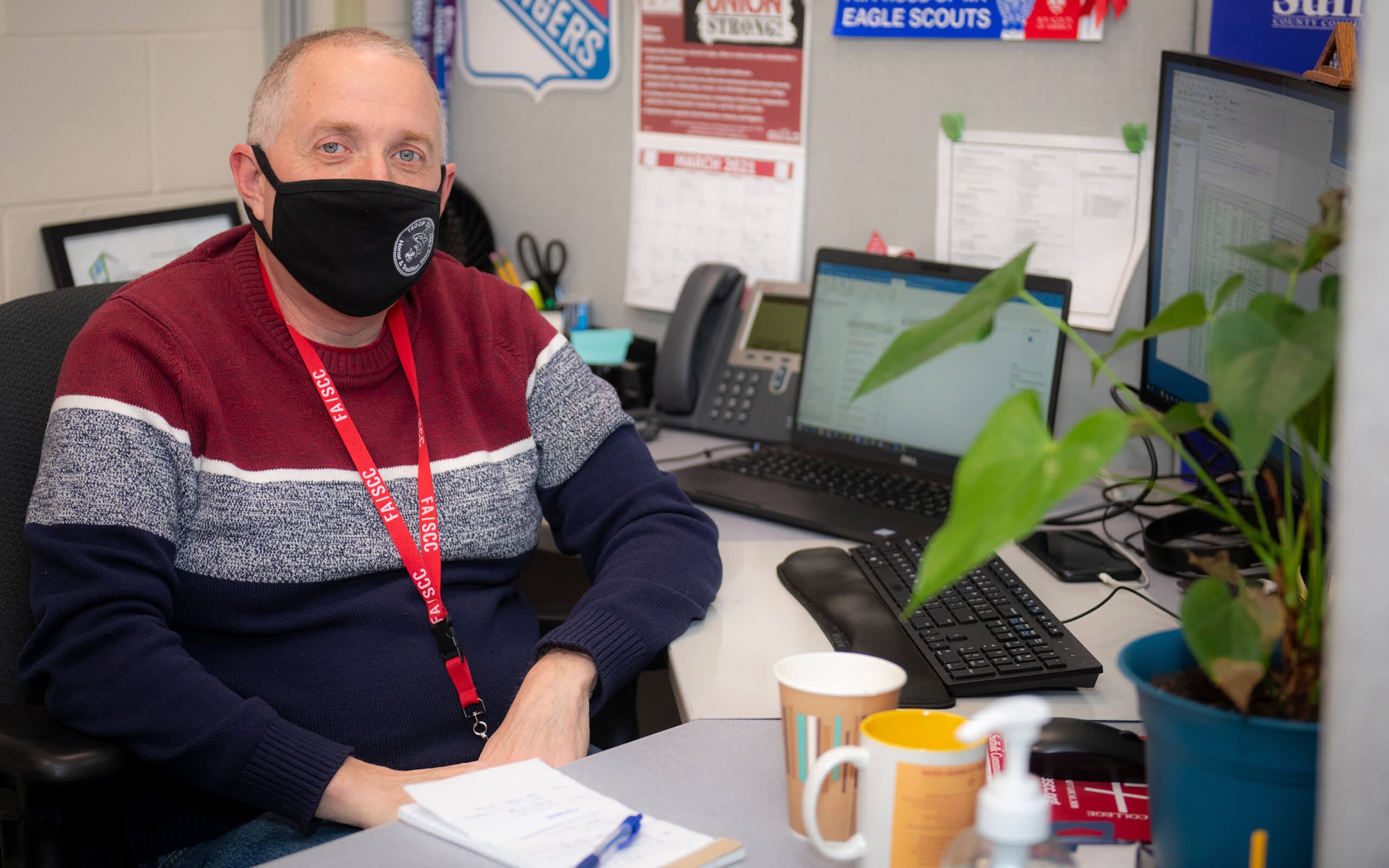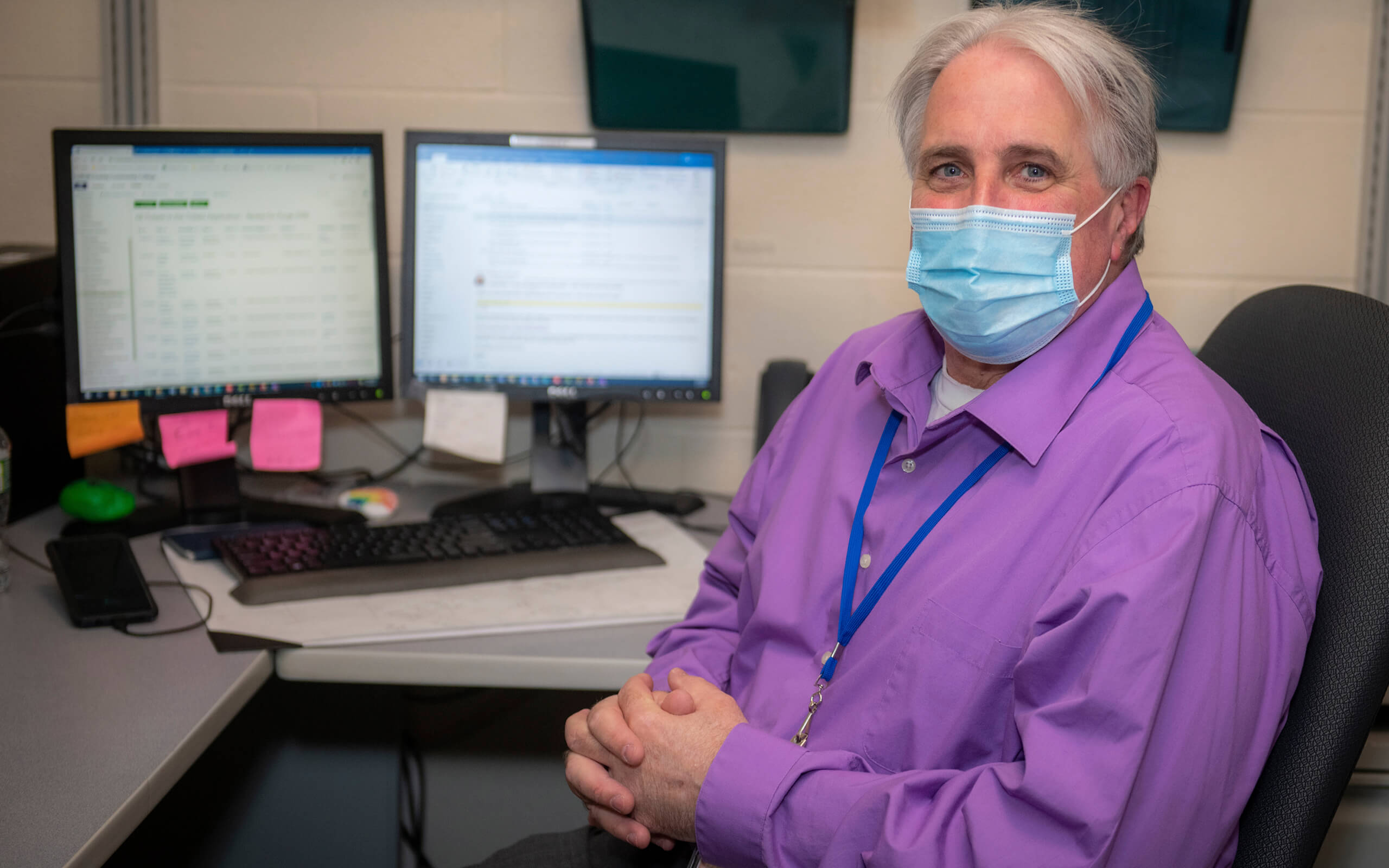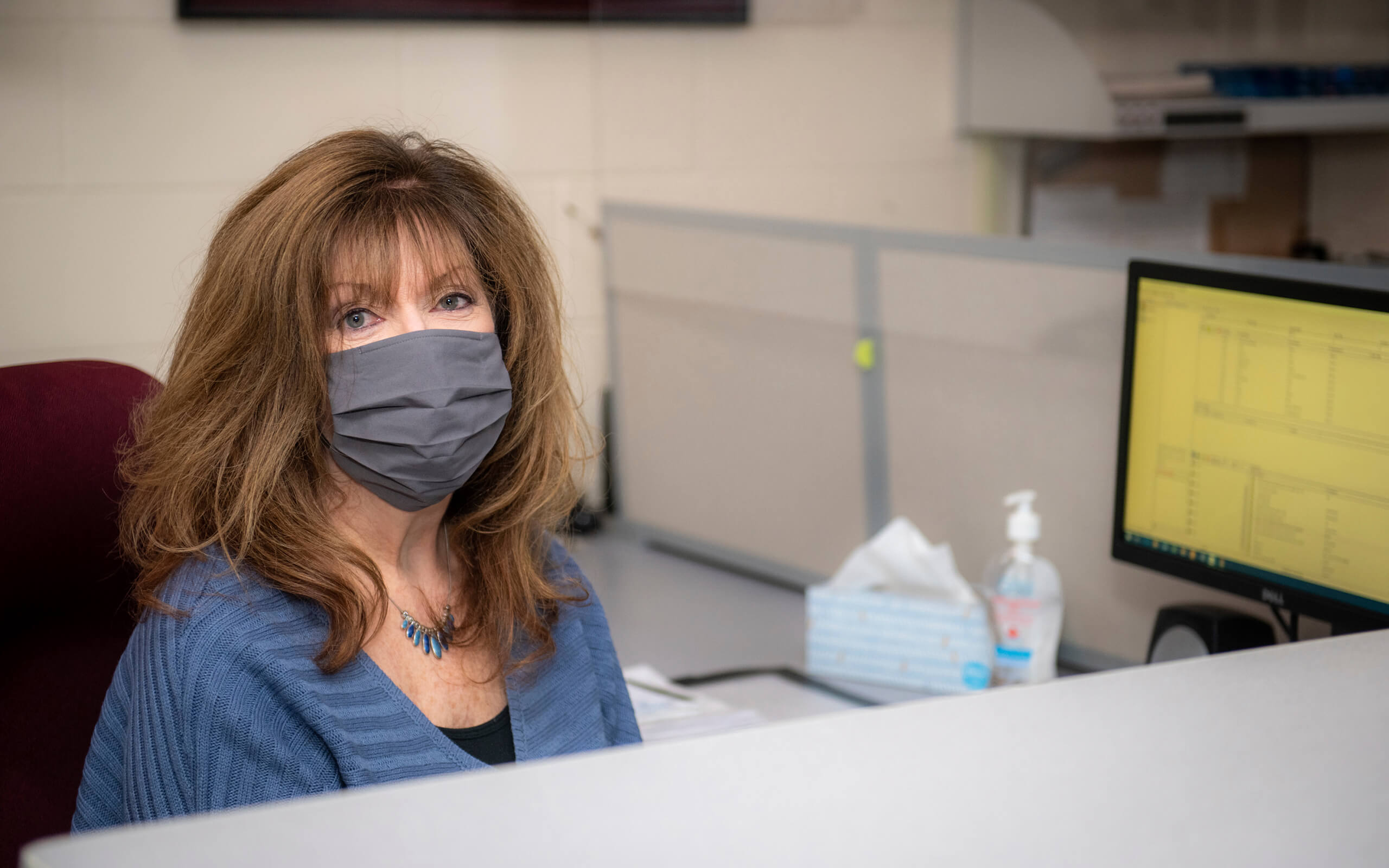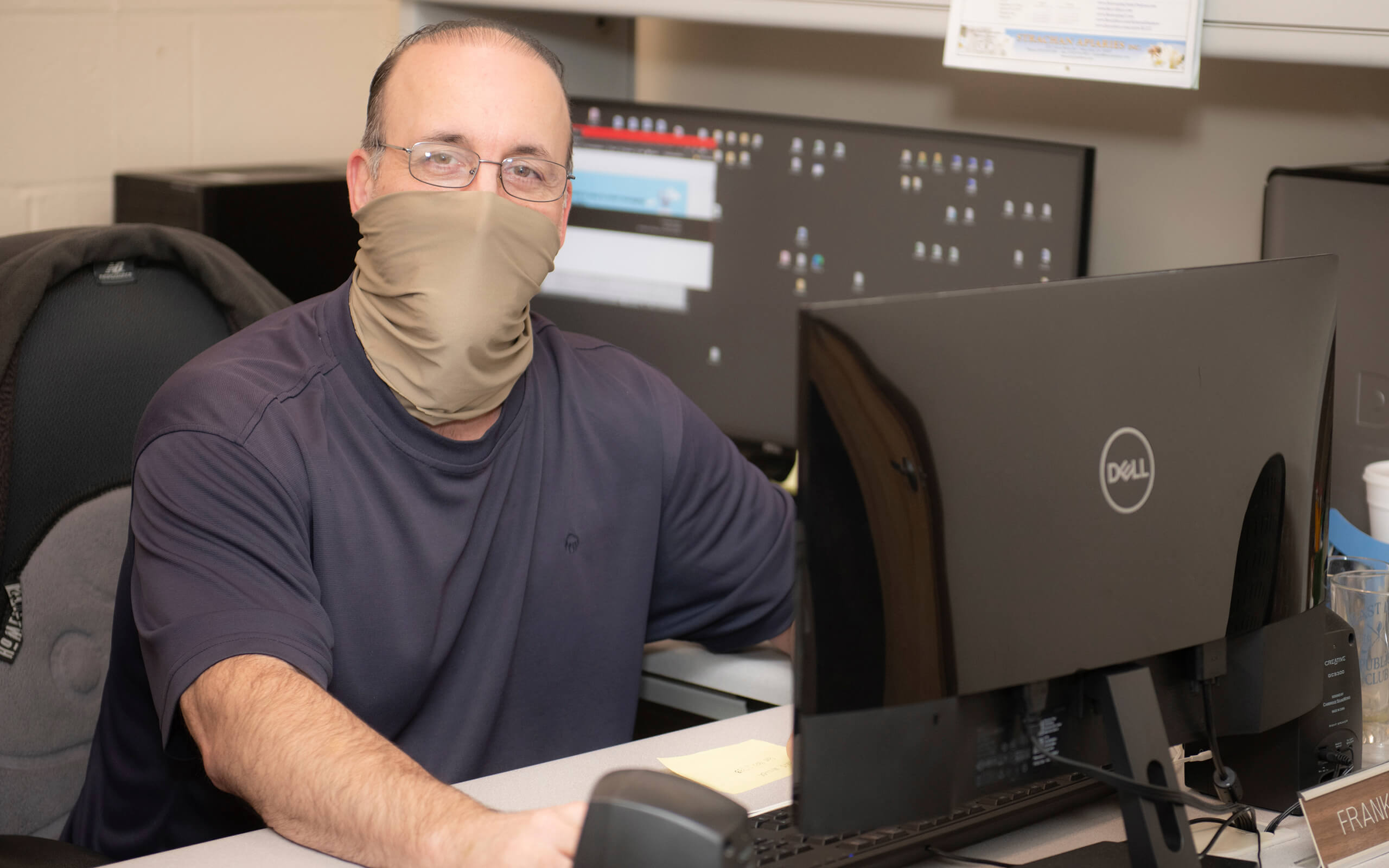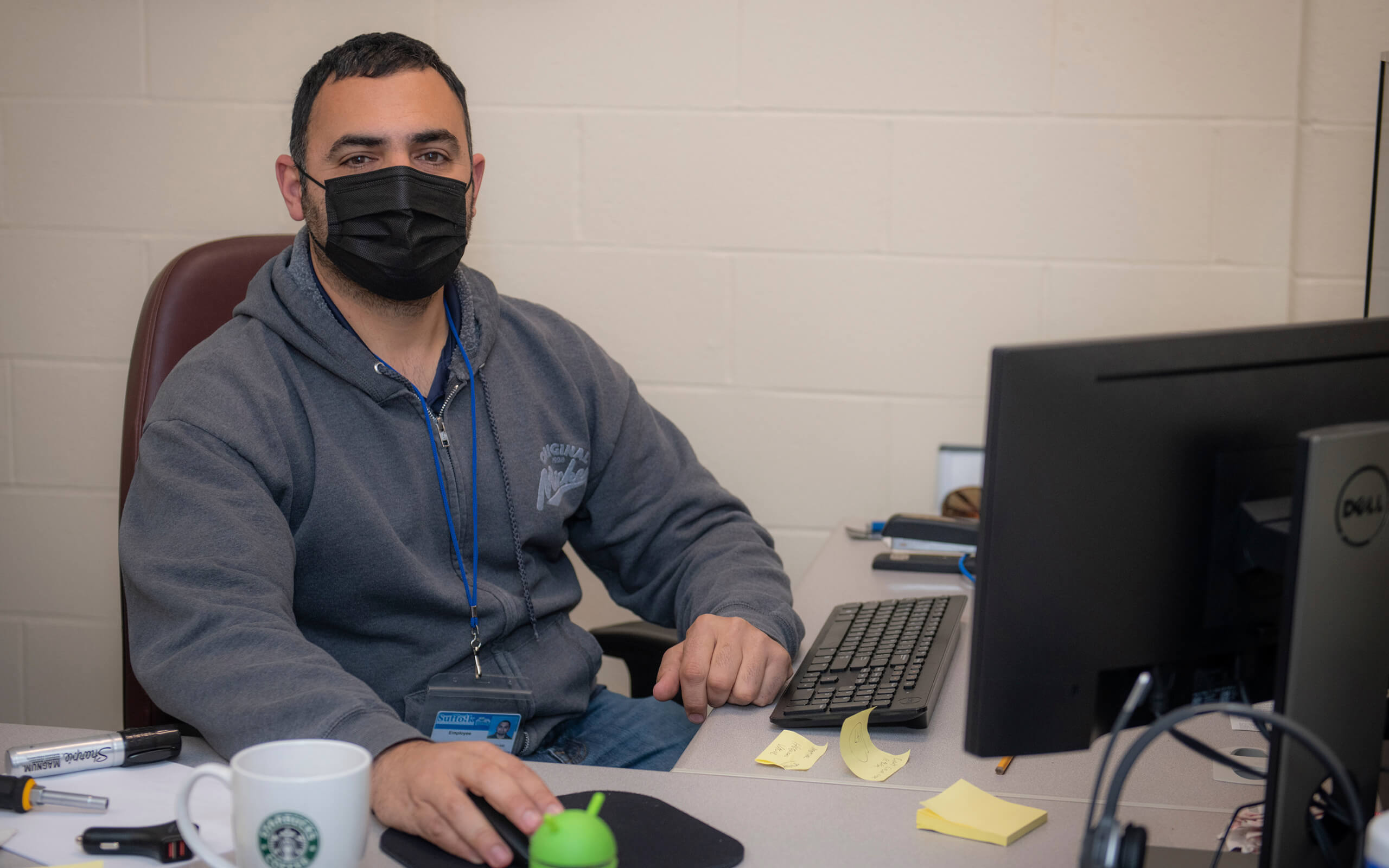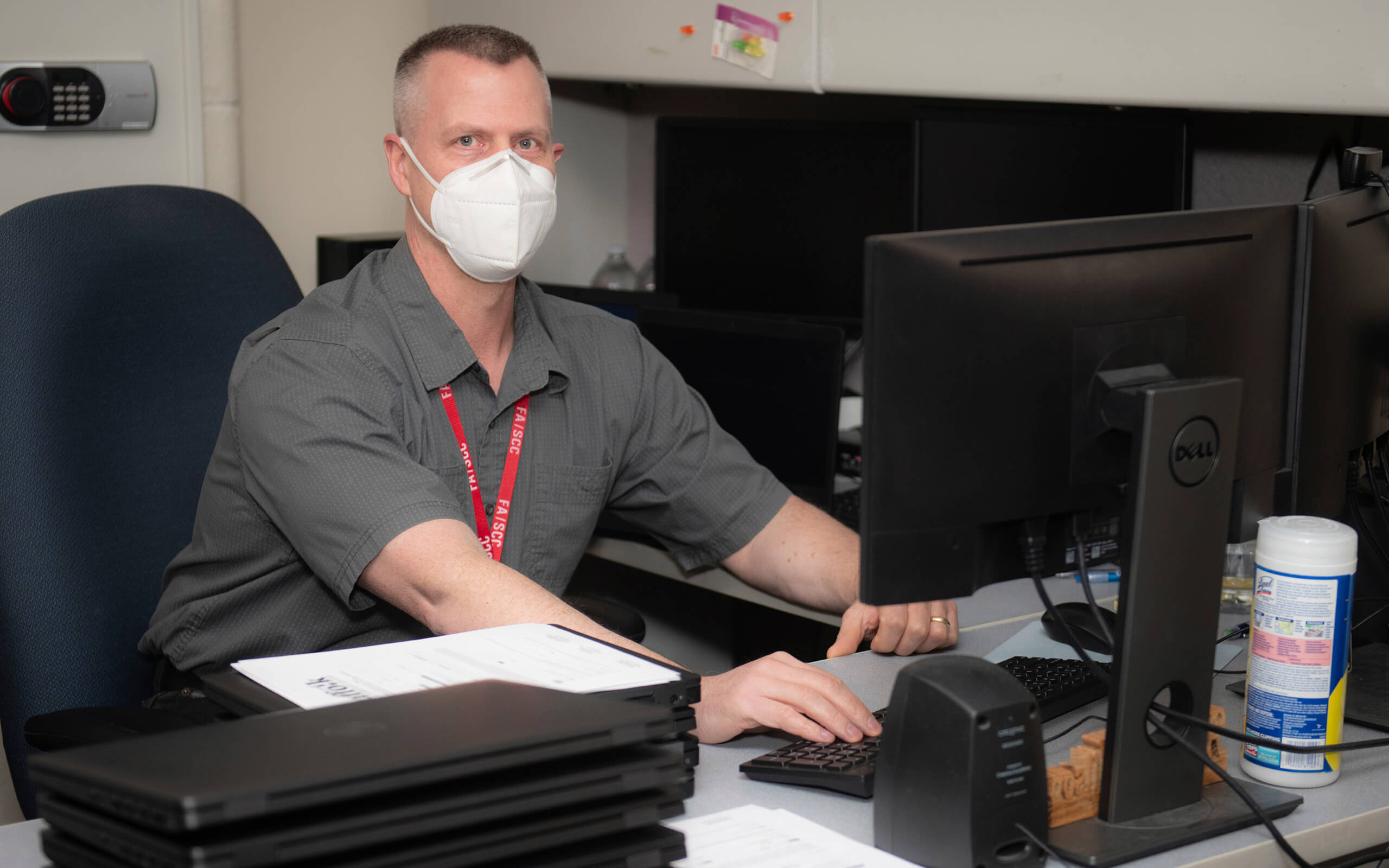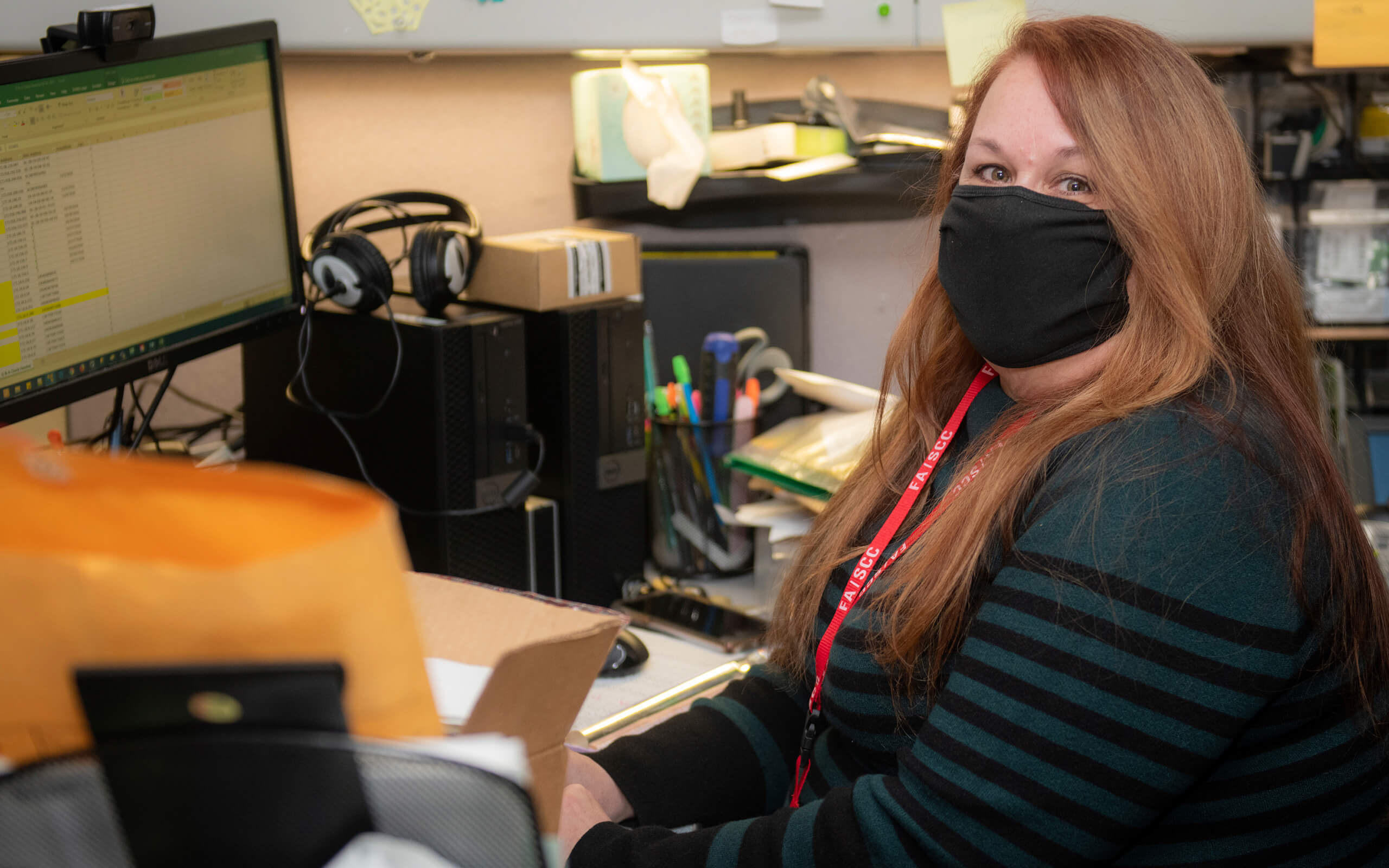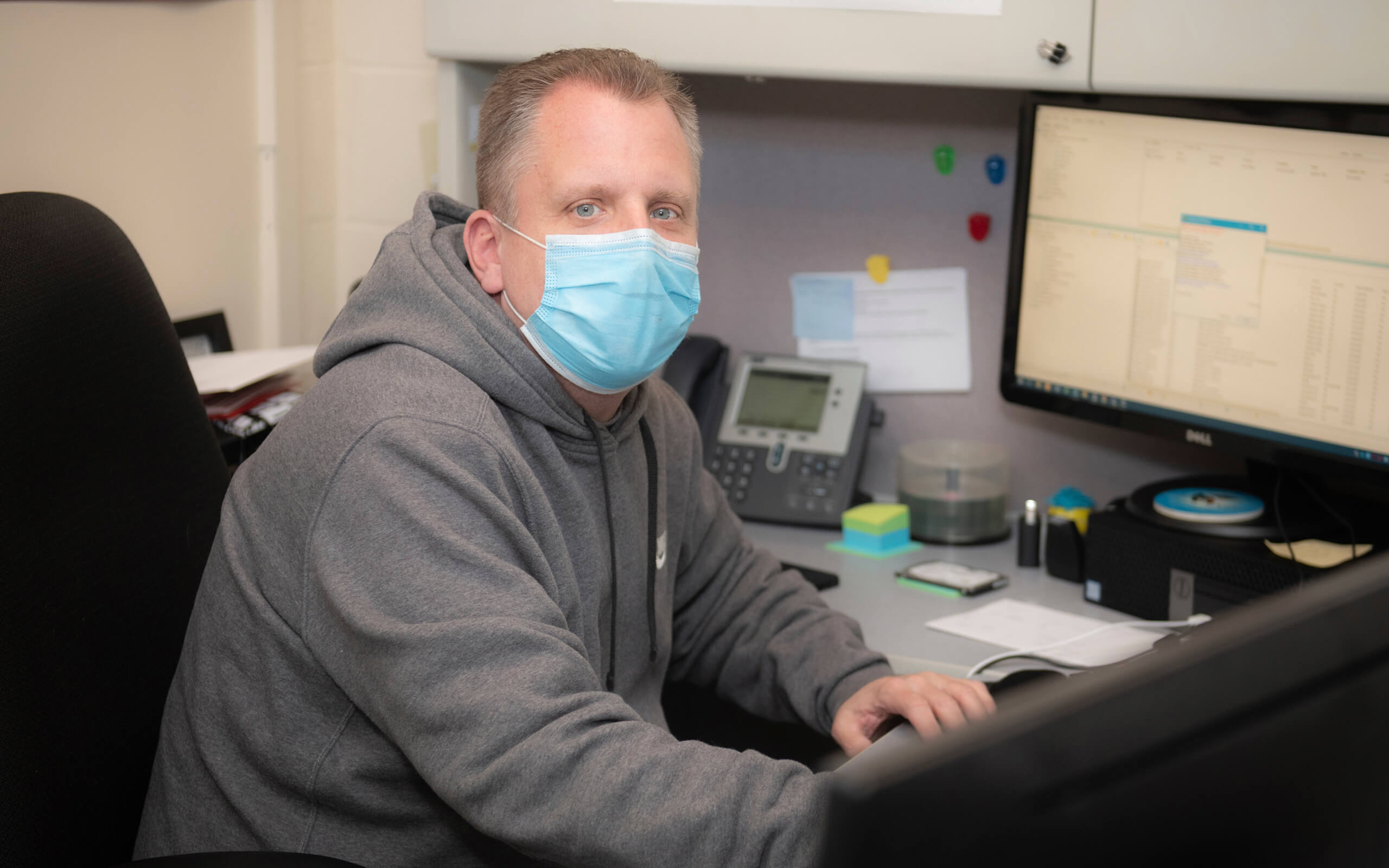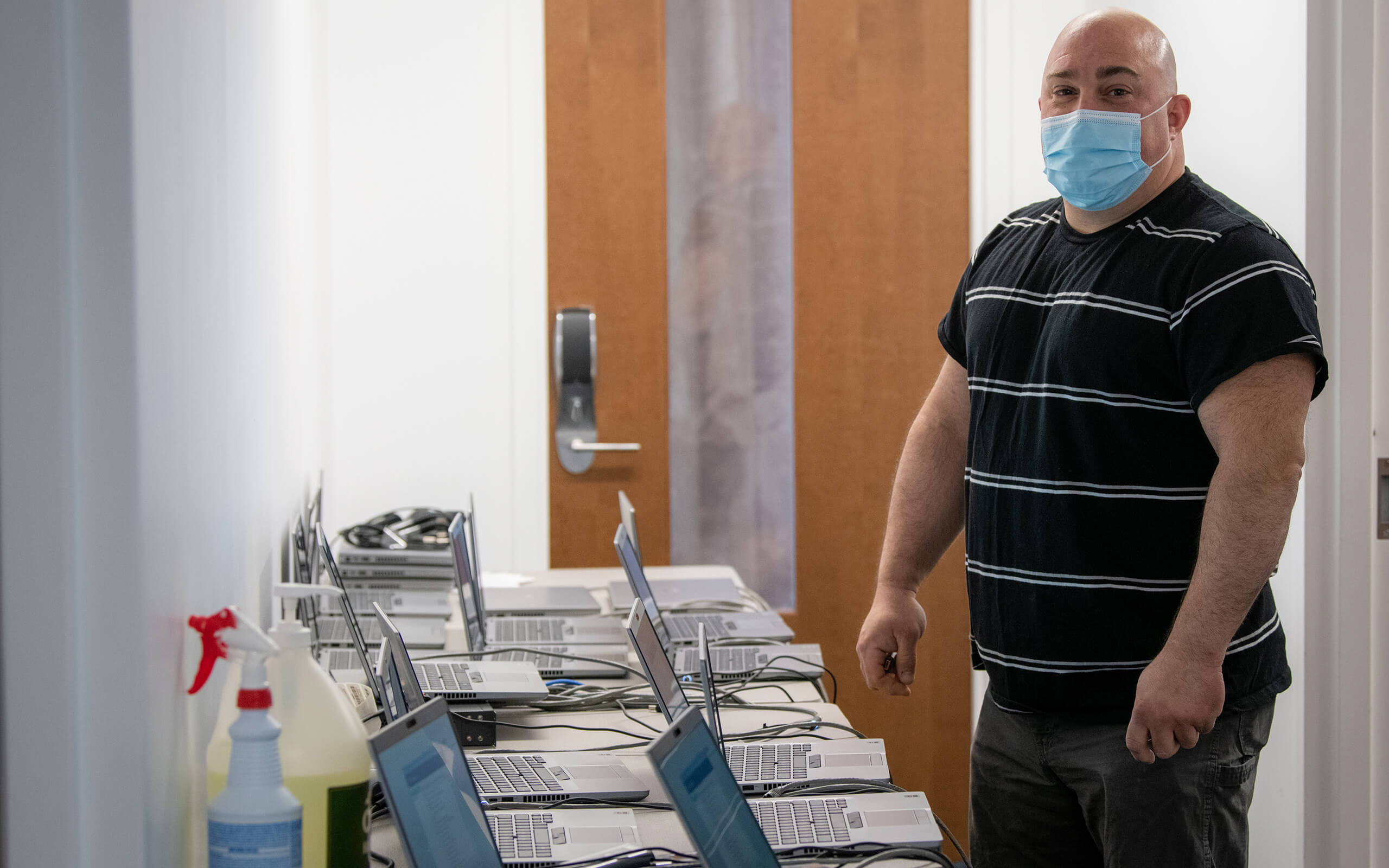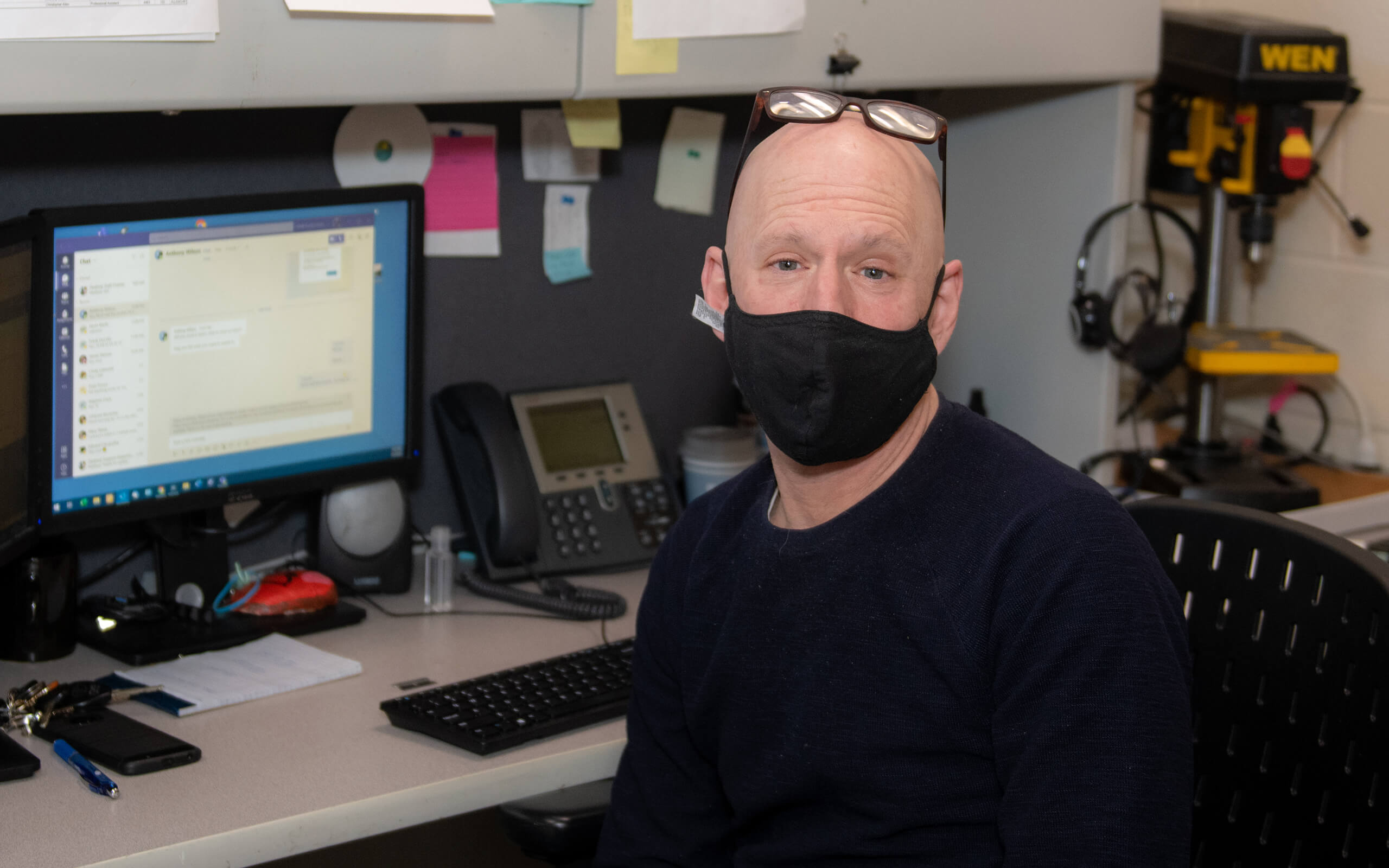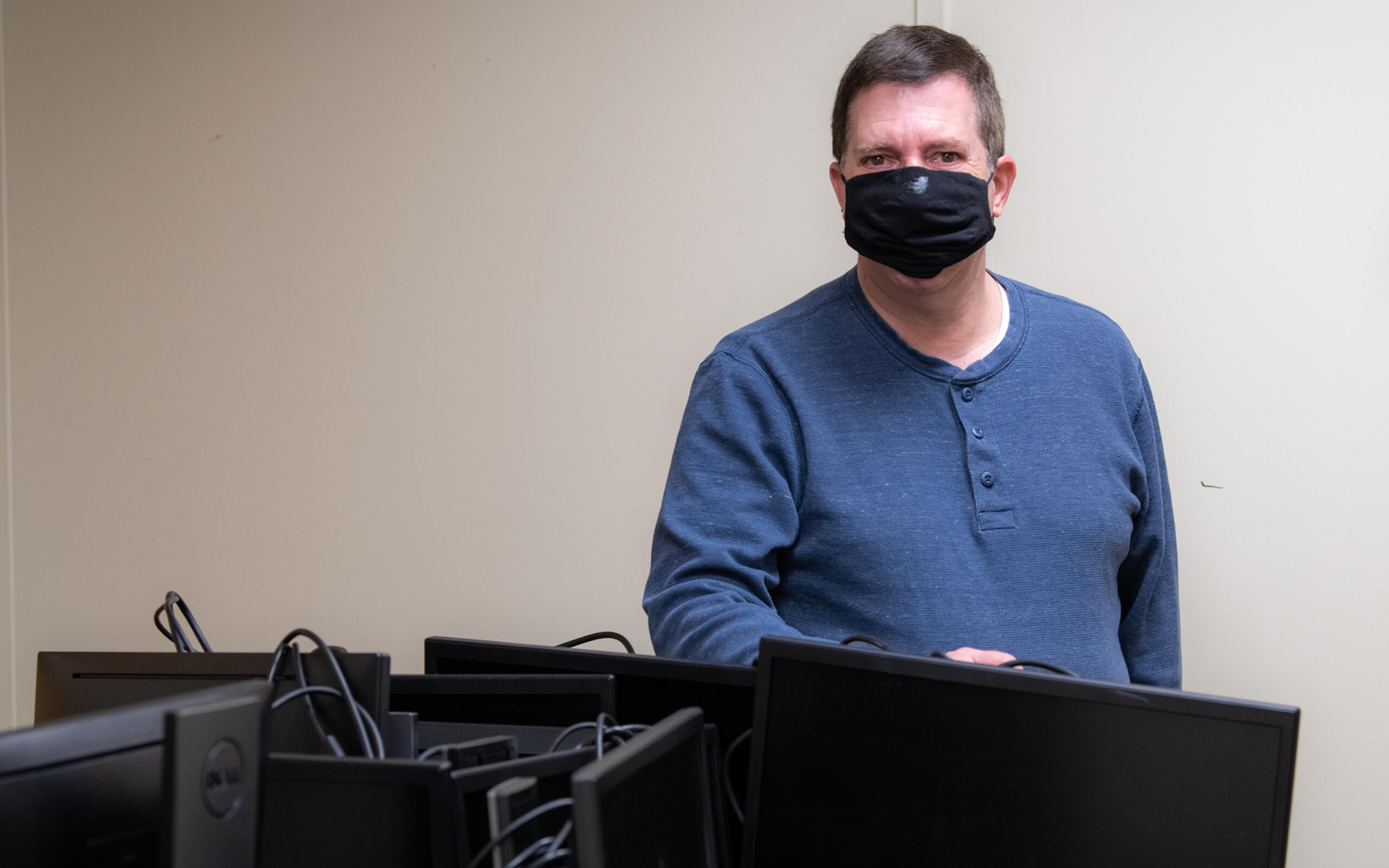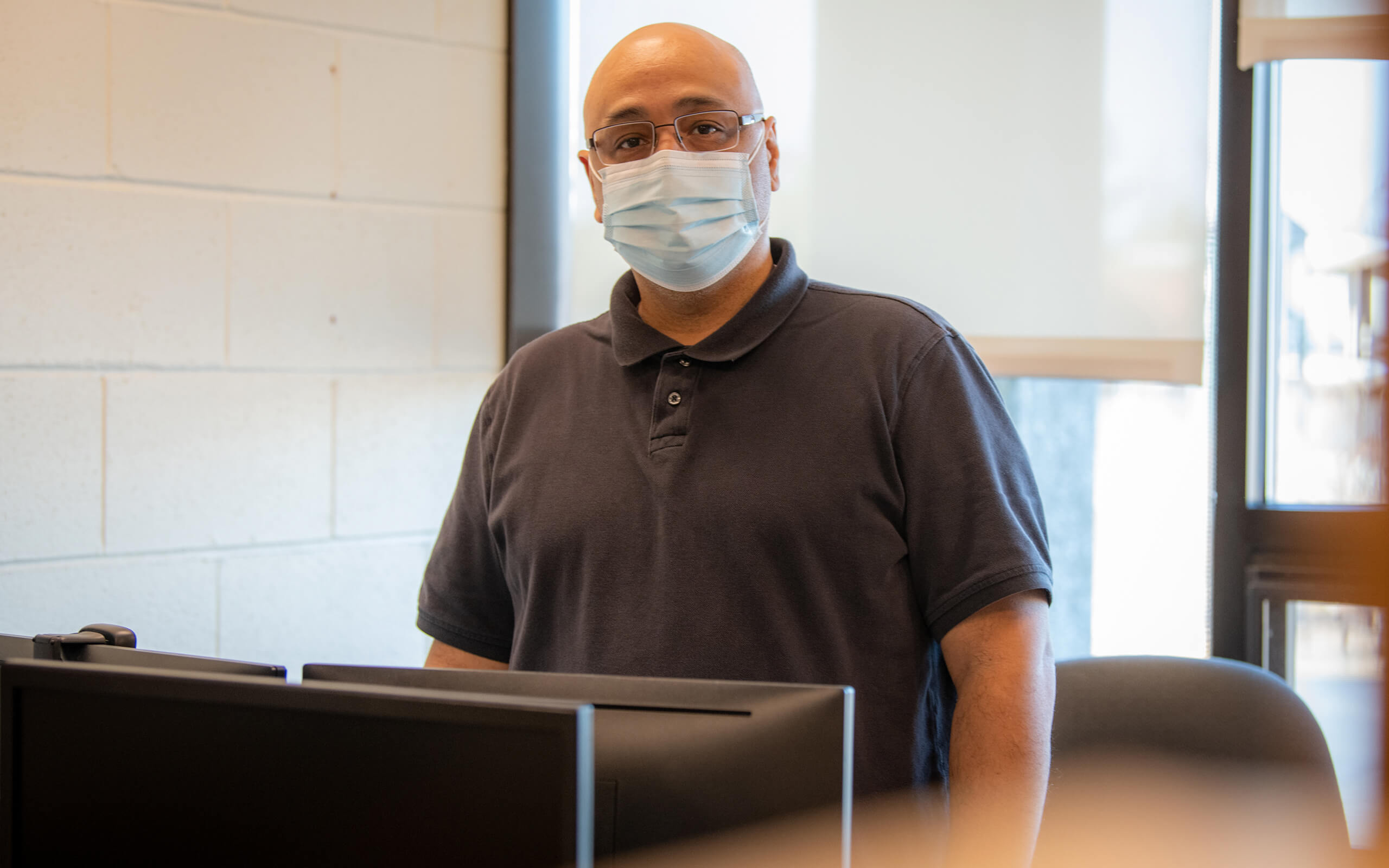 Enterprise software was enabled for remote use in a secure manner and the Information Technology Services department produced a unified communications model for better collaboration while working remote. This included softphones to allow employees to virtually replicate their office phone on a laptop; voicemail to email; Microsoft Teams and the implementation of an eFax solution to allow faxes to be received, digitally, to the desktop. A local Zoom network was implemented to enable better faculty/student collaboration during remote instruction; TechChat service for remote online student and faculty technical support was implemented; and the department developed help documents for Academic Computing Center and Educational Technology Units (ETU) staff to provide support to remote teachers and students.
Switchboard employees worked in their offices throughout the pandemic, skillfully handling College calls. They became a first point of contact for students and parents and fielded many college-wide issues and even COVID vaccination calls that came to the College in lieu of the County or State.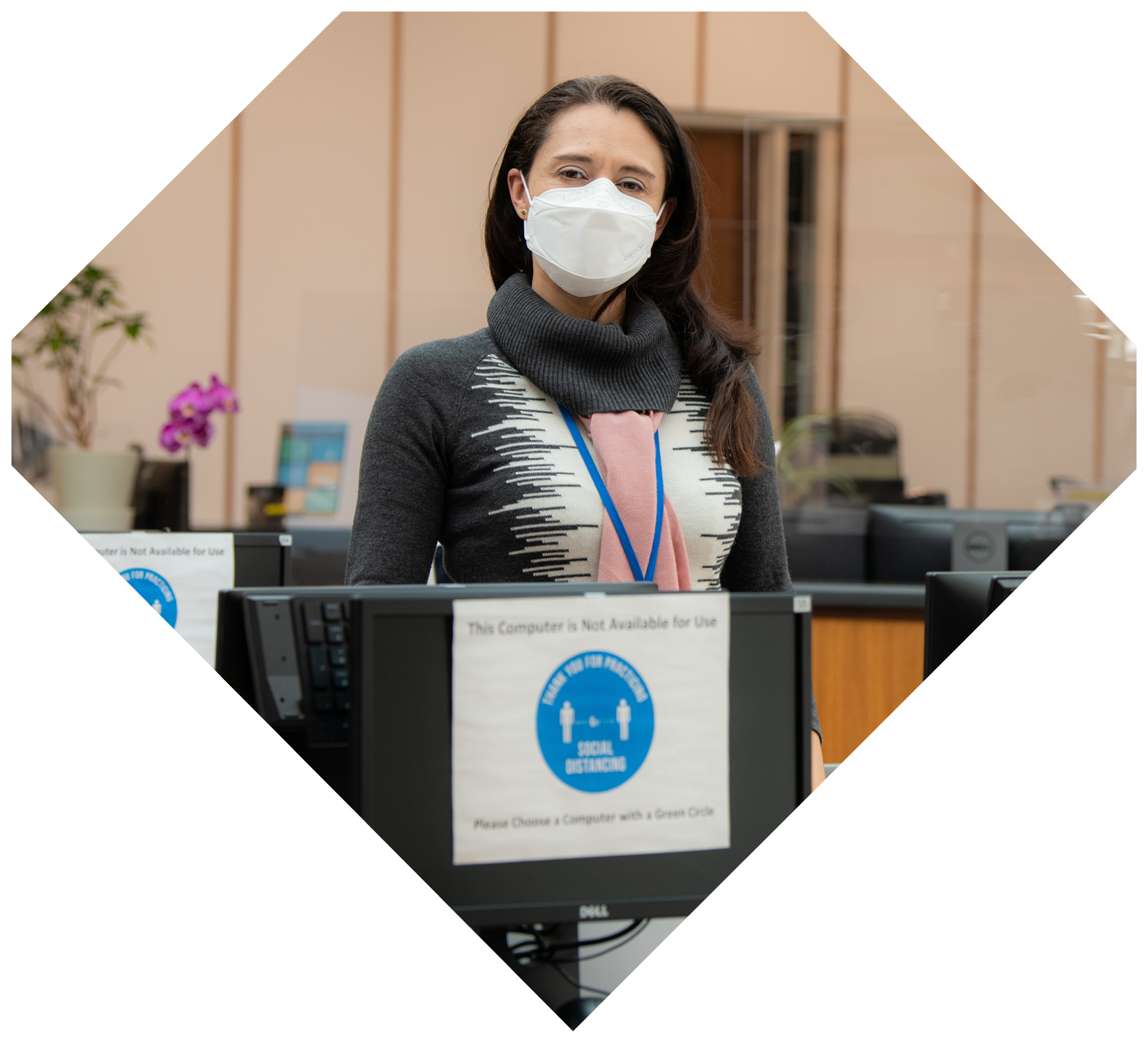 Desktop Support Services looked after the College's administration, faculty and staff while they worked from home, including providing training where it was needed, offering documentation to users and guiding users through connecting administrative laptops to home networks. Training shifted their focus toward providing support of software suites to be used during remote work. Employees were trained in Office 365, Microsoft Teams, Zoom, and many other software platforms to help in a remote modality.
ETUs were hard at work configuring 688 student devices pulled from campus locations for distribution to students and faculty for use off campus. The process included refreshing returned devices and some were put back into the original install location in labs and classrooms, while others were loaned again. They also configured laptops for use in the Libraries. A hybrid flexible instruction modality where students can be either physically or remotely present in the classroom is currently being designed for implementation in fall 2021.
An increase of 52 technology-based products and services for remote modality such as virtual labs, Blackboard-integrated publisher platforms, digital textbooks, interactive tools, exam proctoring, scheduling and tutoring, and professional development for students, faculty and employees funneled through the technical review process since the pandemic began. The process included digital accessibility evaluations for ADA compliance, feasibility and design evaluations, and information security and privacy evaluations to ensure the technology services met regulatory and college requirements and policy.
Information Technology Services teamed with many other College departments to develop a Chatbot, Admissions Acceptance Emails, SMS Text Communication Plans, MySCCC portal upgrade, COVID Pool Testing, Online Master Schedule changes, WebPay changes, and Vehicle Registration changes all due to the new environment created by the pandemic. The Web Services department in Institutional Advancement also collaborated with various areas of the College to create the Continuing Education microsite, Online College Catalog, sitewide Live Chat implementation, and to support Information Technology Services and other college departments with the development of Virtual Open House, an Email Communication Plan, and the Beacon High School Student Portal.
SUCCESSFULLY TRANSITIONING TO ONLINE MODALITIES
Although circumstances dramatically altered plans for teaching, faculty stepped up at a crucial moment. The effort to move classes to the online modality has been recognized before but cannot be underestimated. Faculty who never intended to teach online, has done so with a growth mindset and have improved their skills and competence in teaching.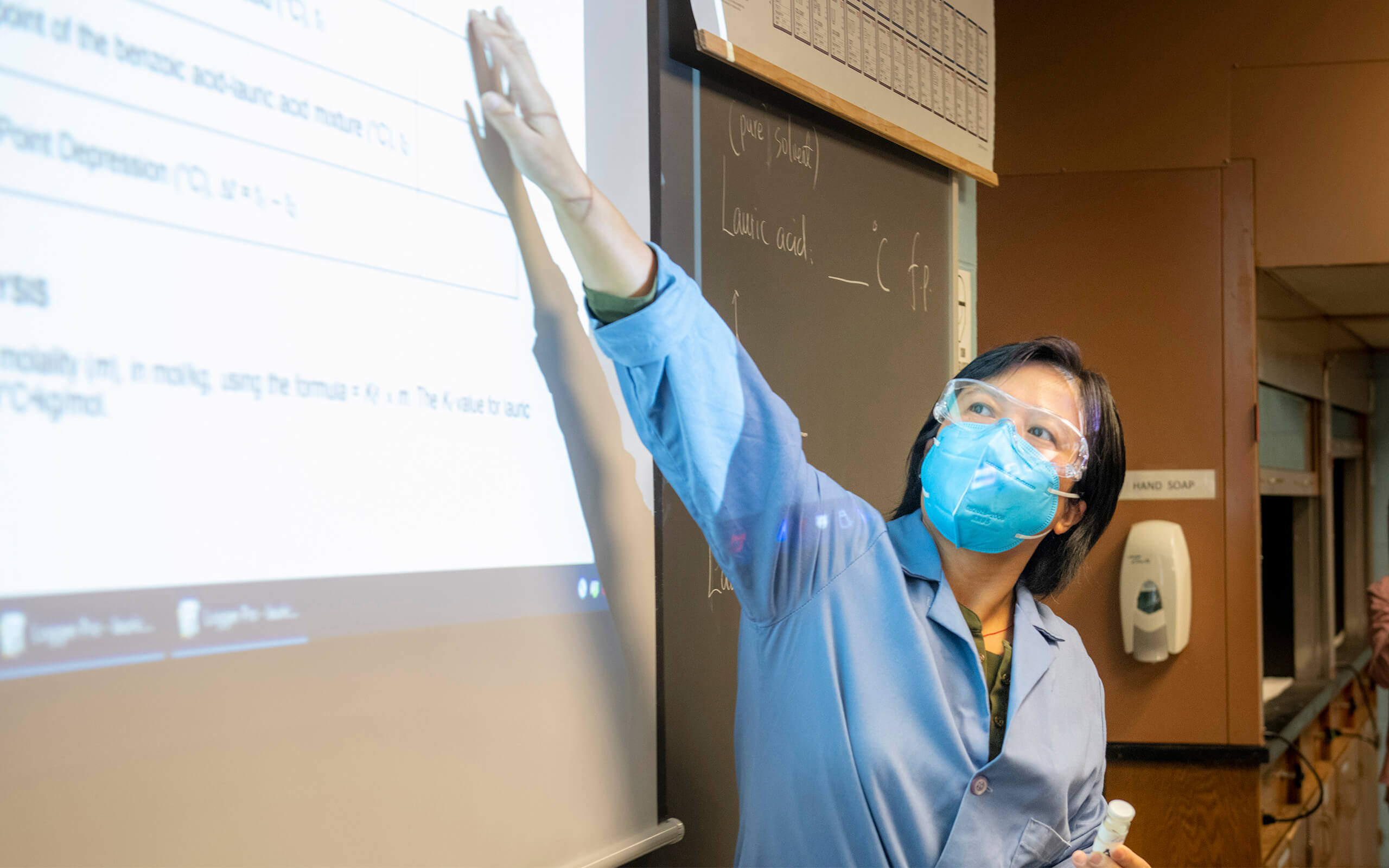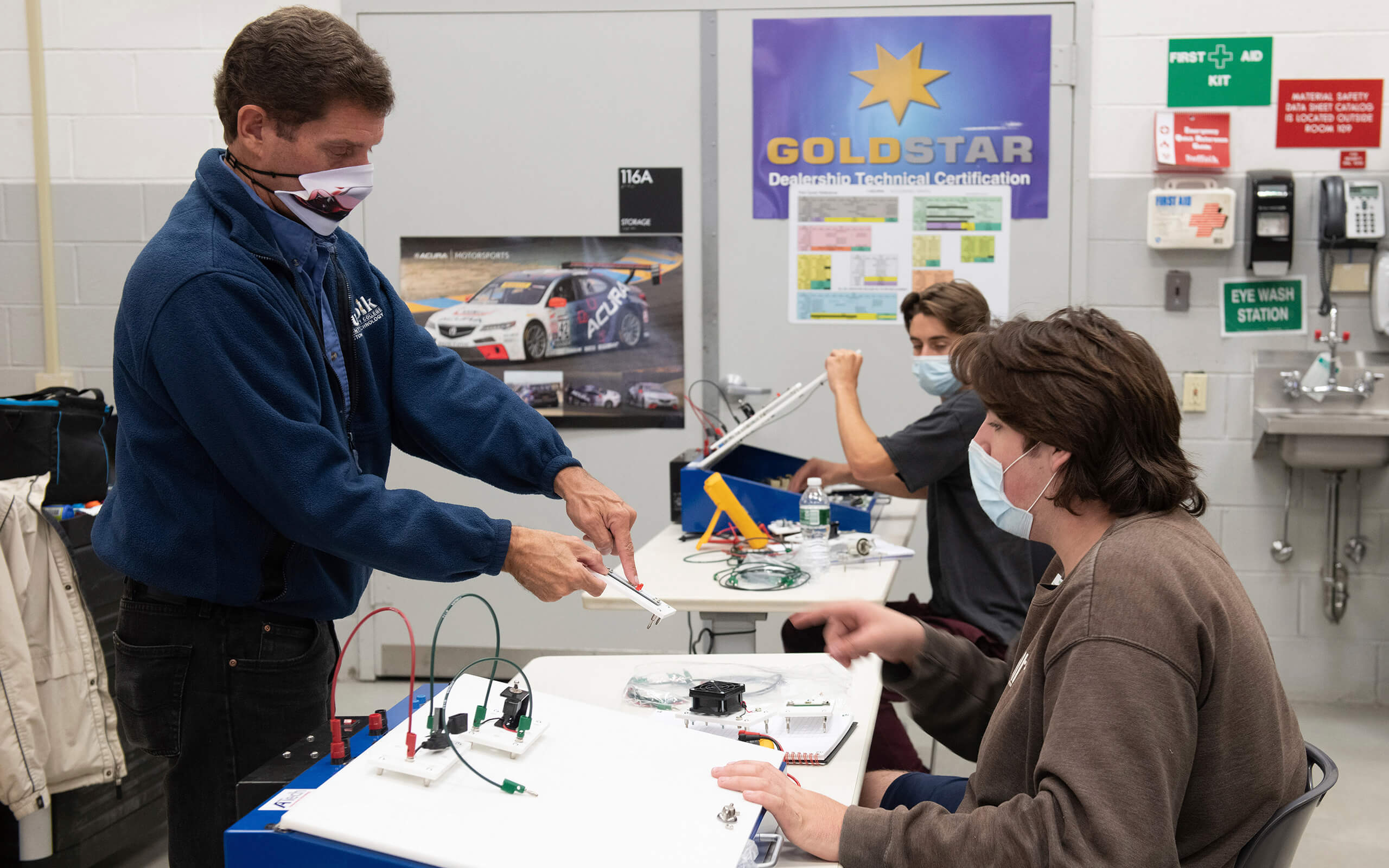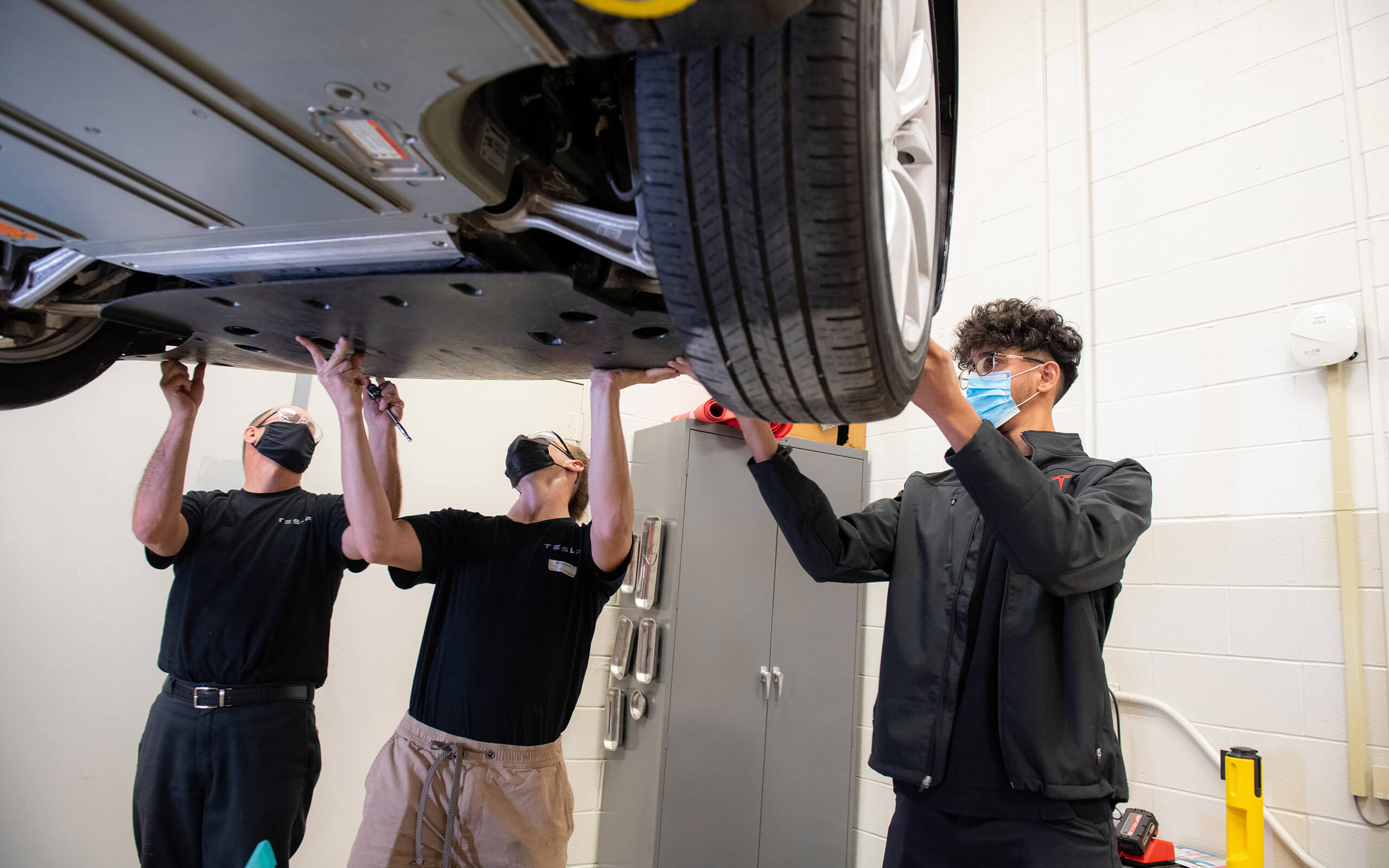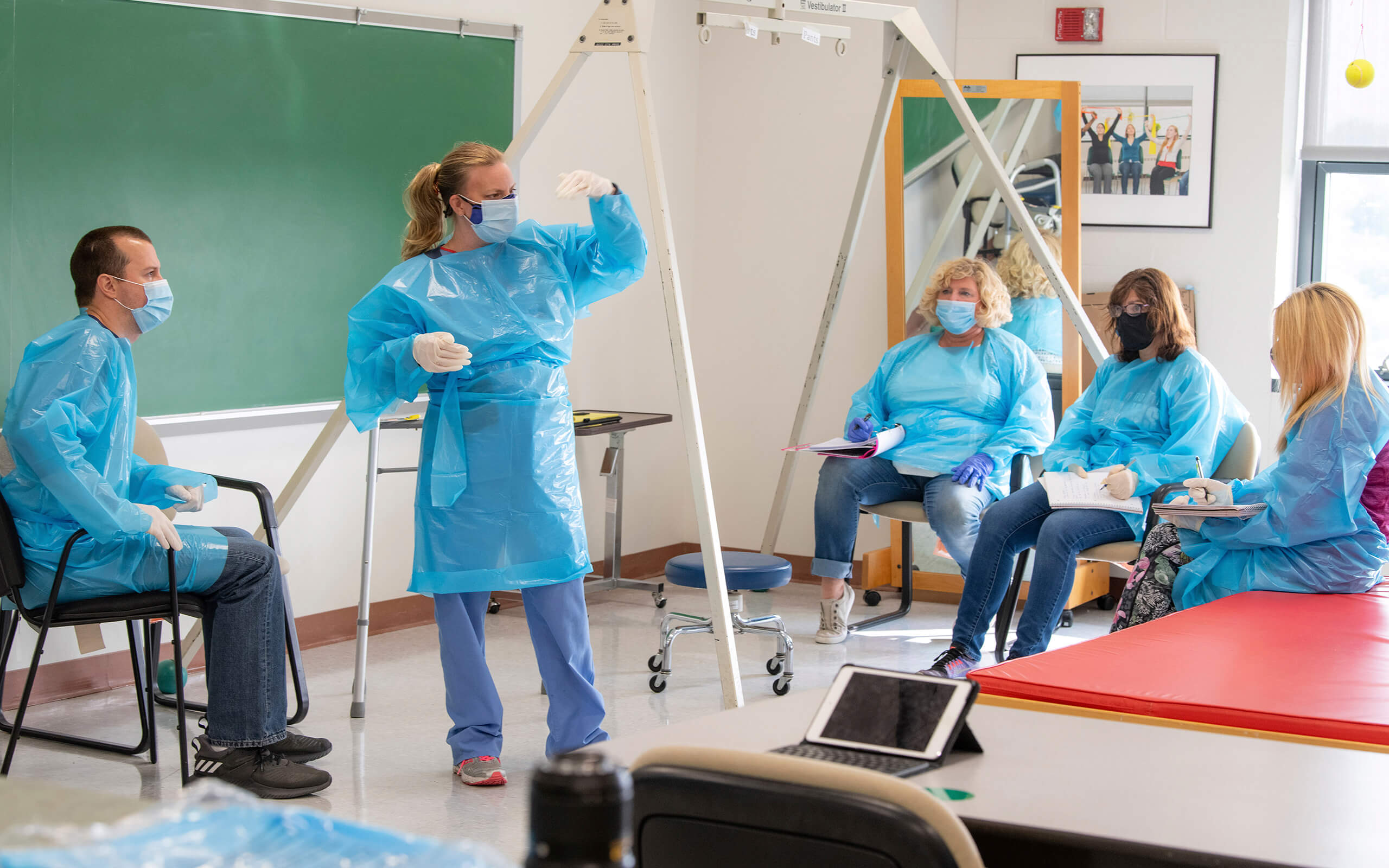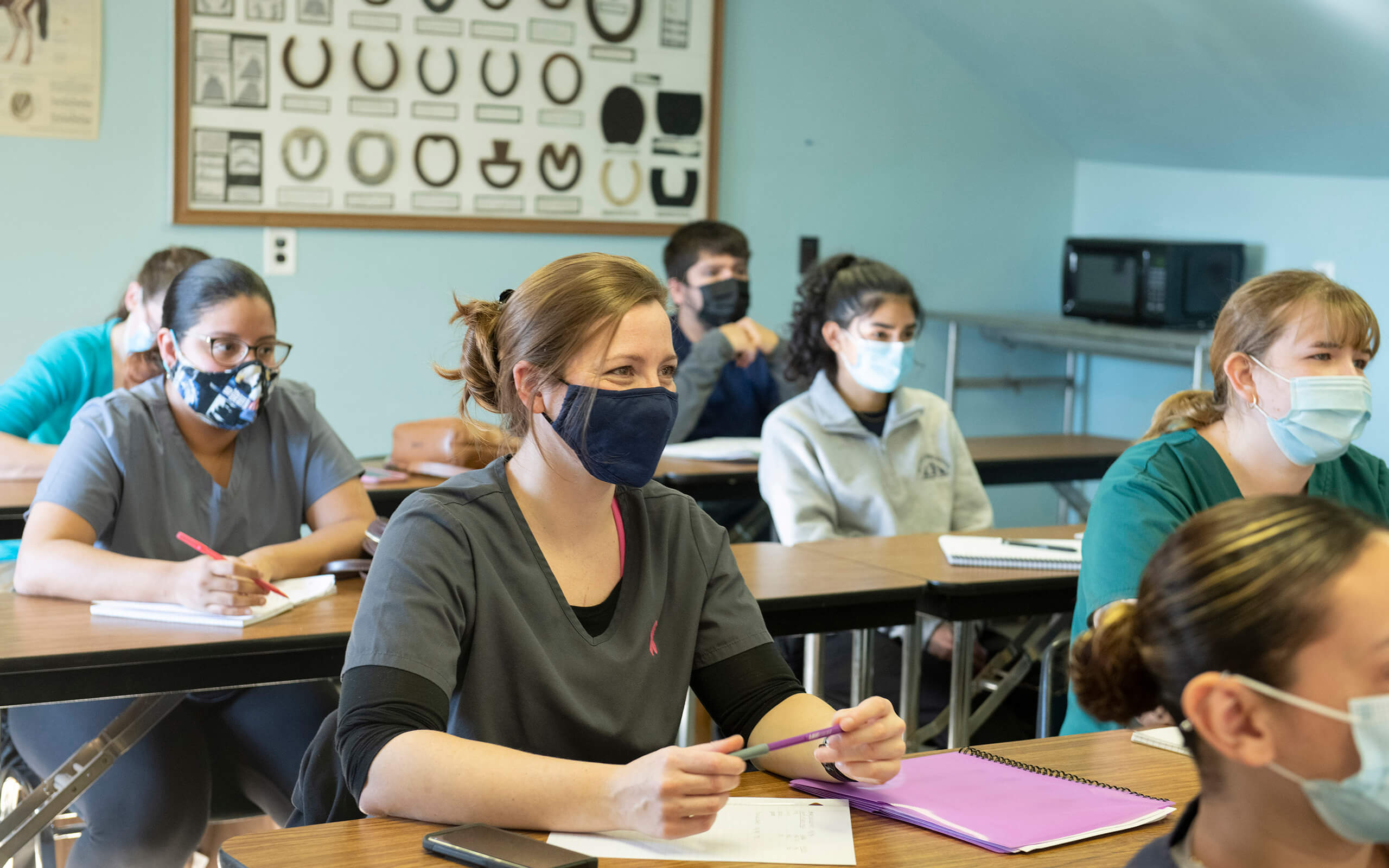 Chairs and Academic Deans worked to foster the forward momentum of planning and preparing including working with the college registrar to rebuild the schedule. They have not taken a break since their return in January 2019. Through the summer, weekends, and winter recess, these Chairs, Deans, and colleagues have worked tirelessly to support their colleagues, departments, and our students.
Time and care were invested by the Center for Innovative Pedagogy, and by faculty and chairs, to ensure a smooth transition to online modalities. This was all new and probably not how the College community envisioned meeting our core educational mission, but we did it and completed the majority of this work from home. From March through August, over 1,750 faculty members engaged in Blackboard training sessions led by the Center for Innovative Pedagogy. Quality by Design engaged 350 participants in comprehensive training.
The College also met SUNY expectations for assessing the learning outcomes of our programs and courses. Staff created a Continuity of Academic Assessment Plan based on recommendations from SUNY outlined in a COVID-19 guidance memo.
Summer Session 2020 and the Wintersession that began December 2020 were some of the most successful in the College's history. These sessions increased by 1,000 and 800 seats, respectively, when compared with the prior year. Additionally, the students' grades during this time were remarkable; a sign that they adapted to online learning, worked hard, and were successful.
All student services are now available to students and visitors both in person and virtually.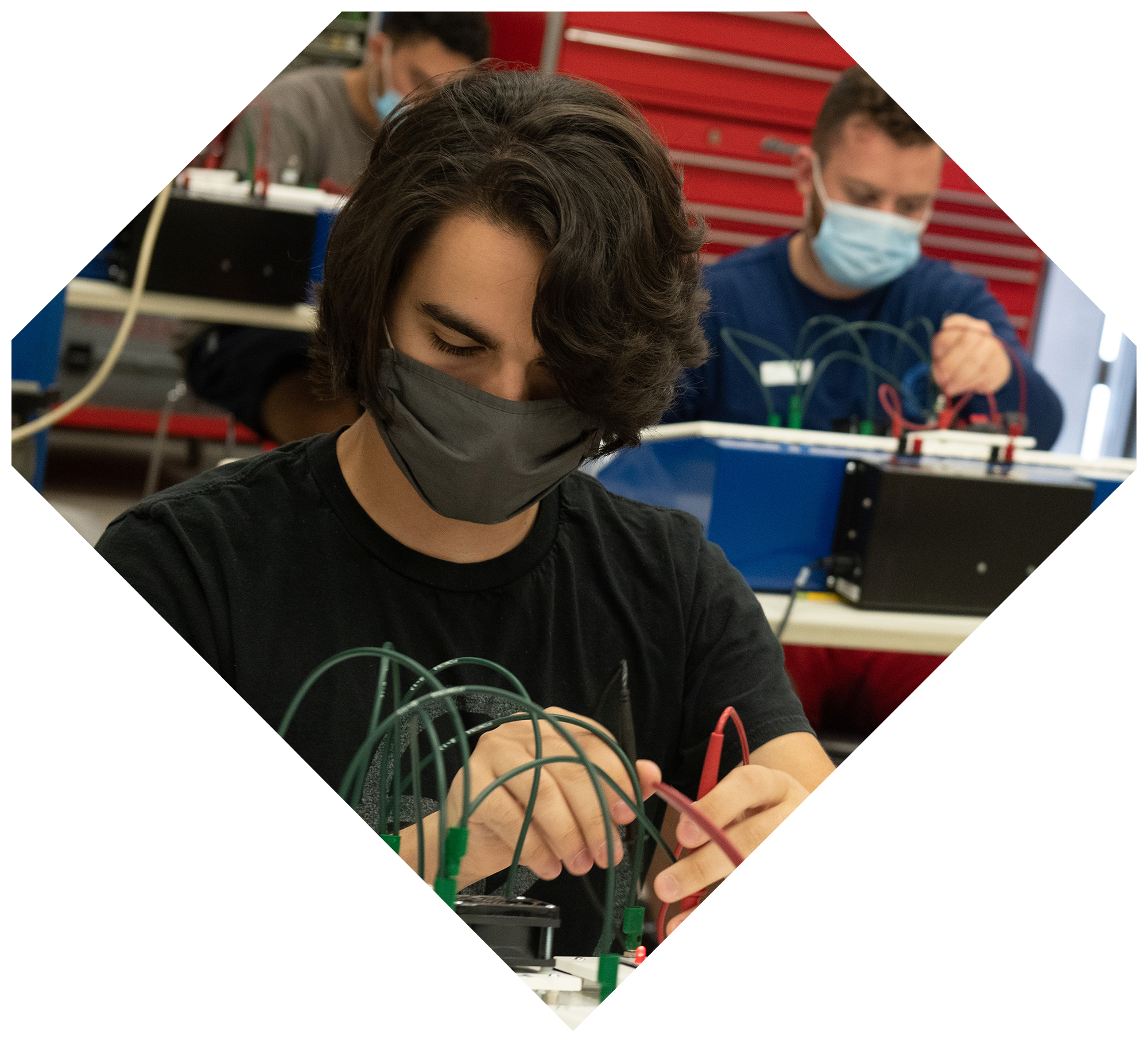 The amount of growth and work contributed to moving our College's services to a more uniform, FERPA-compliant condition was extraordinary. The use of available technology and the creation of new processes to accommodate distanced service were monumental and significantly improved a student's ability to manage all their needs from a distance.
It is important to note that in the fall 2020, some academic departments still held face-to-face classes on campus. Approximately 12% of classes in a variety of disciplines took place in person. The dedication of these professors to their students is also a testament to SUNY Suffolk's philosophy of putting our students first.
CONNECTING IN NEW AND INNOVATIVE WAYS
As we all know, Suffolk Sharks never shrink from a challenge and we always remain student focused. We developed and maintained a robust communications effort during this time that included a dedicated coronavirus website resource. Two weeks after the start of the shutdown, a college-wide effort to call every student was deployed to ensure that students understood how to access their courses, to provide students with the necessary technology to learn in a remote environment, and to share resources. The College's Safe Start Task Force reviewed the configuration of every space that students, faculty and staff might occupy and reconfigured them for social distancing requirements. It also developed, implemented and communicated a SUNY-approved Reopening Plan, and issued Return to Campus Guidelines for Students, and Return to Work Employee Guidelines. Employees began returning to their office work locations using staggered staffing patterns on July 27.
Information Technology Services, Human Resources, the offices of Student Affairs and Academic Affairs, and the College's Department of Legal Affairs, among others all played a key role in creating the Employee and Student versions of the COVID-19 Daily Health Screening Questionnaire and its self-screening portal app; and the COVID-19 Impact Questionnaire Portal app for student requests and impact statements – all while monitoring the ever-evolving guidelines issued by the State, County, Governor and ensuring they were shared and implemented in a timely manner.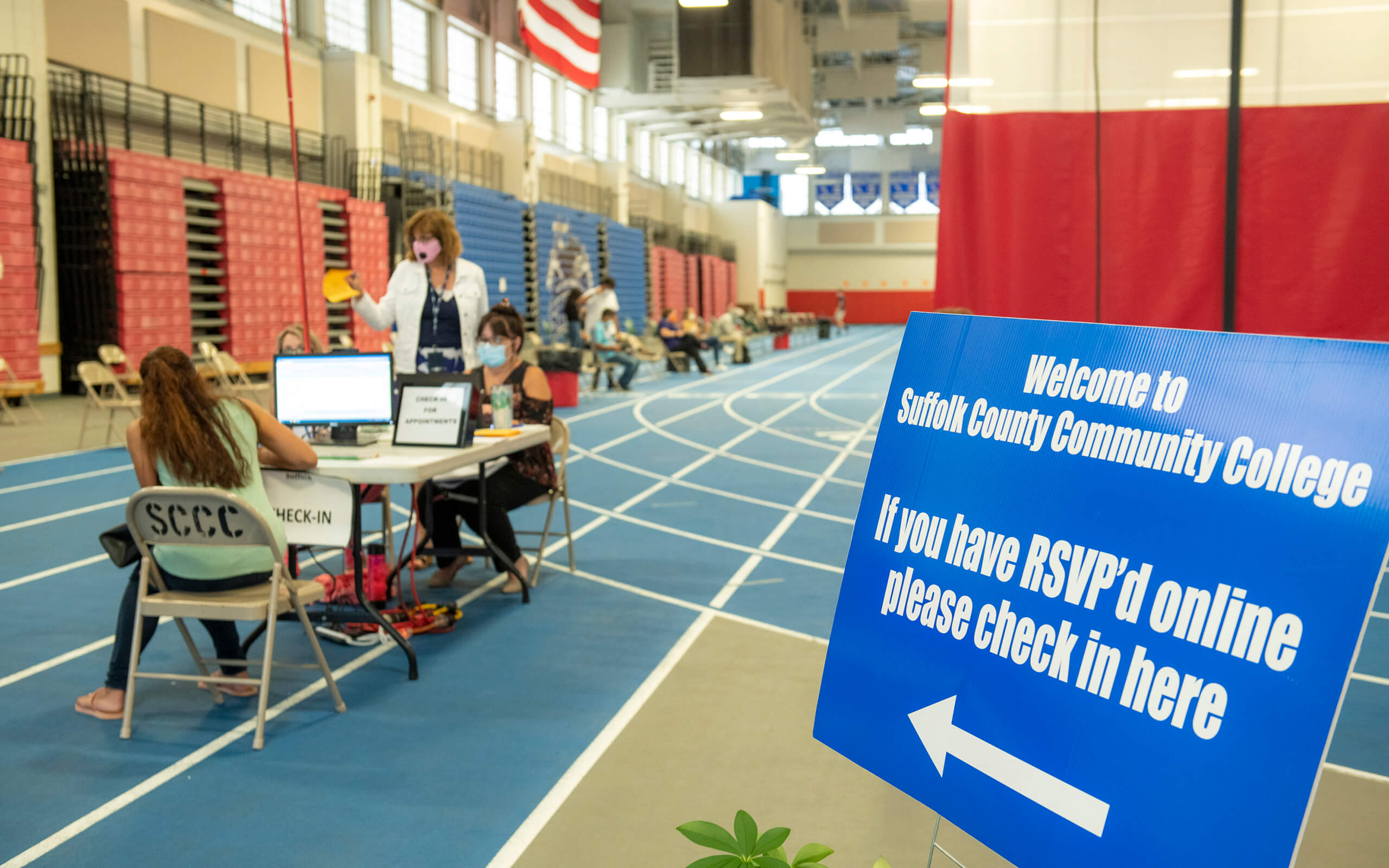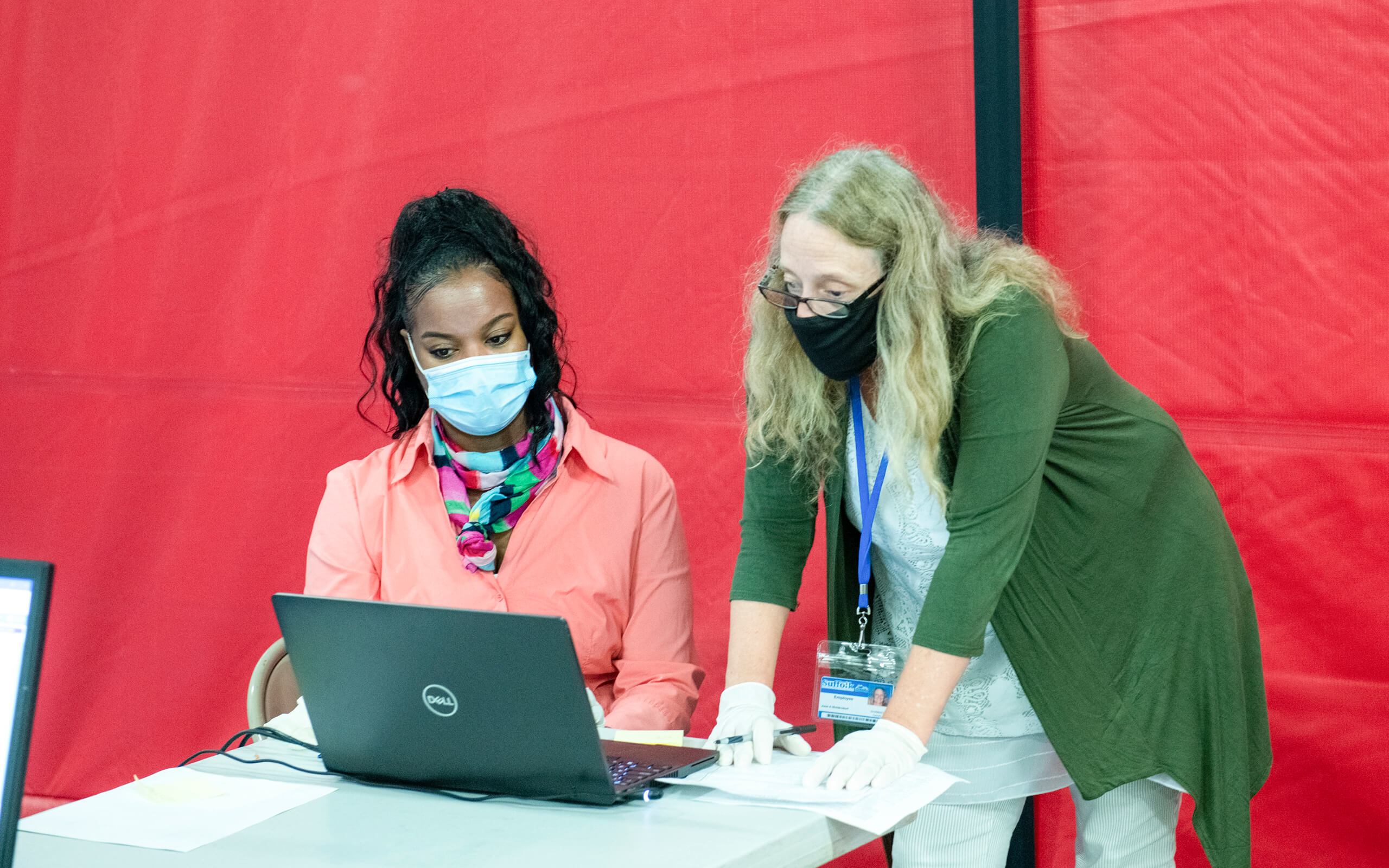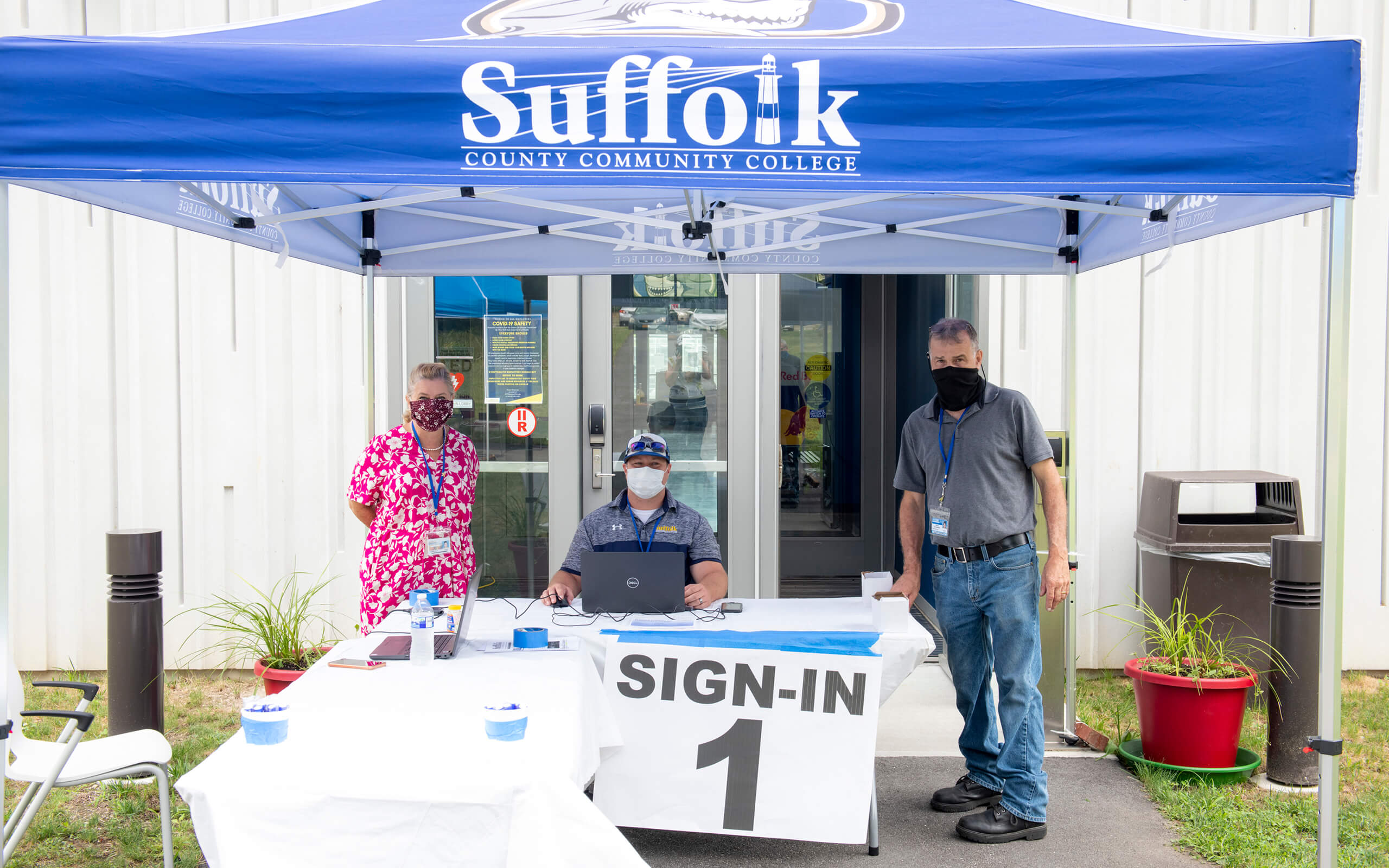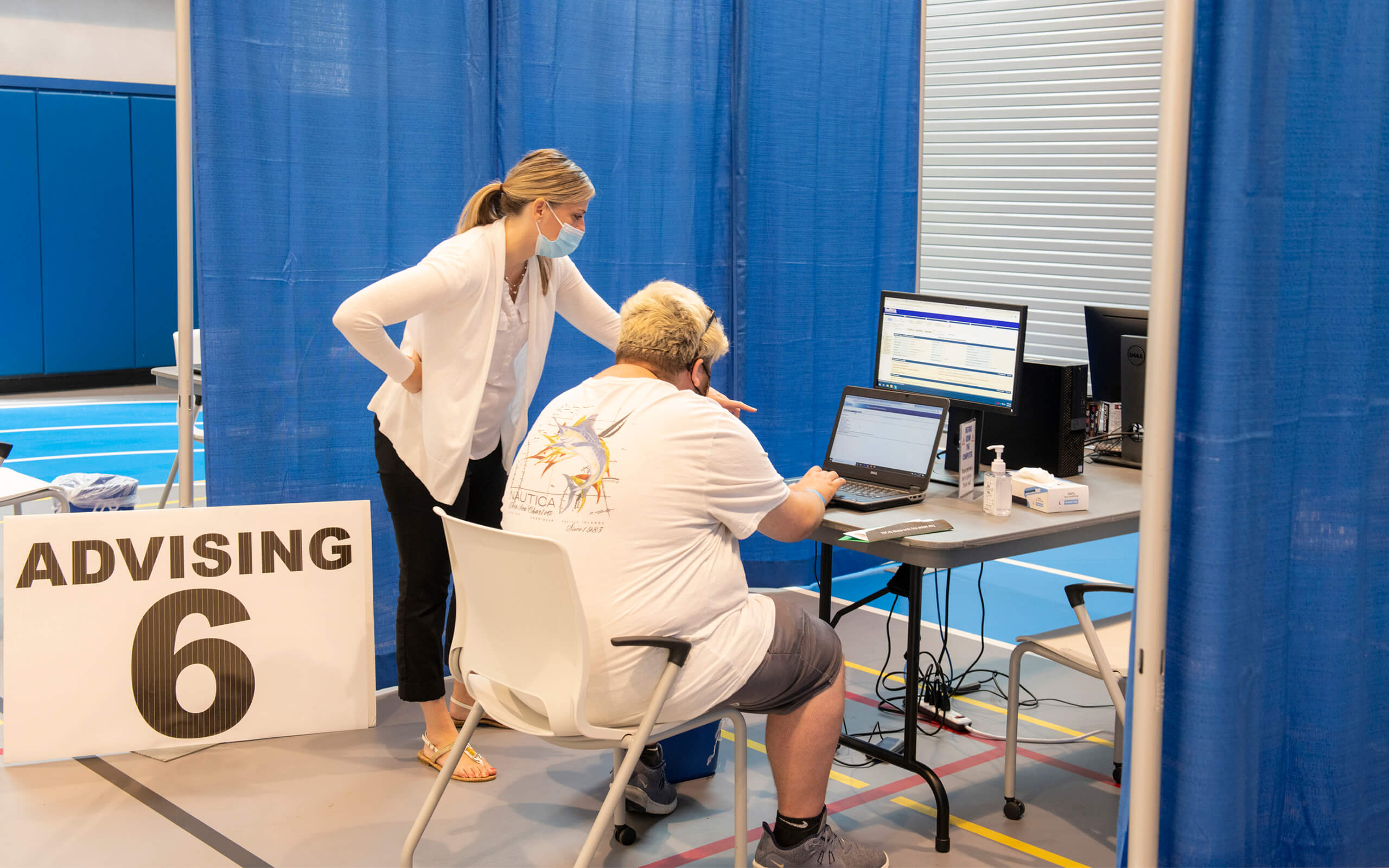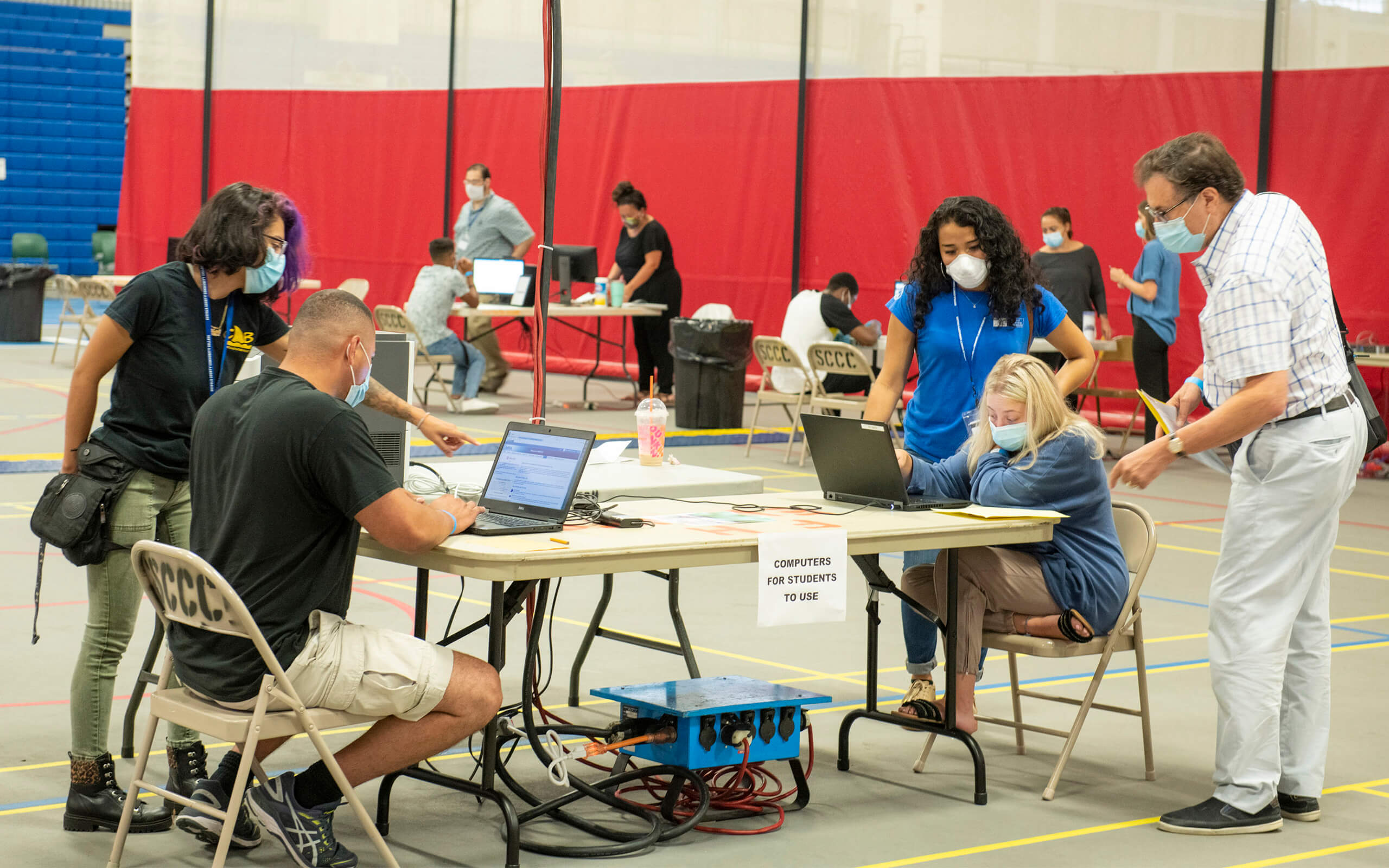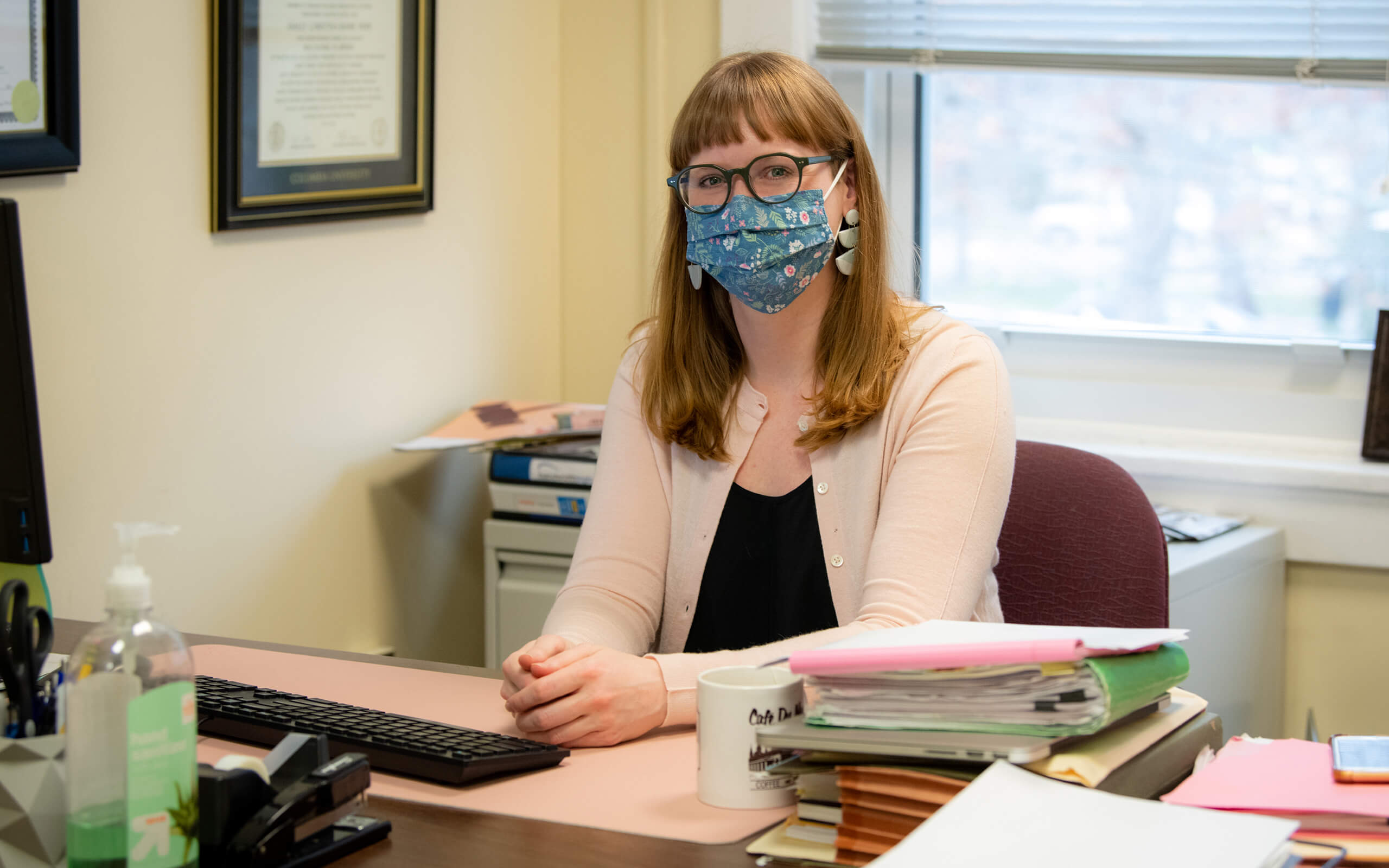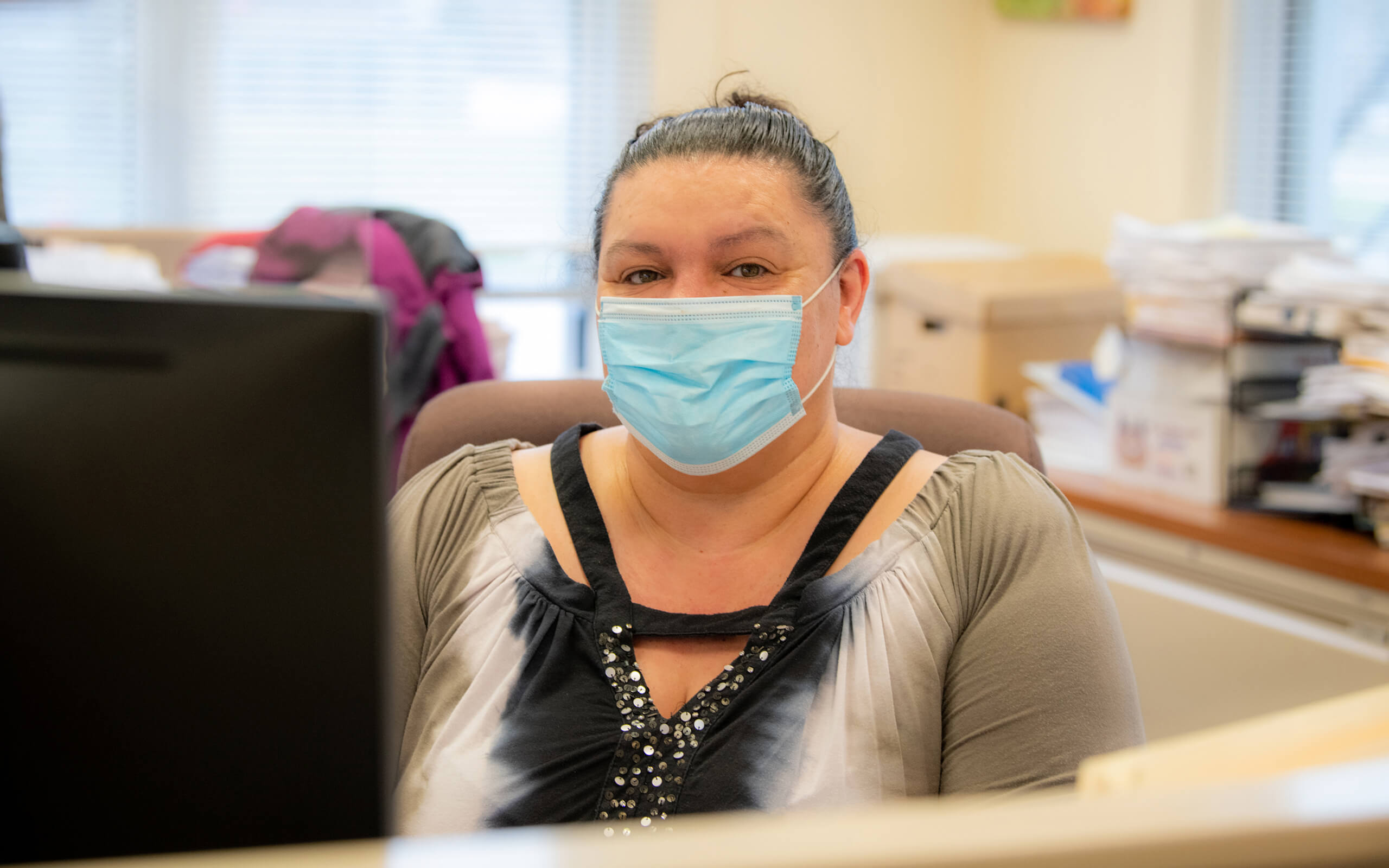 Throughout August, representatives from various College offices spent an incredible amount of time focused on outreach to students and completing the enrollment process. Information Technology Services, Public Safety and Plant Operations supported their efforts. Members of Student Affairs worked long hours and on Saturdays to tackle the College's enrollment challenge. Enrollment/Registration Days, also known as Arena Days, were an important reason behind the College's ability to close a substantial portion of the enrollment shortfall. These individuals showed great dedication and courage by taking part in face-to-face meetings in an arena-style setting. Through this time, the College saw over 5,000 individuals in a face-to face environment over a four-week period. August's successful Enrollment Days led to a decision to place added promotional emphasis on the Late Start option, which enabled students to register for a range of classes being offered remotely for a ten-week period between October 7 and December 23.
A strong marketing and communications campaign was developed and implemented for spring 2021 that coordinated advertising with daily student outreach via text and e-mail. To continue to address the students' emotional needs, the "In This Together" campaign featured student programming, social media campaigns, and student outreach efforts to encourage students to seek resources to successfully complete the fall 2020 semester. As a part of the campaign, personalized phone calls were made to approximately 7,500 students with the assistance of almost 200 trained volunteers from across the college. Students were directed to appropriate resources and counselors and advisors were accessible remotely to address student needs and concerns. With rolling Zoom advisement sessions being offered throughout the day, students were able to access the College at their convenience.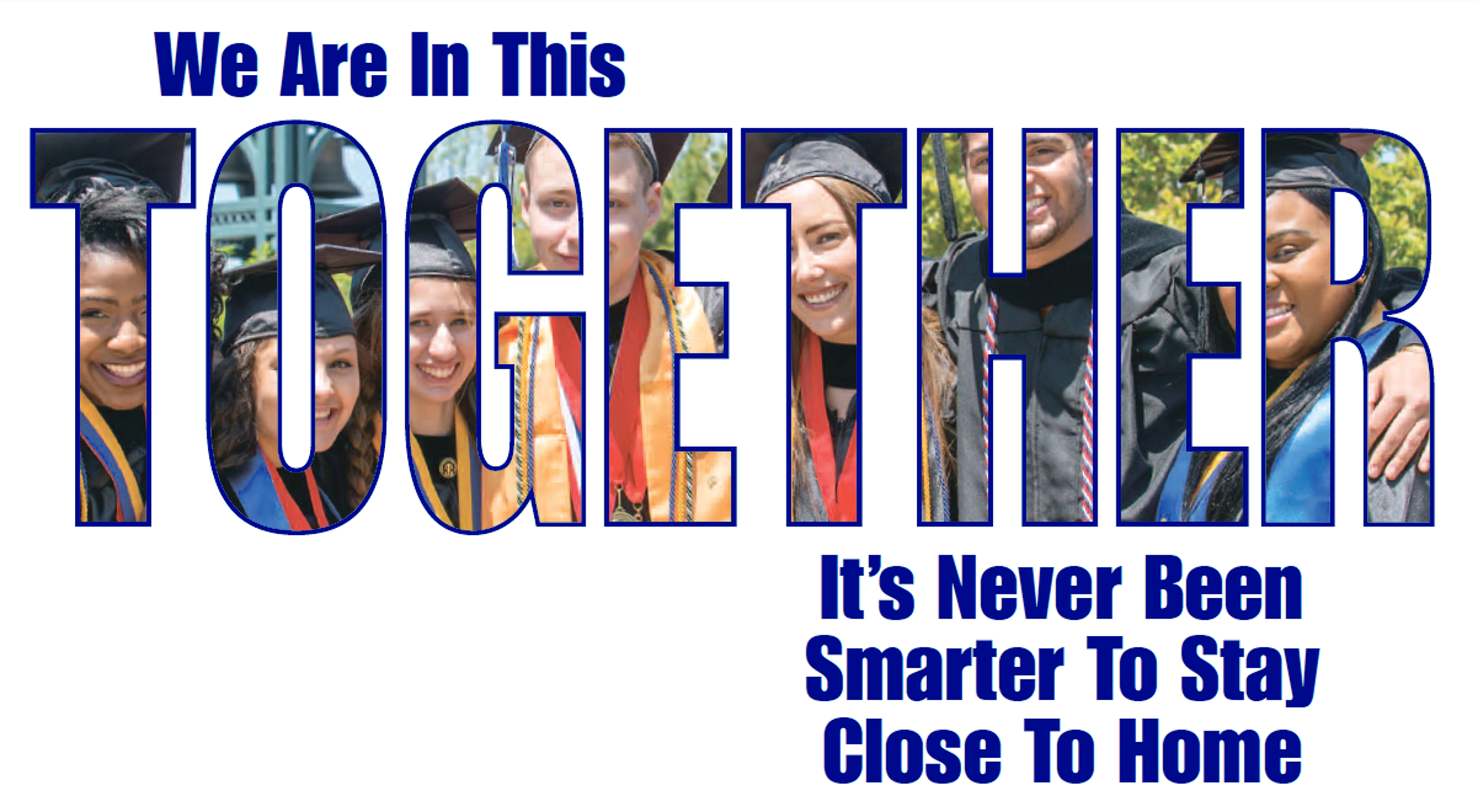 SUFFOLK STUDENT NURSES STEP UP
To help employees continue to feel safe in their workplace, the College commenced SUNY-mandated pooled saliva testing for students and voluntary testing for faculty and staff in September 2020. This testing became mandatory for everyone on campus in January 2021. In response to the SUNY mandate, the nursing faculty and students quickly mobilized an effort that resulted in testing 13,671 individuals from October 2020 - March 2021. This program created an educational benefit for nursing students, providing real-world public health experience in the midst of a pandemic. Public Safety, Information Technology Services and Plant Operations supported their efforts.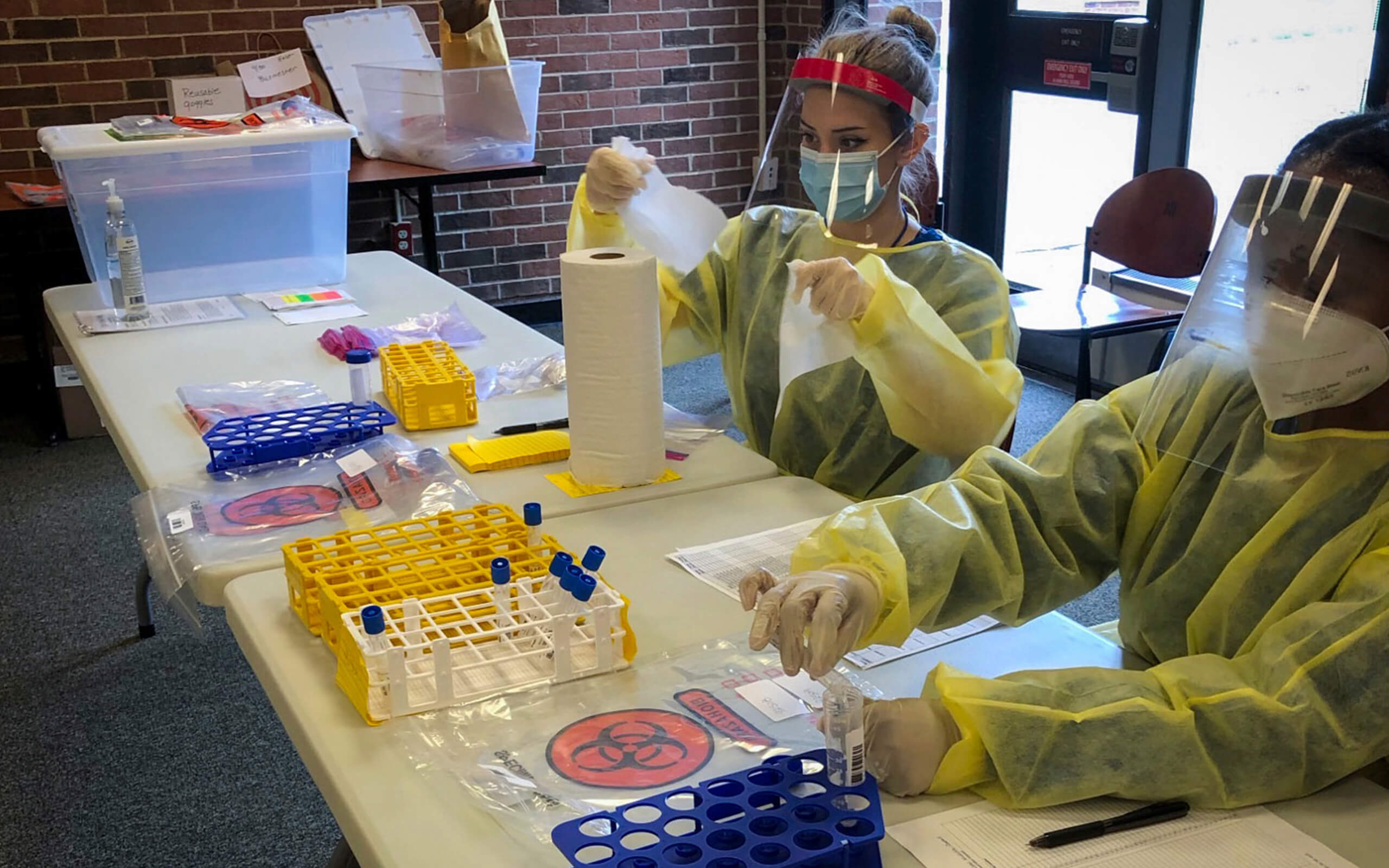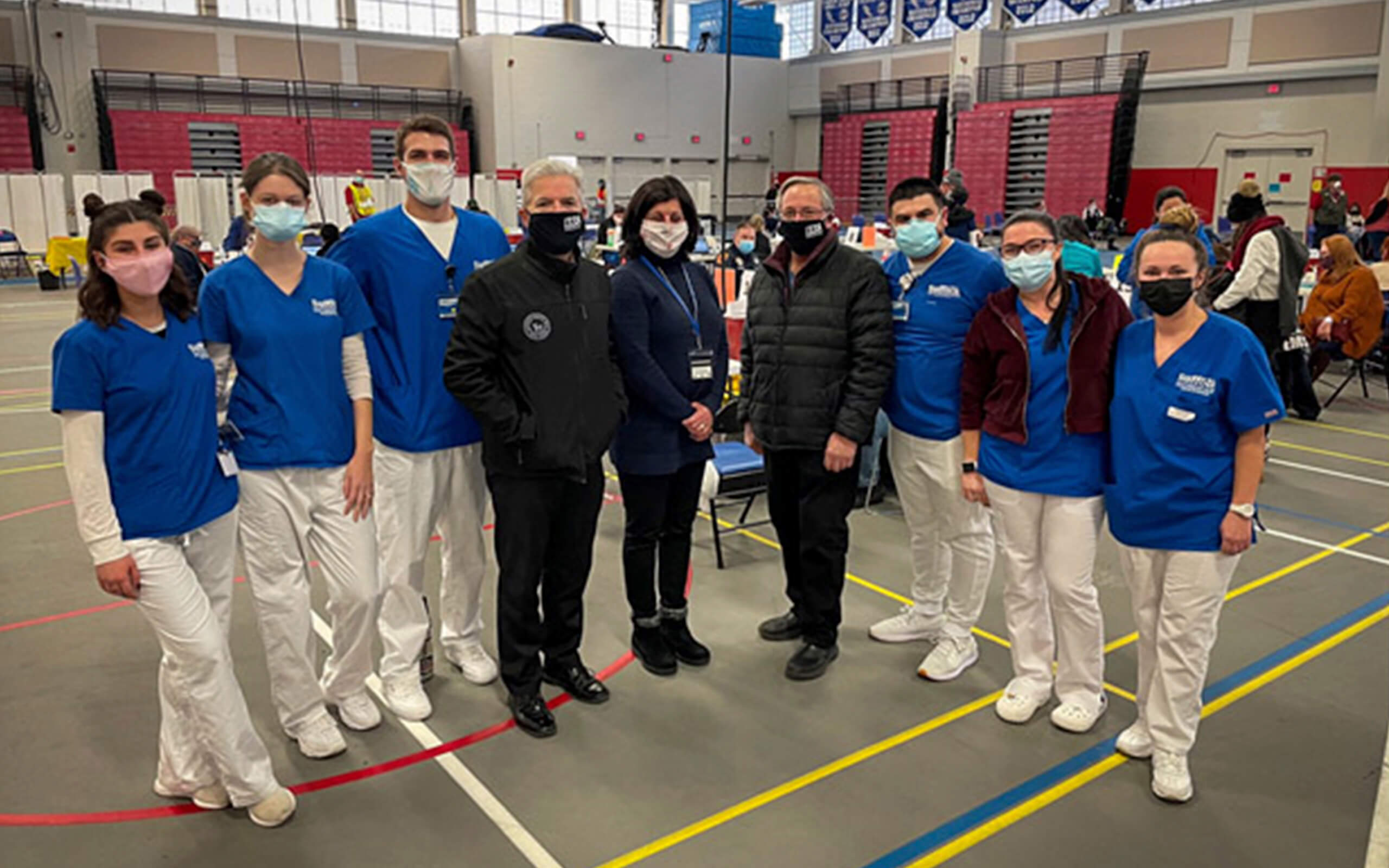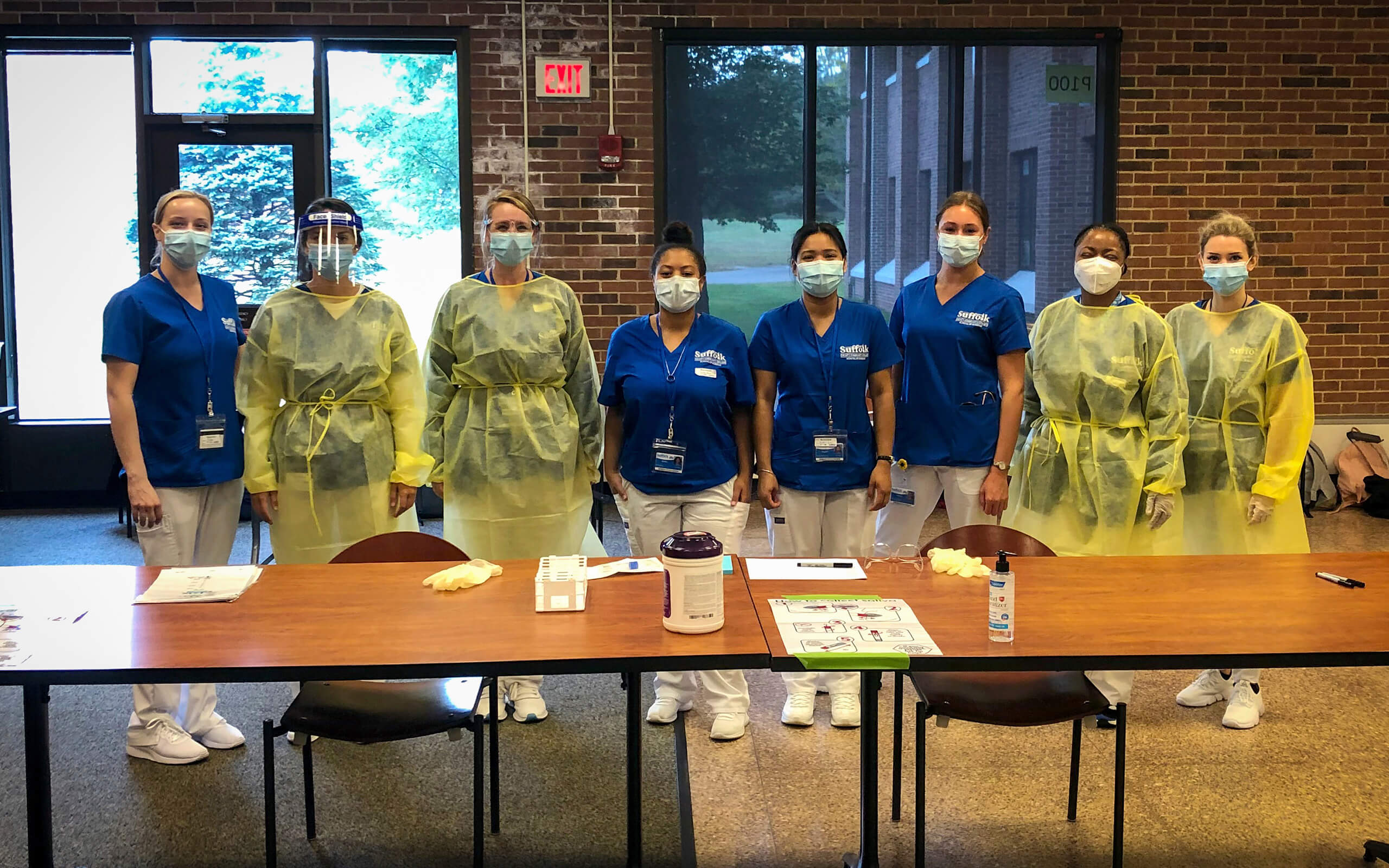 Thirty-five members of the nursing faculty quickly developed learning outcomes and trained 280 students in specimen collection to operate 183 COVID-19 testing clinics on three campus locations. Public Safety collected the samples daily and shipped them to Syracuse for testing. This process still continues.
The faculty and campus nurses reached far outside their typical duties, displaying tremendous flexibility, to ensure the faculty, staff and students of the College had the opportunity to be frequently tested for COVID-19. For all that they have done, Suffolk's student nurses and faculty were acknowledged by Long Island Business News with an Achievement in Healthcare Award in February 2021.
By February 2021, all three of the College's campuses hosted County-operated vaccination sites. Sixty-five nursing students volunteered for additional training to become a certified NYS vaccinator and have volunteered additional days beyond their busy school/work/home schedule to vaccinate members of the community, particularly the most vulnerable for clinics serving those aged 65 and older. Faculty and nursing students are now at clinical COVID-19 units serving as front-line workers. The College is proud to have hired recent December 2020 graduates to operate the additional COVID-19 clinics and is grateful to Public Safety for its work with the Suffolk County Sheriff's office on traffic logistics. In March 2021, the State announced that the Michael J. Grant Campus would now also serve as a New York mass vaccination site striving to put shots-in-arms on a large scale. We anticipate thousands of individuals will pass through our campus each week.
SUPPORTING STUDENTS DURING DIFFICULT DAYS
With the students in mind, the Board of Trustees passed a resolution to freeze tuition for the 2020-2021 academic year, keeping access to higher education affordable in Suffolk County.
The College qualified to receive a total of $13.1 million through the CARES Act. Half of this total ($6.5 million) was dedicated to student support, and half to institutional relief. To date, the College has been able to distribute more than $6.5 million in student grants to students who suffered financial loss due to COVID-19. CARES Act funding made it possible for many students to return for the fall semester. The College issued student refunds and credits following the conclusion of the spring semester. Institutional CARES Act funds helped us to cover the cost of a number of substantial COVID-related expenses, such as the return of fees to students who were enrolled last spring, PPE purchases, technology enhancements, and mandatory pooled saliva testing. The College owes a debt of gratitude to all of the departments involved in the distribution of the CARES Act funding.
The College is currently waiting for guidance from SUNY on distribution of the next round of Federal stimulus funds, CRRSSA. The College has been advised that it will be receiving an allocation during this next round of funding. As part of the distribution, the College must provide the same level of student grant funding as we disbursed through the CARES Act. We also anticipate further relief through the American Rescue Plan Act.
The College Foundation established a COVID-19 Emergency Relief Fund, providing grants to assist students experiencing critical financial hardships as a result of the coronavirus. More than 550 students have applied for assistance from the fund. The Foundation also qualified to receive a $50,000 matching gift from the SUNY Impact Foundation to support our COVID-19 Emergency Fund. More than 95% of students seeking support reported being impacted by unemployment or job furlough, with many facing food insecurity as a result.
The coronavirus outbreak impacted a number of our military-connected students who received orders and were activated under the Department of Defenses' Operation COVID-19 or were called to Active Duty in Washington, D.C. in support of the Presidential Inauguration. These military service members were called forward from all three of our campuses. All of these students remained enrolled in their classes and their professors were notified. Staff from the College's Office of Veterans Affairs was in touch with each of these students to offer support. This process has continued throughout the pandemic.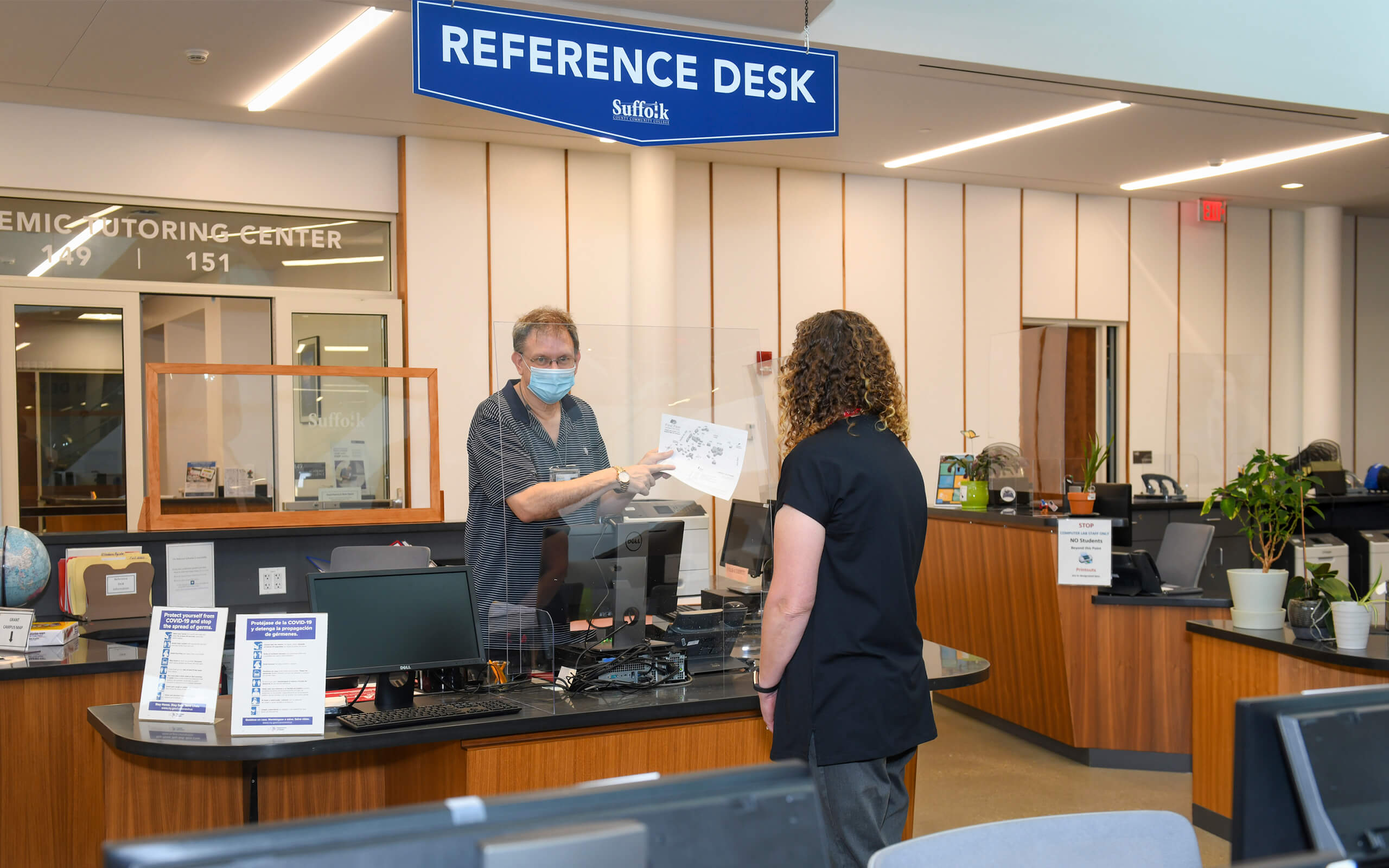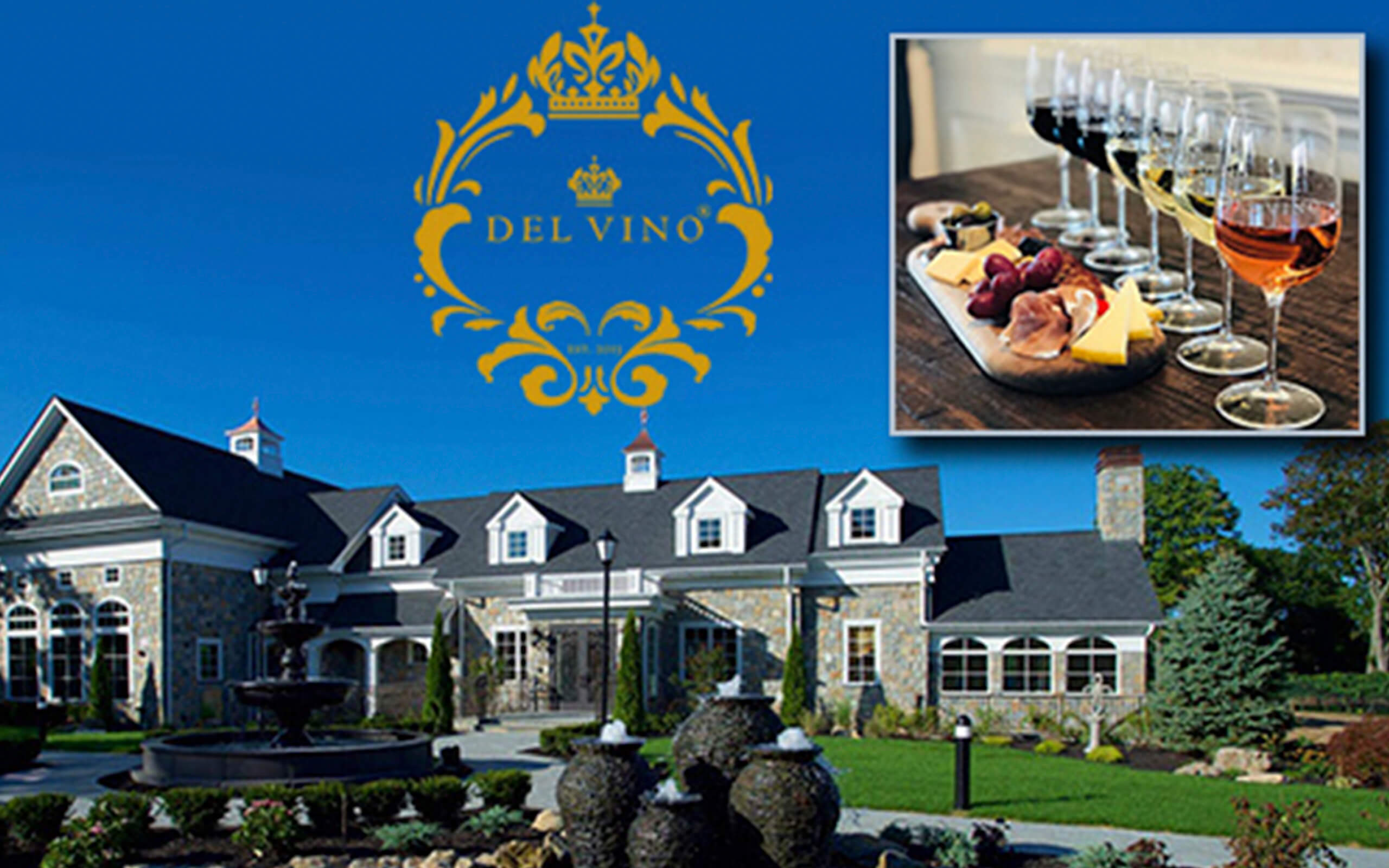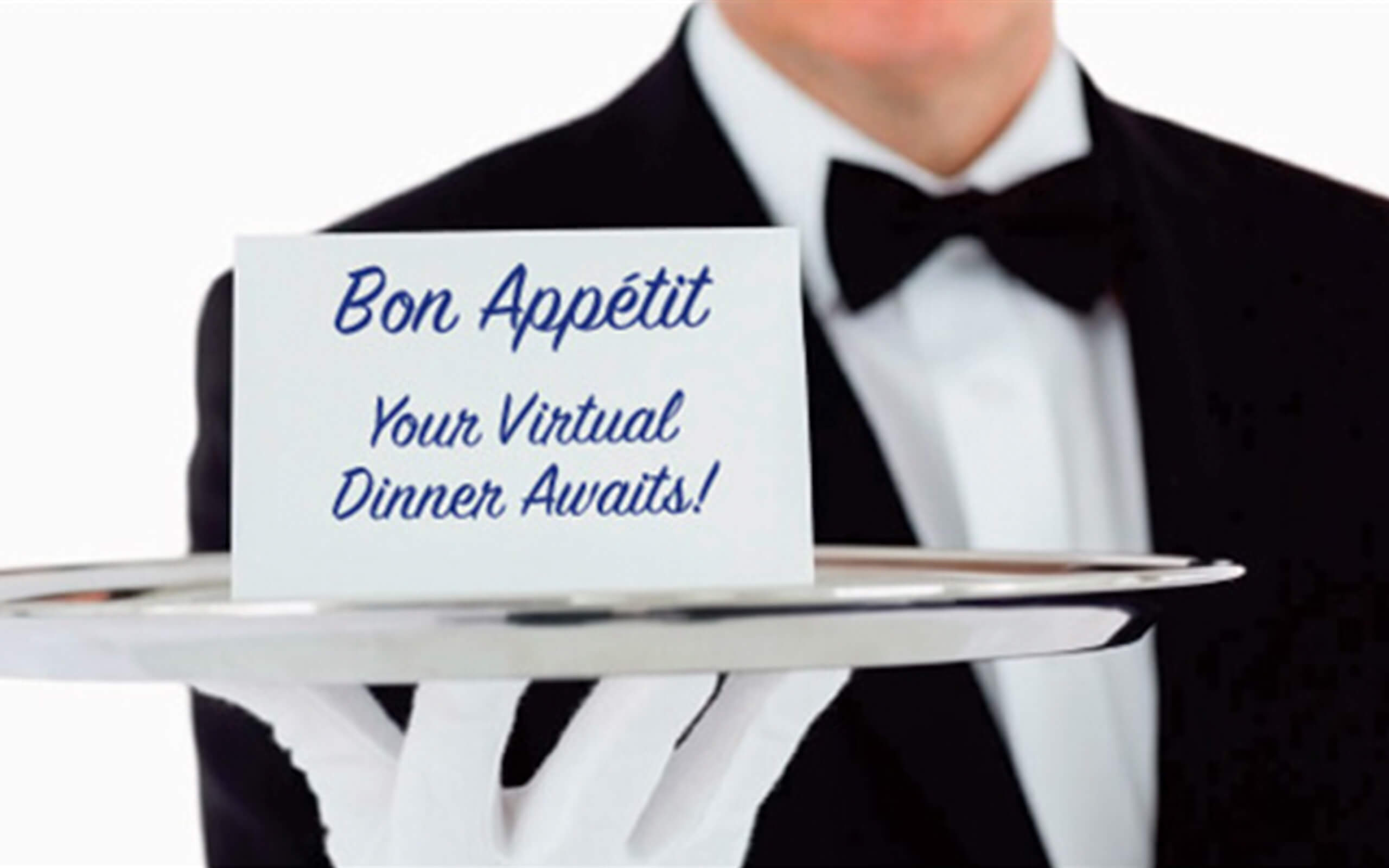 The College's libraries provided virtual and open hours by appointment, in addition to online chat and electronic resources for students. Student activities and counseling successfully hosted a calendar of virtual events to keep students engaged and are now reaching students who otherwise may not have attended events while on campus. Additionally, the Suffolk Community College Foundation hosted monthly virtual events to raise money for student scholarships. The childcare centers on the Ammerman and Michael J. Grant campuses opened to care for students' children, whether they were working remotely or on campus.
PROJECTING PROFESSIONALISM AND A POSITIVE SPIRIT
In February 2021, Interim President Louis J. Petrizzo was recognized in a national opinion piece titled "5 Key Roles for Effective Leaders During COVID" published in Inside Higher Ed.com. Interim President Petrizzo's leadership has played a critical role in how successful the College has been in navigating these turbulent times. His calm demeanor and clear vision remain a guiding force for the College, holding the institution true to its mission during these challenging days.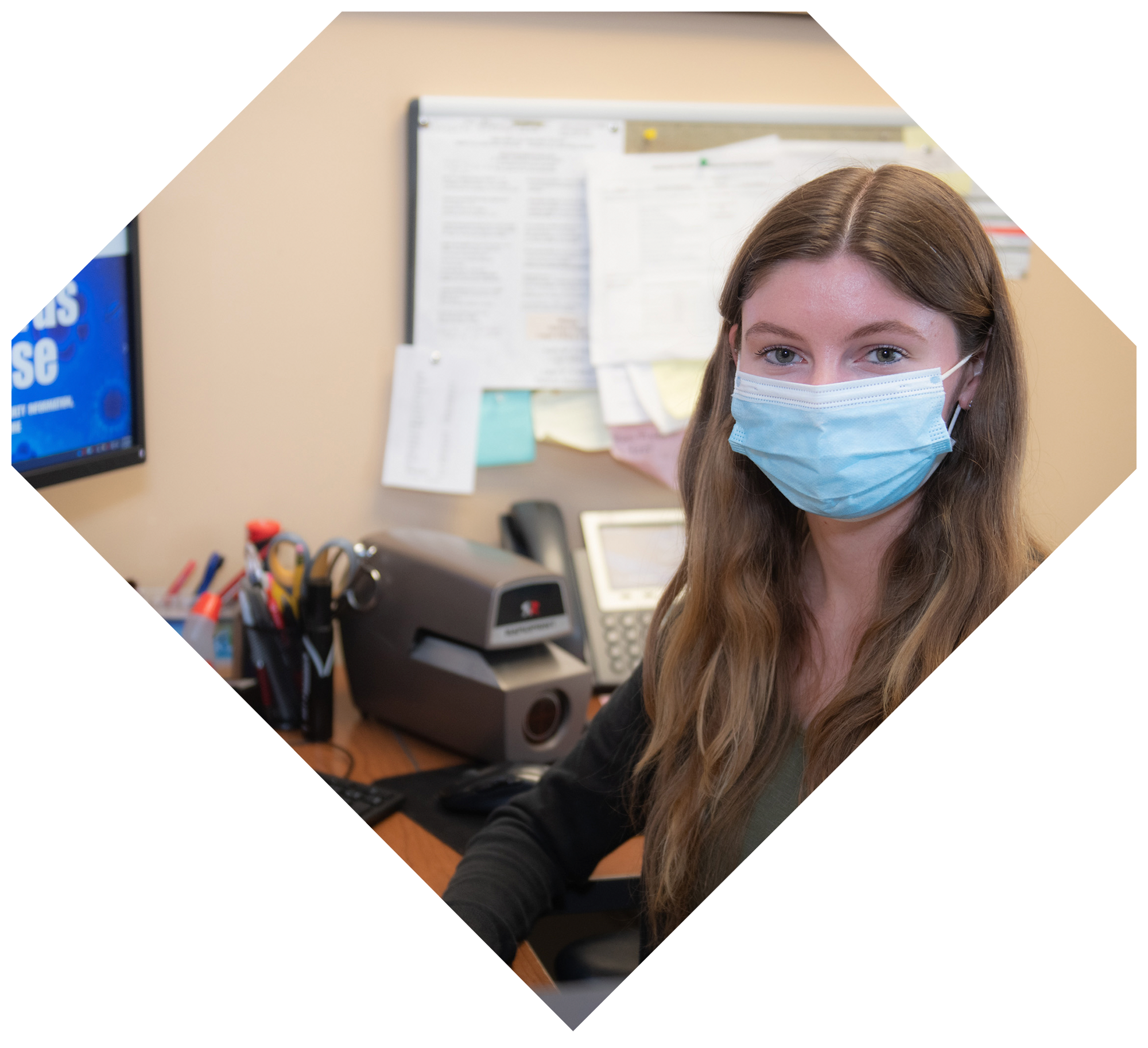 Employee support and Payroll were critical to the College during the COVID-19 pause. Time cards were created and made available for online submission; payroll continued to function seamlessly; the department administered and reviewed employee daily health questionnaires; staff was available onsite to answer questions from employees regarding payroll and schedules, medical leaves, health concerns, and positive COVID tests. The entire staff was on campus on a rotating basis since March 2020 and has continued to work through all phases of the pandemic. the pandemic.
Many employees in the Business and Financial Affairs Office went above and beyond to ensure that the College remained operational during this time. The transition to remote working for employees took place rapidly, with little lead-time to develop a transition plan. However,recognizing the need to service students, process payments, receive vendor invoices, prepare payments, and monitor the ongoing fiscal health of the College, these team members remained on campuses to ensure that operations continued seamlessly. The Business Office, including its Purchasing staff ensured that there were receipt and delivery of goods and services, and that bids and bid openings occurred for capital projects. During this time, team members' actions allowed other departments' employees to work remotely and, most importantly, allowed the College to fulfill its mission of service to students.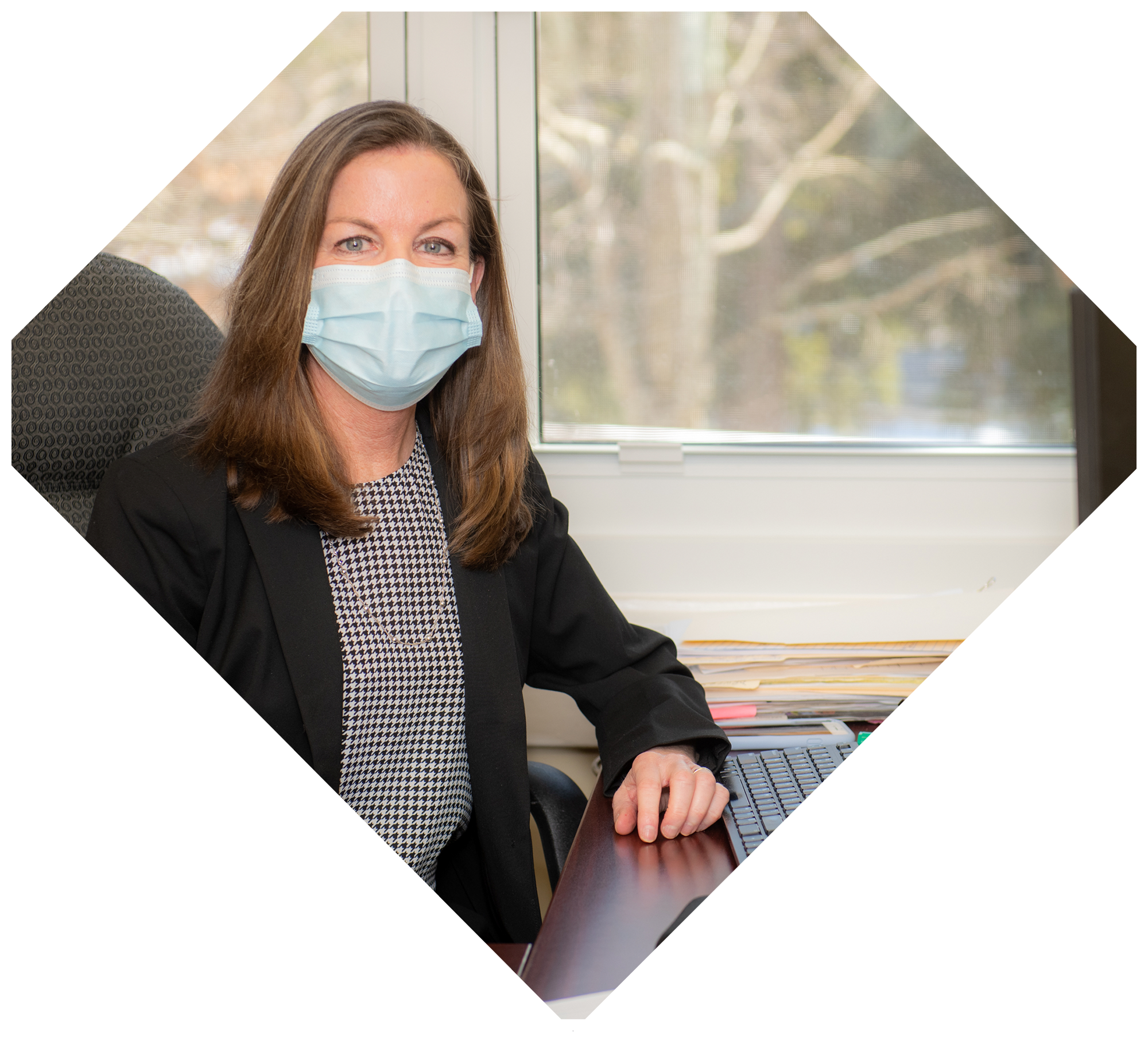 The Legal Affairs team kept the College in compliance, had representation on the College reopening committee, worked with Public Safety to review plans so that contractors' work could continue, and interacted with Financial Affairs to help implement the Cares Act. The Capital Projects team working with many areas of the College such as Information Technology Services and Public Safety focused its attention on project funding and project progress during the pandemic. They continued with college-wide ADA improvements, including parking, sidewalks, railings and signage; successfully bid and awarded the Ammerman parking expansion project, which is expected to be completed in the spring 2021; bid and awarded the Renewable Energy and STEM Center project on the Michael J. Grant Campus, which will start construction in March 2021; completed construction on the Sagtikos Arts and Science Building's partial renovation; and expect to complete the Kreiling Hall renovation this spring. All of this was done while maintaining the College's numerous projects in the County Capital Program and obtaining State approvals.
The actions implemented by the entire SUNY Suffolk community this past year should make all of us proud. We have successfully transformed instructional delivery, advanced our use and comfort with new technologies, communicated details about forthcoming change in a timely way, and transitioned our support services to yield the very best attention and response to the concerns and issues brought forth by our students and our employees.
A debt of gratitude goes out to everyone who persevered under pressure and allowed us to forge ahead during this historic moment. In the midst of extraordinary times, we have grown and become more flexible – qualities that will allow us to shine even brighter in the days that lie ahead.