Welcome to Suffolk's Career Focus Magazine

Click the cover to view Spring/Fall 2016 edition.
Suffolk County Community College offers you countless opportunities to grow both academically and personally. We would like to provide you with a Viewbook brochure which shares information about our many programs and opportunities. To receive our Viewbook, simply complete the form below:
Please send me the Viewbook:
Please fill in all required information:
We invite you to read our Career Focus magazines by simply clicking on one of the covers shown here.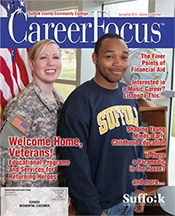 Last revised: 3/10/2016 Comments on this webpage, contact: Webmaster