SCCC Enrollment Services Offices will be open Saturdays: January 21 and 28 from 8:30 am -12:30 pm. These hours are in addition to our standard office hours.
Organizational Charts
The link below opens to a multi-page pdf showing organizational charts for specific areas of the College. Click on the link and select the page for the area you wish to view.
SCCC Organizational Charts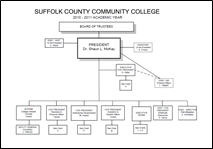 Last revised: 2/13/2015 Comments on this webpage, contact: Webmaster